MnOrch renews contract with conductor Vanska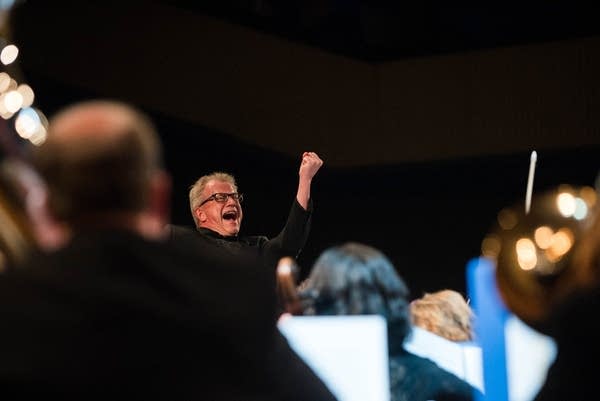 Updated: 6:30 a.m. May 20 | Posted: 4 p.m. May 19
Just days after returning from a historic trip to Cuba, the Minnesota Orchestra has extended the contract of music director Osmo Vänskä and agreed to a new contract with its players. The orchestra's board approved both contracts Tuesday. The musicians also ratified the contract Tuesday.
"This has just been an incredible week, and it just keeps getting better," musician Tim Zavadil said at the press conference announcing the deals. 
There had been hints in recent weeks that the orchestra was close to a deal with Vänskä. It extends a two-year contract he signed in 2014, which brought him back to the orchestra some months after he resigned during the 16-month musicians' lockout.
Orchestra President Kevin Smith said the  new deal will keep Vänskä as music director through at least August 2019. He will also appear with the orchestra a minimum of 12 weeks a year, probably more. 
"He came back to rebuild this orchestra, and now that we are really getting back in the swing of things this is his priority and focus," he said.   
Vänskä wasn't at the press conference. He returned to Minneapolis from Cuba but promptly left for a conducting engagement in Amsterdam.
The musicians' contract was more of a surprise, as their current deal has a year-and-a-half left to run.    
The orchestra returned Sunday night from Cuba, giddy from exhaustion and the success of the tour. However, while many rested up, Smith said he was meeting with Zavadil and other musician negotiators, trying to find a deal to present at Tuesday's orchestra board meeting.
"When we were in Cuba we knew we were very close but there was a lot of work to be done," he said. "And since we returned Sunday evening, since then it's been a pretty intense, oh how many hours? Well, a couple of days." 
The talks were in sharp contrast from last time when anger and animosity led to the prolonged and bitter lockout. 
Smith said the first negotiation was how to negotiate. They decided no attorneys and no board members.
"By design, we decide this was a staff-musician interaction and we just wanted to keep it small and informal and quiet," he said. 
Despite the tight deadline Zavadil, a clarinetist who was on the front lines of the last contract fight, said his committee found it could work well with this set of management negotiators.
"As the process went along we became more comfortable with each other," he said. "We were able to speak more and more freely. That's what's enabled us to get here today."
The new contract runs through the end of the 2019-20 season, and provides raises of 2.5 percent, 2.75 percent and 3 percent in the final three years. The contract also expands the number of players to a maximum of 88 by the final year.  
Smith, who has been working to build more flexibility into the organization, also welcomed rule modifications that allow for temporary changes without creating precedent. 
"We are already doing this," he said. "Getting to Cuba required a whole lot of rule breaking and working outside of the contract. What we want to do moving forward is we want to try things."
The contracts will be supported by two important new gifts. Five million dollars from board member Doug Leatherdale will support Vänskä's goals of touring, recording and artistic growth. A $1.5 million gift from patron Betty Jayne Dahlberg will help pay for the musicians' contract. The orchestra is still working hard to balance its budget and Smith said these gifts will help greatly.
Trombonist Doug Wright, another veteran of the last contract fight, said no one wants to dwell on those days. But he said that after the settlement there were important, sometimes blunt, conversations between the former adversaries. 
"We learned quite a bit about each other's experience through the whole thing and then started talking about 'OK, how can we do things differently so we don't have a repeat performance?'"