Dayton relents in fight over auditor, paving way for budget deal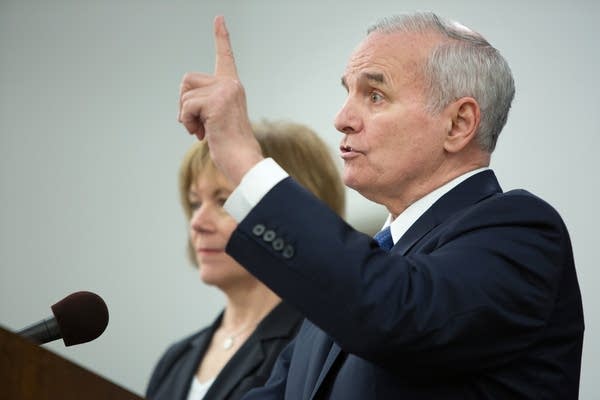 Updated 8:02 p.m. | Posted 3:44 p.m.
For the second time in a week, Gov. Dayton has abandoned his demands for calling lawmakers back in to a special session.
The governor announced Monday that he will drop his fight with Republicans over the role of the state auditor so lawmakers can finish the budget and head off a July 1 government shutdown. Last week, the governor dropped his push for universal preschool.
Dayton had been at odds with Republican House Speaker Kurt Daudt over a measure that would let Minnesota counties bypass the state auditor's office and hire private accountants.
The governor had been threatening to hold off calling a special session to finish the state's budget work over the matter, raising the specter of June 30 layoffs for some 9,400 state employees, as well as state park closures and unemployment benefits not being processed.
Dayton said Monday those issues were too important to prolong negotiations on the state auditor issue. But he said he has several other demands that need to be met before he calls a special session.
"I'm not going to put at risk any further the jobs of some 9,500 state employees who would be laid off if we don't reach an accord" by July 1, Dayton said, adding that he would fight the auditor question another day.
In May, he vetoed three budget bills dealing with education, agriculture, the environment, jobs and energy. With the auditor issue resolved, it appears there is a pathway to a quick conclusion.
But before he calls lawmakers back, Dayton said he wants three changes to the jobs bill. He also said he'd like the Legislature to reconsider and approve more funding for rural broadband, facilities for sex offenders and rail grade crossing safety.
Republican House Speaker Kurt Daudt issued a statement after Dayton's announcement saying he looked forward to working with Dayton to conclude the session.
Earlier in the day, Daudt had urged Dayton to ditch his push to protect the duties of the state auditor. He said the debate over whether counties should be able to hire private auditors instead of the state auditor has been an issue for years.
"It was well-vetted in the House, it's been well-vetted in previous legislative sessions for years and it will continue to be debated, I'm sure, at least until next year when we can at least take action on it once we have more information," Daudt said. "But there will be no action taken on this issue in special session. Period."
State Auditor Rebecca Otto said she's not willing to end the fight. She said she's going to pursue all options, including a possible court challenge to protect her office.
"The governor and the legislative leaders have to do what they have to do,but I wasn't elected to a third term to let this function go," she said.
Dayton said he hopes to call a special session by the end of the week. But that depends on whether lawmakers can agree to his demands on the jobs bill. Last week, when Dayton dropped his push for universal pre-K, he appeared to open the door to a timely end to the budget stalemate. On Monday, the governor declined to hazard a guess about when a deal would be finalized.
"If I'm expected again by the House leadership to go 100 percent of the way to their position, then we're far apart," he said. "If we can reach a reasonable compromise, as I was attempting to do on other matters, then we can get it resolved in a matter of hours."
Another complicating factor could be state lawmakers' schedules. Some have left town and may not be able to get back to St. Paul quickly. That includes DFL House Minority Leader Paul Thissen, who is in Europe. Thissen issued a statement Monday saying he would return to St. Paul to attend a special session when it's called.
Your support matters.
You make MPR News possible. Individual donations are behind the clarity in coverage from our reporters across the state, stories that connect us, and conversations that provide perspectives. Help ensure MPR remains a resource that brings Minnesotans together.