DJ Rekha to fuse timeless, modern rhythms at Cedar Cultural Center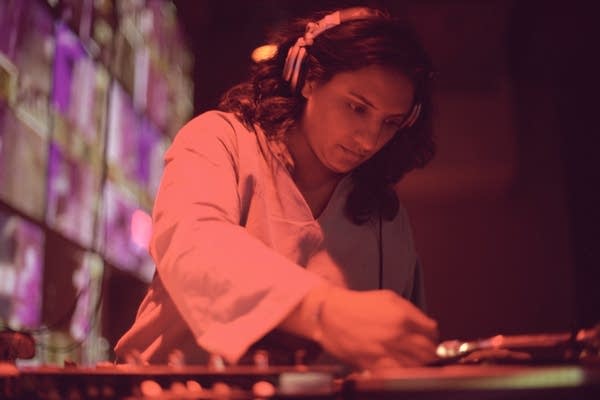 In the late 1990s in New York City, a young DJ began infusing the requisite house music, hip-hop and new wave with a centuries-old form of folk music from the Punjab region of India.
By making the bhangra rhythm an integral part of the modern-day club scene, DJ Rekha became one of the most influential South Asians in the United States and an international sensation. In recent years, she has performed on "The Late Show with David Letterman" and in the East Room of the White House.
She owes it all to a music that she said, "just compels you to want to dance."
On Saturday, DJ Rekha is booked for a show at the Cedar Cultural Center in Minneapolis, her first appearance in Minnesota. She's headlining a fundraiser for Minnesota's internationally acclaimed Ragamala Dance Company, which performs the classical movements of southern India and is celebrating its 23rd anniversary.
Born Rekha Malhotra in London to Indian parents who moved the family to New York City, she first encountered bhangra as a teenager. Her mother had gone to a family gathering in England and returned with a cassette tape full of the Southeast Asian sound.
"[The music] had a distinctiveness to it," she said. "It just blew my mind."
DJ Rekha, 44, grew up listening to Bollywood film soundtracks, popular music almost always sung in Hindi. Bhangra, on the other hand, showcased Punjabi, the more regional language her mother and father spoke at home.
"[That] automatically gave it a level of familiarity," she said. "And it does have a nostalgic tinge to it."
In ancient times, bhangra lyrics were about hard work and the harvest.
"Now some of the songs are about buying a fancy car," she said. "One of the biggest songs is about high heels. It's like many forms of popular music. It's reflective of the people that are listening to it."
Rekha's contemporary take on Southeast Asian culture contrasts with the traditional style of the Ragamala Dance Company. But her show in its honor makes sense to Ashwini Ramaswamy, a dancer for the company.
"We were all artists who, in very different ways, are bringing our cultures to international audiences," Ramaswamy said. "As cultures just keep melding and colliding, they sort of stop being Indian and American and just start becoming global. We don't want to be put in a box and neither does Rekha."
DJ Rekha is consistently credited with bringing bhangra to the United States. The New York Times dubbed her the "the ambassador of bhangra."
She is likely best known for Basement Bhangra, the monthly dance party she has hosted in New York City every Thursday for nearly two decades.
"It just keeps going," she said. "It's a monster."
Still, DJ Rekha would like to be known for her skills.
"What does a DJ do? I make you dance," she said. "That's number one what I do. I think there's just a primal need for movement and responding to beat."
For her, that beat could come from bhangra or Jamaican reggae and dance hall. She has adapted her style to growing tastes for multifaceted shows.
"Attention spans are shorter," she said. "Every minute and a half you're constantly changing what's happening."
While she may have changed her approach to mixing, DJ Rekha hasn't abandoned her primary goal of creating unique experiences through music.
"It's like my religion," she said. "I'm all about it."
Your support matters.
You make MPR News possible. Individual donations are behind the clarity in coverage from our reporters across the state, stories that connect us, and conversations that provide perspectives. Help ensure MPR remains a resource that brings Minnesotans together.