U president: More complaints against former AD Teague
Updated: 5:40 p.m. | Posted: 8:40 a.m.
More women have come forward to report sexual harassment by former athletic director Norwood Teague, University of Minnesota President Eric Kaler said Wednesday.
Teague resigned Aug. 7 after admitting that he'd harassed two female university employees at a senior leadership conference in July. A sports reporter also later wrote that she'd been harassed by Teague.
Grow the Future of Public Media
MPR News is Member supported public media. Show your support today, donate, and ensure access to local news and in-depth conversations for everyone.
Kaler said in an interview with MPR News host Cathy Wurzer Wednesday that "less than five" additional complaints of sexual harassment have been reported to university officials since Teague's resignation.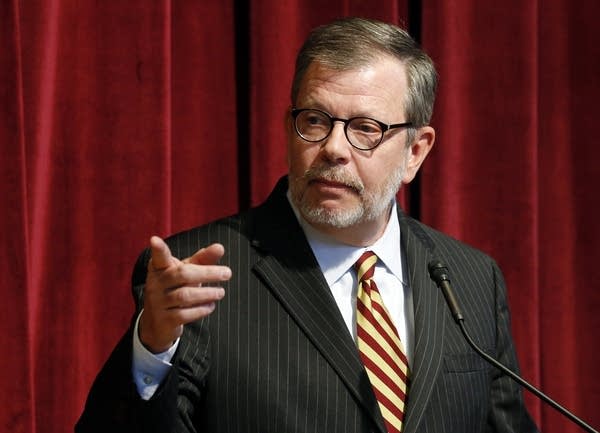 "We have received a small number of additional complaints since he came forward," Kaler said. "We're in the process of investigating those and we will ask the external counsel that we brought on board to also look into that."
Teague's resignation came after admitting that he harassed university employees who later identified themselves in a letter last week as special assistant to the president Erin Dady and deputy chief of staff Ann Aronson. Star Tribune sports reporter Amelia Rayno disclosed just days after the resignation that Teague had sexually harassed her as well, grabbing her and sending suggestive text messages.
"The alcohol may have enabled him, I don't think so, I think it's a longstanding problem and the previous history shows that it wasn't the first time," Kaler said.
It was also reported last week that a former female employee in the university's athletics department — and another at his former workplace, Virginia Commonwealth University — had filed gender discrimination complaints against him.
Atlanta-based Parker Executive Search had conducted extensive background research on Teague when he was hired, but did not tell university officials about the earlier lawsuit. Officials have said Teague also did not disclose the lawsuit.
"It's very disappointing to be let down in this way," Kaler said. "In the search process we relied on a firm that claimed they did their due diligence and missed this." He added that the U will not use the same search firm to look for a new athletic director.
Soon after Teague's resignation, Kaler said that the University of Minnesota would launch an independent, external review led by a partner from the law firm Fredrikson & Byron and an audit of the athletics department.
Kaler said the time of year is a factor in the search for a new athletic director. "I anticipate ramping up a search in late winter, early spring, with the goal of having the permanent AD in place by July 1 of 2016." Deputy Athletic Director Beth Goetz has been leading the Gophers' athletic department since Teague's resignation.
The U paid the search firm $112,000 to help land Teague. The contract said Parker would conduct a background investigation on any final candidates. But still the litigation didn't surface. Kaler said he isn't certain whether the school has any legal recourse against Parker.
"Their view was that this was not publicly information and that may well be true," he said.
The firm has received plenty of business from the U over the years. The U hired Parker to help with the hiring of football coaches Tim Brewster and Jerry Kill and former basketball coach Tubby Smith. The University of Minnesota Duluth also contracted with Parker to help hire Athletics Director Josh Berlo in 2012.
All told, the U of M has paid Parker nearly $400,000 since 2007.
Officials with Parker Executive Search did not return messages for this report.
This isn't the first time Parker has been scrutinized for its vetting practices. In 2013, Parker failed to uncover that a newly hired Rutgers University Athletics director Julie Hermann was accused of verbal abuse by her players while coaching in Tennessee.
Incidents involving coaching hires at Indiana University, the University of Kentucky and the University of Pittsburgh have also raised questions as to how closely Parker vets candidates.
U of M officials have not disclosed the process they intend to use to find Teague's replacement, or whether they will hire a search firm to help.
Hiring a search firm can shield parts of the process from public view because the firm isn't subject to open records laws. That secrecy may appeal to both schools and candidates.
Clarification (Aug. 20, 2015): An earlier version of this story was unclear on the nature of the complaints lodged against Teague by former colleagues. The story has been updated.