12 days of Minnesota holiday arts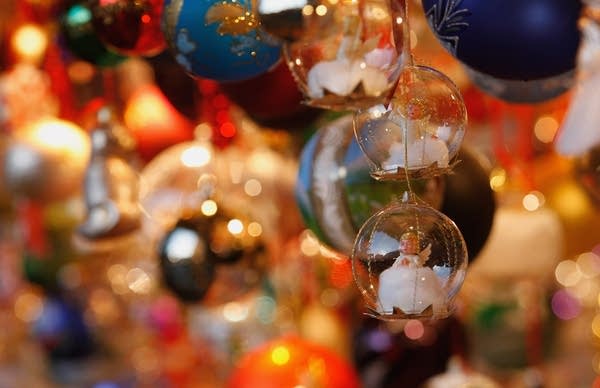 Everybody knows life around the holidays is not always fair. In that spirit, we present 12 days' worth of holiday-season arts events, with no attempt to be fair or balanced in our selection. Seriously, we could offer 120 ideas, and we'd still leave somebody out. 
Even so, here are 12 essential components of the holiday arts season. 
1. "Messiah." Handel's 1742 oratorio may have been intended as an Easter ornament, but it's become an anchor of the Christmas season. Catch it in Duluth-Superior on Dec. 4 or 5; in Rochester  on Dec. 5 or 6; in Minneapolis with the Minnesota Orchestra Dec. 11, 12 or 13, or with the St. Paul Chamber Orchestra  Dec. 17 or 18; or in St. Paul with the SPCO  Dec. 19.
But that's only if you want to have "Messiah" performed for you. If you're willing to pick up a score and do some of the work yourself, you can attend singalong performances in Duluth Dec. 15 or Minneapolis Dec. 13.
[image]
2. "A Christmas Carol." Charles Dickens' story of greed and redemption is younger than Handel's masterpiece, but it's just as much a piece of the Christmas furniture. In Minneapolis, the Guthrie Theater brings it back for the 41st year, now through Dec. 27. If you'd like to try one of the spinoffs, there's "Jacob Marley's Christmas Carol" at Park Square on Dec. 15, 16 and 17, or the ever-festive "A Klingon Christmas Carol" at the Historic Mounds Theatre, Dec. 3 through Dec. 27.
3. "The Nutcracker." One day, there will be a Klingon version of this, too. But for now, we'll have to get by with these four choices: The Moscow Ballet's Great Russian Nutcracker, at the Orpheum Theatre in Minneapolis, Dec. 5;  Loyce Houlton's Nutcracker Fantasy, presented by Minnesota Dance Theatre, at the State Theatre in Minneapolis, Dec. 18-22 ; Nutcracker (not so) Suite, the James Sewell Ballet's adaptation of the work made infamous by Myron Johnson and Ballet of the Dolls, at the Cowles Center in Minneapolis, Dec. 4-20; and  A Minnesota Nutcracker, presented by Twin Cities Ballet of Minnesota, at the Ames Center in Burnsville, Dec. 11-13.  
4. The New Standards Holiday Show. How to describe this performance? When the New Standards sing the lyric "to save us all from Satan's power," the devil is apt to walk across the stage, smoking a cigarette. The Standards are Chan Poling, Steve Roehm and John Munson, and the only thing more impressive than their musical imagination is the roster of musical friends they bring with them. This year, they open their holiday show Nov. 27 at Papa Charlie's in Lutsen, Minn., followed by performances Dec. 4 and 5 at the State Theatre in Minneapolis. After a trip to New York, they wrap up for the season Dec. 19 in Rochester, Minn. (Sponsored by 89.3 The Current.)
5. "Christmas in the Airwaves." Lyric Arts presents this nostalgia-driven piece built around a radio broadcast during World War II. The publicity material says the show is "brimming with old time holiday memories and beloved Christmas standards. It's sure to rekindle feelings of hope and optimism during the holiday season with a look back at a bygone era." On the main stage at Lyric Arts in Anoka, now through Dec. 20. 
6. "All Is Calm." No, this is not the Minnesota Opera production that won the Pulitzer Prize a few years back, but the more human-scaled treatment of the same story: the Christmas truce of 1914. Theater Latte Da gets great reviews for this annual present. Presented at the Pantages Theatre, Dec. 16-20.
7. "Christmas Festival: The Spotless Rose." You don't have to be Lutheran to like the National Lutheran Choir. Under the leadership of Artistic Director David Cherwien, the 60-plus-voice choir offers a Christmas concert that should be a highlight of the season Dec. 11 and 12 at the Basilica of St. Mary, Minneapolis, with an additional performance Dec. 19 in Kirkwood, Mo.
8. "Black Nativity." Penumbra Theatre brings back its staging of Langston Hughes' retelling of the Christmas story. Given the themes of hope and redemption for the dispossessed, this will be a great year to see it — and to get to one of the post-play discussions on Dec. 10 and 17. As always, the music promises to be great. The show runs Dec. 3 through Dec. 20.
9. Christmas with Cantus. These male voices blend so seamlessly, it's sometimes hard to believe we're hearing nine of them. They open their series of Christmas concerts Dec. 10 in Minneapolis, and perform at a variety of locations around the Twin Cities until Dec. 19. (Classical MPR is a media partner of Cantus.)
10. "A Midwinter Night's Revel." Put Oberon, Titania and Puck in England during World War I, and what do you get? Walking Shadow Theatre Company calls it "an enchanting Yuletide revel in the spirit of 'A Midsummer Night's Dream.'"  Performances open Dec. 4 and continue through Dec. 30 at Red Eye Theater in Minneapolis. 
11. "The Stranger." It's an interactive play that moves through the rooms of the American Swedish Institute, using music and storytelling "to stir your soul to bring Nordic myths legends and fairytales to life in a way you've never seen before."  Presented by the theater company Impossible Salt, "The Stranger" runs through Dec. 30. 
12. "Christmas in Baroque Malta: Italian Majesty at Mdina Cathedral." Sometimes it seems as if the pitch-perfect Rose Ensemble won't be satisfied with merely entertaining its audience, but has to educate it as well. The publicity material for this year's Christmas concert series says, "Forget 'Jingle Bells,'" and promises "the North American premiere of 17th-century Christmas music preserved for hundreds of years in Maltese archives." The Roses open the series Dec. 17 at Sacred Heart Music Center in Duluth and continue at three Twin Cities venues Dec. 18, 19 and 20.