Support available at Lakeville South after teens' deaths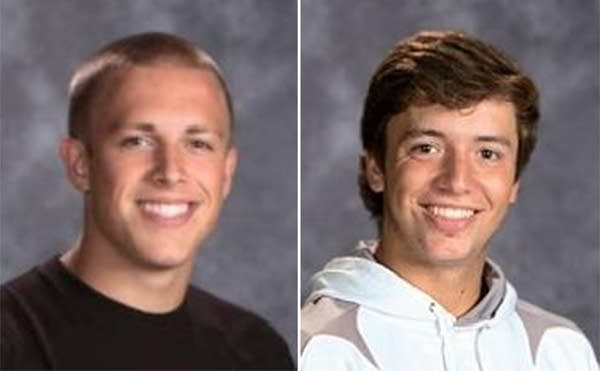 Updated: 4:40 p.m. | Posted: 9:47 a.m.
Grief counselors were on hand Monday as students at Lakeville South High School attended the first day of school since two classmates died in a truck rollover on Friday.
Johnny Price, 18, and Jake Flynn, 17, both died after being ejected from the truck on 225th Street near Dodd Road.
Two other students in the vehicle were injured. Driver Alexander Hughes, 17, is in critical condition at Hennepin County Medical Center, according to the hospital. Mason Kohlbeck, 18, has been released from the hospital.
At the school Monday, staffers placed red roses at Flynn and Price's empty desks in various classrooms throughout the day.
Lakeville South High School Principal John Braun said students at the school were shook up over their classmates deaths. He described Price and Flynn as popular, athletic and a joy to be around.
"What people continually to reflect on is what wonderful young men they were," Braun said.
District Superintendent Lisa Snyder said the high school's auditorium was open to students throughout the day who wanted to talk to counselors, faith leaders or classmates about the incident. She said counselors were also present at other schools in the district.
"We are allowing students to be where they want to be today, and to get their needs met in that way," Snyder said.
A funeral service is planned for Price at St. Mary's Greek Orthodox Church in Minneapolis on Tuesday. Flynn's funeral is scheduled for Thursday at All Saints Catholic Church in Lakeville.
Snyder said the district will provide students with transportation to and from the funerals as long as students have their parents' permission.
The incident is being investigated by the Dakota County Sheriff's Office. The sheriff said over the weekend that investigators are looking into whether a game called "Nerf wars" played any role in the crash.
Participants in the game use toy guns that shoot foam darts in a variation on capture the flag. School officials said there have been no reports of the game causing problems in any school in the district.
Lakeville Police Chief Jeff Long said his department has not received complaints about the game and driving, although witnesses reported a kidnapping in the city about two years ago that was actually just part of the game.
Long said it's still not clear what caused the crash, but it's a reminder that parents should talk to their children about the dangers of distracted driving.