'Stand up for our rights': Indian treaty tensions run deep in Minnesota
Curtis Gagnon still holds the summons from 1984, a small piece of paper ordering him to court for shooting a moose off reservation land — a mistake, he said, that triggered "four years of living hell."
He'd shot the animal but it ran. He followed its bloody trail for miles but never found it. That night, Gagnon told the Grand Portage band's game warden where he'd shot the moose. "He said, 'Curt, you weren't on the reservation.' I said, 'What? No!'"
Gagnon knew hunting off reservation land, outside the state's sanctioned hunting seasons, was illegal. He also knew that when his ancestors sold the federal government 5 million acres of what's now northeast Minnesota, the 1854 treaty included language stipulating that Ojibwe people would have the right to hunt and fish on that land.
He decided to force the question. "It has to be taken to court. It has to be made public," he recalled. "The word has to get out that we're going to stand up for our rights."
Gagnon's stand decades ago echoes what's happening today in Minnesota. Four Ojibwe protesters were charged in January for illegally harvesting wild rice and netting fish. Today, they appeared in Crow Wing County District Court.
Like Gagnon, the protesters wanted to be arrested to force a judge to rule definitively if an 1855 treaty gives Native Americans here the right to hunt and fish outside state law.
MPR News is Reader Funded
Before you keep reading, take a moment to donate to MPR News. Your financial support ensures that factual and trusted news and context remain accessible to all.
Gagnon's story, though, also shows that getting a final answer won't be easy.
He sued the state, and was eventually joined by his band, the Grand Portage Band of Lake Superior Chippewa, as well as the Bois Forte and Fond du Lac bands. They wanted a federal court to affirm the rights spelled out in their 1854 treaty with the U.S. government.
But before the courts ruled on those rights, the bands and the state compromised. Grand Portage and Bois Forte bands each receive around $1.6 million a year. In return, the bands agreed, with a few exceptions, not to fish commercially, and not to spear or use gillnets during the spawning season — practices that have generated controversy at Minnesota's Lake Mille Lacs and in Wisconsin.
Despite the money — band members get about $1,800 a year from the agreement and can still exercise many of their off-reservation treaty rights — the settlement deeply divided the Grand Portage band.
Curtis Gagnon and others opposed it. They argued their treaty rights were not for sale. "I thought rights were sacred," he said. But band members eventually approved the settlement overwhelmingly in a referendum.
The deal, though, kept the peace and provided band members many benefits, said Grand Portage Chair Norman Deschampe.
Deschampe, who served on the Grand Portage tribal council at the time of the deal, said the band did not want to see the conflict over fishing that had erupted in Wisconsin.
"Our band members have longer seasons, more liberal bag limits, that kind of thing," he said. "If we want out of it, the agreement is written such that we have to give a year's notice and we can withdraw."
That's what the Fond du Lac Band did. A year after agreeing to the settlement, the band backed out, and sued the state, with a federal court eventually upholding their treaty rights.
That means the Fond du Lac band doesn't get cash from the state, but members are also not subject to the same restrictions as the other two bands.
So far that hasn't led to too much friction with the state. But last year, for the first time, the Fond du Lac band did authorize limited spearing for its members on some lakes in the 1854 ceded territory.
The band consulted with the state to determine a safe harvest limit, said Ed Boggess, who directs the DNR's fish and wildlife division. But "it's more than what is allowed to the other two bands that are under an agreement. And so that could create some concerns. So far it's been relatively quiet," he said.
Fond du Lac band leaders did not agree to an interview for this story. But in 2014, Council Member Ferdinand Martineau told MPR News he didn't expect any anti-Indian activity.
"We've proven over the years that we can do things the way they're supposed to be done, that the resource issue is the most important issue," he said. "Providing band members with an opportunity for subsistence fishing is important to us."
Martineau said at the time the Fond du Lac band just wanted to finalize its 1854 treaty rights. Twenty years after prevailing in court, the band and the state still haven't reached an agreement spelling out exactly how those rights can be exercised. "It's getting close to being finalized," said the DNR's Boggess, who declined to offer more specifics.
In the interim, the band has operated under its own fish and wildlife code, with its own biologists, conservation officers and other staff.
The Grand Portage and Bois Forte bands regulate off-reservation fishing, hunting and gathering for their members through a group known as the 1854 Treaty Authority.
"If a band member wants to go deer hunting, he comes to us and gets a permit, and abides by our regulations," said Sonny Myers, the authority's executive director, who describes the organization as kind of a DNR for band members. "We have a conservation code that regulates all our activities. It's not a free-for-all, as some people think."
The authority and the Minnesota Department of Natural Resources even cross-deputize their conservation officers. That means 1854 Treaty Authority personnel can arrest non-Indians on the ceded territory; and DNR officers can cite band members.
Myers and DNR legal counsel Sherry Enzler say the 1854 settlement has been a success.
"For the most part, we have not had major issues with either Bois Forte or Grand Portage," Enzler said, citing as an example the bands' recent decision to go along with the state and cancel their moose hunts. The decision came amid broader state concerns about northeast Minnesota's declining moose population.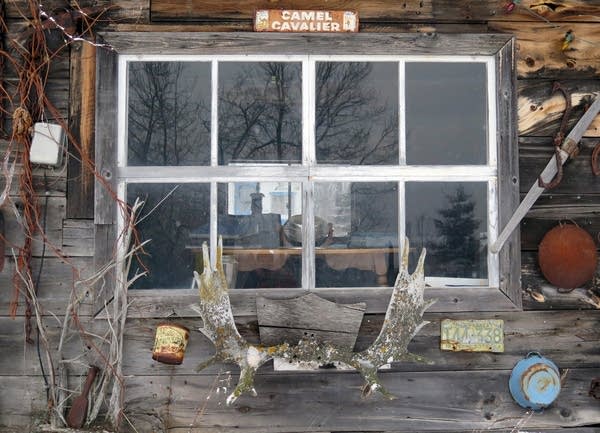 The Grand Portage band, though, disagrees with the DNR's decision to suspend the moose hunt, because band officials don't think it would have an impact on the animal's population. "We still contend that we don't think the tribal harvest is going to affect it," said Deschampe, the band's chairman, adding the agreement with the state has an arbitration process in the event the band "wants to push the process."
The 1854 Treaty settlement reached with the Bois Forte and Grand Portage bands does give the state more certainty, said the DNR'S Boggess.
"Once you go through litigation, you end up with whatever the federal courts decide," he said. "It's much less defined in terms of what's allowable and what's not, so it does make it more challenging."
Boggess said it's premature to say whether the state should seek a settlement over the 1855 Treaty rights. The courts first need to decide whether those off-reservation rights exist, he added.
Now 66 years old, Curtis Gagnon is proud of the treaty rights battle he helped ignite more than 30 years ago, he said as he held a cone-shaped moose call crafted from birch bark his son made for him to commemorate the actions he took back in 1984.
But he doesn't think the battle he started his over, in the 1855 treaty area, or close to home in the 1854 ceded territory. Even today, he said he'd support the Grand Portage band backing out of its agreement with the state and going back to court, to force a federal judge to rule that the band "has full rights in the ceded territory, that Minnesota can't take away our rights."
"Shooting that moose," he added, "might just be the stepping stone for continuing to get more treaty rights."
Minnesota's 1837, 1854 and 1855 Ojibwe treaties
The bulk of what is now Minnesota was signed over to the U.S. government in a series of a dozen treaties over about three decades in the mid-1800s. Tribes ceded the land in exchange for payments, reservations and certain rights.
Map data courtesy of the U.S. Forest Service