St. Paul barber has scoop on what's happening at Capitol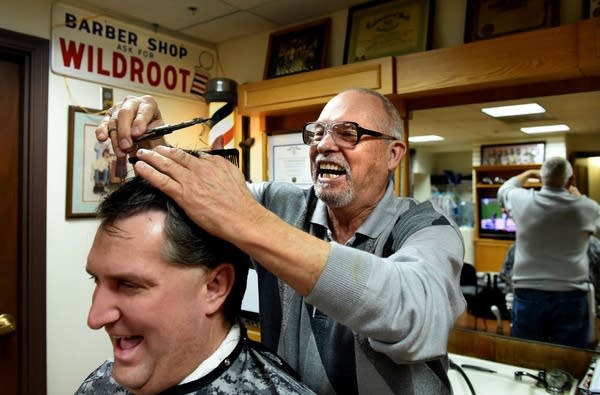 Like many barbers, Ken Kirkpatrick usually has the lowdown on what's going on in his neighborhood.
But Kirkpatrick works in a unique neighborhood: the Minnesota State Capitol campus. His "Capital Barbers and Stylists" shop in the basement of the State Office Building is a font of political gossip.
"If I want to get the inside scoop on what's going on at the Capitol, I go to Ken the barber," said Tom Barrett, executive director of Minnesota Gambling Control Board.
For 44 years, Kirkpatrick, 68, has bantered with governors, legislators, state agency heads, lobbyists and rank-and-file state workers, the St. Paul Pioneer Press reported.
His days as a full-time hair cutter and listening post are numbered. He sold his shop and plans to semi-retire May 16.
"He's another Capitol legend that's moving on. It's sad," said former state DFL Rep. Tom Rukavina of Virginia.
But it's not too sad. Kirkpatrick plans to work about three days a week for the new buyer, his son Josh, at least for a while.
Nonetheless, the guy Capitol insiders call "Ken the Barber" will be missed. He's one of the most popular characters on Capitol Hill.
___
He's friendly, cheerful, a good listener and a great storyteller, said former state Sen. Joe O'Neill, a Republican from St. Paul. O'Neill was Kirkpatrick's first customer when he bought his Capitol shop in 1972 and still comes back for his cuts.
"I haven't seen another barber since then," O'Neill said. "Ken is one of my best friends."
On a typical day, 15 or 20 regulars stop by just to chat and grab a bag of free popcorn. (Kirkpatrick goes through about 100 pounds of popcorn in his commercial-size popper every month.)
He goes out of his way to take care of his customers. Just ask Senate Majority Leader Tom Bakk. The DFLer from Cook needed a haircut on a recent Friday but couldn't take time off from his legislative duties, so he asked Kirkpatrick for a trim on a recent Saturday.
"He said, 'Tom, I'm normally not here on Saturdays, but if you're ever in that situation, just call and I'll come in,'" Bakk said. "That's the kind of service he's provided around this building for as long as any of us can remember."
___
Regulars also count on Kirkpatrick for corny and sometimes off-color jokes. Although most of his customers work in government, it's a favorite target for his humor.
"If the DNR managed wood ticks and mosquitoes, they'd be eradicated in two years," he recently quipped.
Sometimes his kidding gets him in hot water. Once when a friend phoned the shop to needle him, he told her he was busy and would call back in an hour.
When his phone rang an hour later, a woman asked if she could come to the shop and get her neck trimmed. Thinking it was his friend, Kirkpatrick replied, "You can come over, and I'll shave your butt." After a long silence, he said, the caller told him, "I might need my butt shaved, but today I just want to get a neck trim."
The caller was an appeals court judge, who promptly reported the conversation to her Judicial Center colleagues over lunch. For the next few weeks, Kirkpatrick said, judges would stop in and ask, "Hey, Ken, have you shaved any butts this week?"
___
Like O'Neill, many retired legislators and other state officials still patronize his shop long after they leave office.
If they can no longer drive to the Capitol, he makes house calls. "I even do them on their death bed," he said. He also volunteers twice a week to give free hair cuts at veterans' homes.
While about 70 percent of Kirkpatrick's customers are men, he had a cosmetologist license and also cuts women's hair. He shares his shop with Colleen Kirk, a hair stylist who has worked there for 20 years and teases him about being "very attractive — to women over 60."
The shop is an oasis for politicians who want to get away from the pressures of governing.
"In this building, we get uptight once in a while," said veteran GOP Rep. Bob Gunther of Fairmont. "But you can sit down and relax in his barber chair. He's genuine, makes friends easily and treats everybody very well. That's an art."
In addition, Kirkpatrick is the "go-to guy" on barber licensing and inspection issues, Bakk said. He has served on the state Board of Barber Examiners for 30 years, making him the longest-serving member on any state board or commission, according to a gubernatorial aide.
A National Barber Hall of Fame member, he was elected president of the National Association of Barber Boards in 2002 and will become its part-time executive director next month.
Kirkpatrick and his wife of 45 years, Mary, have five adult children. They live on Bald Eagle Lake in White Bear Township.
As a kid growing up in Eden Valley, Minnesota, Kirkpatrick started on his high school basketball and baseball teams as a freshman, serving as the football team captain as a senior, earning 11 athletic letters in four years and winning the school's "athlete of the year" award in 1965.
___
Kirkpatrick enlisted in the U.S. Army out of high school. After his discharge three years later, he started working on a construction crew. "That's when I decided I wanted something easier to do than pushing cement around all day," he said.
While riding down St. Paul's University Avenue in the bed of a pickup one day, he spotted the Brooks Barber School, rapped on the truck's back window and told the driver to pull over. He hopped out, strolled into the school and less than a year later had his barber's license.
In 1972, he first leased and later purchased the barber shop that has been in the State Office Building since it was built in 1932.
During his first years there, the building housed seven or eight state agencies but no lawmakers. "The old bureaucrats would come in after their three-martini lunches, sit in a waiting chair and fall asleep," he said.
___
One of his early customers was Bernie Brommer, a local union official who later became state AFL-CIO president. When he learned Kirkpatrick wasn't a union member, he asked AFL-CIO leaders to tell their members to boycott the shop.
"That helped my advertising because before then, nobody knew I was here," Kirkpatrick said. "I started picking up all these clients who heard about my barber shop at a union meeting."
A few months later, Brommer realized his call for a boycott was backfiring. "So Bernie stopped in and told me, 'Here's what we'll do,'" Kirkpatrick said. "You join the (barbers) union, and we'll make sure that (AFL-CIO President) Dave Roe, myself and three or four others come over for haircuts to pay for your union dues."
They did, he said, and most became firm customers.
With his Capitol connections, Kirkpatrick has political clout. That has helped him win a few legislative battles.
One closest to his heart is a 2013 law that makes it illegal to display a rotating red, white and blue barber pole unless you're a licensed barber. The pole has been almost a sacred symbol for barbers for decades, Kirkpatrick said, and they wanted to protect it.
So when a shop that employed only cosmetologists labeled itself a "barber shop salon for men" put up a barber pole, he persuaded his friends in the Legislature to pass a law "so nobody else could steal a barber pole," said GOP Rep. Gunther, the law's House sponsor.
About 30 states have passed similar laws, Kirkpatrick said.
"He's another Capitol legend that's moving on. It's sad."
By his leadership on state and national barber boards and his effectiveness in shaping state policy, "Ken has been a successful politician as well as a barber," said state Labor and Industry Commissioner Ken Peterson.
His customers reveal many political secrets in his barber chair and trust him to be discreet. "I have to ask, 'Is this for publication, or do I have to keep my mouth shut?' " he said.
Even his closest friends say they don't know if he's a Democrat or Republican. "I don't think Ken's got a partisan bone in his body," DFL leader Bakk said.
When he retires, Kirkpatrick plans to spend more time hunting, fishing, gardening, traveling, volunteering and going to his four grandchildren's ballgames.
Asked if he's taking any secrets into retirement, he said he's "very spiritual" and often prays with troubled customers.
"I think a lot of people would be surprised at all the people that got down on their knees in my barbershop," he said. "I don't talk about it because to me that's something personal.
"Besides, I've got to balance all my dirty jokes somehow," he added.
This is an AP Exchange feature by Bill Salisbury for the St. Paul Pioneer Press.
Your support matters.
You make MPR News possible. Individual donations are behind the clarity in coverage from our reporters across the state, stories that connect us, and conversations that provide perspectives. Help ensure MPR remains a resource that brings Minnesotans together.