When two is the loneliest number: Isle Royale wolf population drops again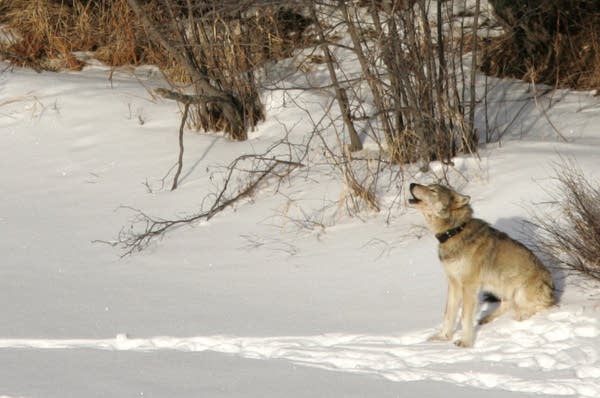 This is the story of a lone wolf — or rather, two lonely wolves.
According to new research from Michigan Technological University, the population of wolves on Isle Royale in Lake Superior is down to two. Last year there were three, but researchers concluded one wolf died during the winter.
Neither of the remaining wolves are good candidates for breeding, according to Phyllis Green, the superintendent of Isle Royale.
The male wolf fathered the female wolf, and is also her half-sibling. This kind of "genetic bottleneck" is a consequence of life on an isolated island.
In the winters of 2014 and 2015, ice bridges formed that allowed new wolves to visit the island, but none stayed, and the gene pool remained unchanged, Green said.
Now, Green and her team are trying to decide what can be done. Should they let nature take its course? Or intervene and maintain a wolf population on the island? Without wolves, the island's moose population continues to grow, which will also affect vegetation.
"Do we move forward with reintroduction?" Green asked. "And if so, how we would do it avoid these types of bottlenecks in the future?"
For the full discussion with Phyllis Green on the wolves of Isle Royale, use the audio player above.
Correction (April 21, 2016): An earlier version of this story misidentified Michigan Technological University.
Gain a Better Understanding of Today
MPR News is not just a listener supported source of information, it's a resource where listeners are supported. We take you beyond the headlines to the world we share in Minnesota. Become a sustainer today to fuel MPR News all year long.