After Orlando, Twin Cities Pride will boost security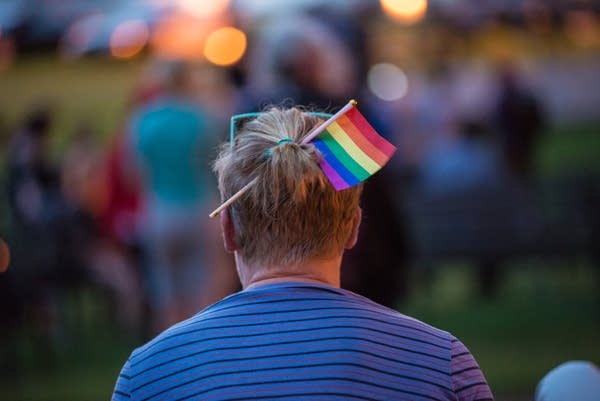 Twin Cities Pride organizers say this year's festivities will have an increased security presence following Sunday's massacre at an Orlando gay nightclub that killed 49 people and injured dozens more.
The annual Twin Cities Pride weekend is scheduled for June 25 and 26 in Minneapolis' Loring Park. Dot Belstler, executive director of Twin Cities Pride, declined to comment on specific security measures the festival may adopt in response to the Orlando attack, but says organizers plan to beef up this year's security presence.
"Most of our security measures are kind of behind the scenes, people aren't aware of what we have on site in the festival, in the parade, we'll be working with MPD and the park police to make sure that our security is more visible this year," Belstler said.
In addition to the parade and festival in Loring Park, Pride celebrations include bars and other venues.
Ken Darling, owner of Lush in northeast Minneapolis, said he and other business owners involved in Pride will meet with police later this week to talk about security.
Still, he knows there's only so much they can do.
"By definition these events are random, and rare, and they're extreme," Darling said. "And there isn't really a security response to them. And we know that. Having said that, we have to be more vigilant, we have to be aware, but at the same time, we can't be fearful, we can't alter our lives."
Darling says he hopes the Orlando attacks will push people to take action.
"This is an opportunity for us to really look at our gun laws, to look at these extremist ideologies and how they are insipiring this violence," he said. "At this microlevel of how does an establishment make itself more secure, I can't believe that even if we had an armed guard at Lush, that we would be any safer."
Security staff can be trained to notice warning signs like an attacker casing the business, for instance. But there's no evidence that armed guards would reduce the overall level of violence in a society, said William Braniff, executive director of the National Consortium for the Study of Terrorism and Responses to Terrorism at the University of Maryland.
"It might deter an adversary from attacking that one establishment, but they might just go down the road to the next target that's softer and target there," he said. "So it helps the establishment out, it doesn't neccesarily help the community more generally out."
Belstler says the community and its allies have always gone into the streets in the past when they felt threatened or attacked.
She expects a strong showing at Pride again this year.
"Many people have said they're afraid and they're not going to come out. But I think the general sense in the community is that we will come out, this is our Pride, and no one else is going to take it away from us."
Your support matters.
You make MPR News possible. Individual donations are behind the clarity in coverage from our reporters across the state, stories that connect us, and conversations that provide perspectives. Help ensure MPR remains a resource that brings Minnesotans together.