Minnesota adoptees forge bonds, find kinship in South Korea visit
Adopted as a 4-month-old from South Korea and raised by parents of Norwegian and Greek ancestry in Minnesota, Chelsea Katsaros spent most of her life among people who didn't quite look like her.
So when she had the chance to visit the country of her birth a few months ago, she embraced it. It led her to return again earlier this month as part of gathering of more than 500 international adoptees, many looking to dig into their cultural roots, make new friends and share common experiences.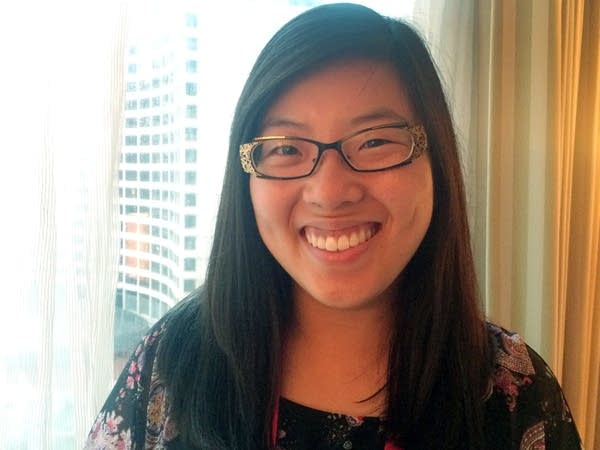 "It feels amazing," said Katsaros, 28, a University of Minnesota genetics student, as she looked over the Seoul skyline from her hotel room. "It feels just like it did when I came the first time, just that instant peace ... because everywhere I looked it was people that resembled myself, facial features [and] skin tone." 
That sensation of seeing people who look like you is something many adoptees from South Korea say is so special about returning. Many grew up in communities that racially reflected white adoptive parents; they often felt isolated within their families and communities.
"Even though I tried my hardest to fit in with white culture, and act white and be white, the fact at the end of the day was I was still Asian. I was still Korean," Katsaros said. "That caused a lot of identity issues growing up, for sure." 
Some 200,000 South Korean children have been adopted internationally since the 1950s. Most were sent to the United States or Europe. University of Minnesota researchers estimate as many as 15,000 adoptees came to Minnesota.
The adoptions first began in post-war South Korea by evangelists who sought to save children from poverty and neglect as a result of displaced families or unwed mothers with children fathered by U.S. servicemen. But the program expanded and adoptions soared. By the mid-1980s, nearly 9,000 children a year were sent overseas for adoption.
Today, that number has been drastically reduced to just a few hundred annually, in part due to a 2012 revision of the country's adoption law that tightened requirements for adoption and ensured more children were registered properly. People trying to eliminate the need for international adoptions from South Korea say there still isn't enough being done to support single mothers who want to be able to keep their children.
Today, more than 90 percent of children adopted internationally are born to single moms. Government support in 2007 for single parents (unmarried or divorced) was only about $70 a child per month, according to the Korean Unwed Mothers Families Association. By contrast, orphanages received $1,050 a child per month, foster parents $250 a child per month. 
During the height of Korea's adoption program in the 1990s, a critical mass of adoptees became adults in the U.S. and in Europe. They started advocating for a larger voice in how the public portrayed adoption and adoptees. These adult adoptees recognized a need to congregate and be understood by other adoptees. In 1999, about 400 adoptees met for the first time in Washington, D.C.; another 200 met in Oslo, Norway, in 2001. 
In 2004, the International Korean Adoptee Association launched what's become a gathering of adoptees every three years, including earlier this month in Seoul. Events include trips to adoption agencies for birth search inquiries and a gala dinner, sponsored by South Korean electronics giant Samsung. 
IKAA has its critics. Some wanted a panel where South Korean birth mothers talked of their grief and loss when their children were adopted. Others wanted a discussion on whether an affluent country like South Korea should still be sending children to be adopted internationally. But they weren't allowed to be part of the conference. IKAA declined to comment for this story. 
Despite those concerns, the gatherings have become an important place for adoptees to strengthen their South Korean bonds as they work through new challenges as adults. 
Katsaros, for instance, realized in her teens that she was gay. The gulf with her deeply religious parents grew as Katsaros learned to accept who she was. Eventually, Katsaros had to sever the relationship altogether.
"Many of us are getting older and as we move through the life course, we have different pertinent issues as adoptees. And then our children and our partners start to take more precedence," said Carleton College adoption scholar and South Korean adoptee Elizabeth Raleigh. "But I think it's amazing now that it's not just international in terms of the gathering, but also [it's] multi-generational."
It's important for adoptees to come together to talk through their experiences "and share the struggles we go through," Ben Nodland, a 32-year old who grew up Lakeville, said he stood outside a baseball stadium in Seoul where he and other adoptees were about to watch a game between the LG Twins and the Doosan Bears. 
This most recent gathering gave Margie Rask of Coon Rapids the opportunity to finally come back to South Korea since being adopted in 1971, and to bring her 19-year old daughter. The trip, she said, changed her.
"I'm going to try a little at the language, because it feels so wrong that I'm not able to understand as many words as I think I should," she said. "And I will definitely be back to Seoul."
 Kaomi Goetz is a Korean-American journalist living in South Korea as a Fulbright scholar who writes on adoption issues.