Dialogues give rural areas voice on climate change
In a 16th floor conference room with spectacular views of downtown St. Paul, residents of three rural Minnesota communities who might not normally talk about climate change are doing just that.
"I drank more water than I thought was humanly possible in July and August," John Geleneau of Morris tells those in the room, including officials shaping state policy on climate change.
Geleneau kept track one day. He drained three bottles of Gatorade and 16 bottles of water in 12 hours, "and I never used the restroom, because it was pouring out of me faster than I could put it in me."
Geleneau and the other "citizen jurors" from Morris, Grand Rapids and Winona responded to postcards that the Jefferson Center, a civic engagement nonprofit, and the Institute for Agriculture and Trade Policy sent in the mail. The idea was find a representative group of residents from those communities rather than host a gathering of people already active on environmental issues.
"We were engaging in the climate conversations in the state and realizing that rural communities, rural citizens have different concerns when it comes to climate change," said Anna Claussen, the institute's director of rural strategies.
And even though there was a perception that people in rural areas were unwilling to discuss climate change, Claussen said they found the opposite was true across the political spectrum. As diverse groups of people talked with each other, participants discovered "they share a lot more things in common than they thought," she said.
Gain a Better Understanding of Today
MPR News is not just a listener supported source of information, it's a resource where listeners are supported. We take you beyond the headlines to the world we share in Minnesota. Become a sustainer today to fuel MPR News all year long.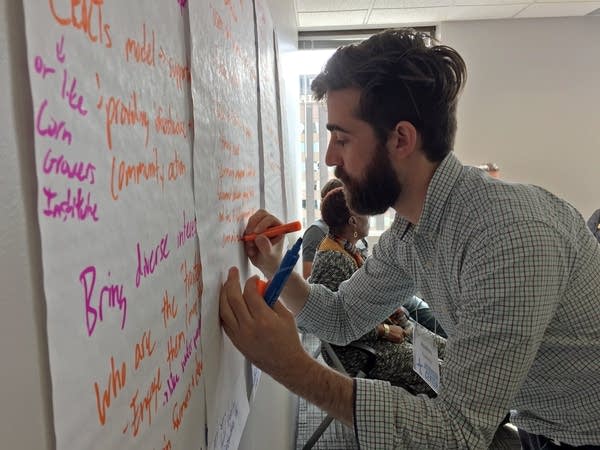 The Rural Climate Dialogues began two years ago in Morris. The latest event happened during two days last week in St. Paul, when participants from all three communities shared their experiences with each other and with state agency officials.
For Melissa Weidendorf, of Grand Rapids, it was talking about how rising energy costs affect people living in poverty, something she knows about firsthand.
"We grabbed a space heater and went into the bedroom and shut the door with our dog and bundled up and kind of waited that out for a couple days until I was able to get a refill on the propane," she said. "That's not my situation now, but I know that's a situation that a lot of people in our communities face."
Kathy Sublett, of Winona, said she took her city's tree-lines streets for granted — until emerald ash borer hit.
"I think it was 50-plus trees that were cut down on a main street, and I drove down that street a couple of days before I realized, 'Oh, all the trees are gone,'" she said.
Invasive species, heavy rains, heat waves, and difficulty paying energy bills are some of the many problems exacerbated by climate change. Yet Sublett and others in the group said they knew next to nothing about it before participating in the dialogues.
"I really did not know that people were even looking into severe weather changes even though I've noticed it," Sublett said.
For Dave Johnson of Grand Rapids, a career in highway construction made him aware of the trend toward heavier rains — they were causing more problems on the job. Now retired, he said he talks about it.
"I scatter it around with people who will respond and will listen to me," he said. "A lot of people look at you like you're goofy. They don't really realize what's happening. They're starting to now, but in the past people just didn't want any part of it."
Johnson said he makes headway when avid hunters and anglers like him start to understand the threats to forests, wildlife, clean water and fish.
While the formal dialogues have concluded for now, organizers hope the conversations will continue. That's already happened in Morris, where some of the dialogue participants started a group to look at how their community can better respond to climate change.
Those selected for the dialogues often returned the postcard because they were curious or had a vague interest in the discussion, said Kyle Bozentko, executive director of the Jefferson Center.
"They then walk away from the event saying, 'Here are things that I didn't recognize were happening, here are people in my community doing X, Y and Z, I might not want to become fully involved, but I'm willing to have these conversations with my neighbors,'" he said.
Bozentko said rather than push specific policies, the Jefferson Center wants to inform citizens who can then help their communities come up with solutions. "How do we create spaces and opportunities for people to take a step out of their regular life to examine issues and learn a little bit more about what's happening?"
One approach is to give people compensation for their time. All the participants selected for the juries were paid a stipend and their meals were covered.