Is the DFL effort to tie Rep. Paulsen to Trump working?
Minnesota Democrats have worked to link GOP U.S. Rep. Erik Paulsen to Donald Trump ever since the New York businessman became the Republican presidential candidate. But a super PAC's move this week may be a sign the strategy is faltering.
The House Majority PAC, which is fighting to flip control of the House from Republicans to Democrats, cancelled nearly $600,000 in planned TV advertising against Paulsen.
While there's still plenty of outside spending aimed at defeating Paulsen — the Democratic Congressional Campaign Committee has been running ads since early September — Paulsen has a history of handily winning re-election in Minnesota's 3rd Congressional District. He won by more than 20 percentage points in two of his last three campaigns.
Linking him to Trump, who came in third in Minnesota's Republican caucuses this year, seemed like a solid strategy. Paulsen, a four-term congressman, has refused to denounce Trump for controversial remarks.
Democrats have been framing DFL state Sen. Terri Bonoff's race to defeat Paulsen largely as a contest between Bonoff and Trump.
In Bonoff's latest ad, she doesn't even mention Paulsen and urges district voter to "step up and stand up to Donald Trump."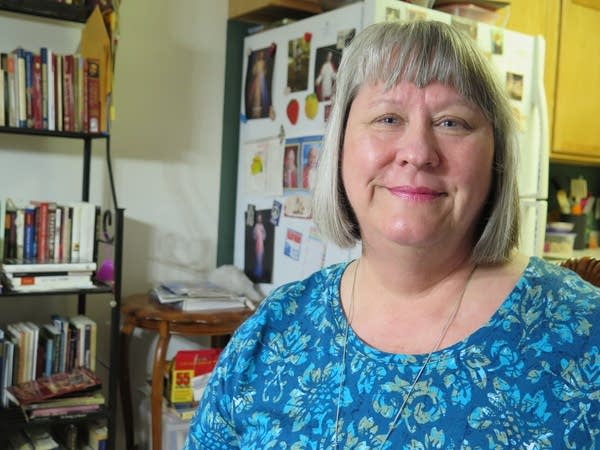 Paulsen supporter Debra Brunsberg, 60, of Coon Rapids does not think Democrats' focus on Trump is working.
"I do find it ridiculous," she said. "I don't think trying to make him Trump is going to go anywhere with anybody."
Another Paulsen supporter, Andrew Shedlock, 32, from Maple Grove sees the situation differently. He thinks Paulsen would be smart to take a firm stand against Trump.
Republicans and independents would welcome a Paulsen speaking out against the nominee, he added.
"Many Republicans I've talked to think that Trump is abhorrent, is morally corrupt and is just not the person we want to represent our party," Shedlock said. "If you believe those things, come out and say them. People respect authenticity."
Democrats claim their efforts are hurting Paulsen and they point to a poll they did that showed the race had become a dead heat in mid-September.
But the decision by the House Majority PAC to pull out raised questions about whether the race is really that close.
Super PACs can raise and spend unlimited amounts of money on campaigns, as long as they periodically disclose their fundraising and spending. In 2012 the group raised $36 million to back Democrats running for the House.
The ad buy cancellation could be a sign that efforts to bring down Paulsen by tying him to Trump are not working.
The House Majority PAC's move indicates a lack of confidence in Bonoff's campaign, said Nathan Gonzales with the Rothenberg-Gonzales Political Report, a national political analysis group.
"Canceling ad buys is usually either a sign of moving elsewhere because you think you're going to win or lose. In this case canceling, I think, is a sign that they don't believe this is a great opportunity," he said.
A spokesperson for the House Majority PAC declined comment on the group's decision-making process.
Gonzales said linking Republicans to Trump is having a varying effect from race to race and that it might be more difficult in the case of Paulsen than some others.
"He has a reputation as a moderate and Democrats have a lot of work to do on him whereas some other congressional Republicans around the country, their name identification is softer, their image is softer and it might be easier to make that connection to Trump," he said.
And Paulsen, he noted, has "had money to defend himself."
Your support matters.
You make MPR News possible. Individual donations are behind the clarity in coverage from our reporters across the state, stories that connect us, and conversations that provide perspectives. Help ensure MPR remains a resource that brings Minnesotans together.