From mining to biking: How Minnesota's Cuyuna Range became an off-road cycling destination
Seventy-year old John Schaubach steadily ground the gears of his mountain bike up a winding trail to the summit of Miner's Mountain in the Cuyuna Country State Recreation Area — then let out a war whoop as he surveyed the commanding view of aqua blue lakes surrounded by steep red hills, studded with lush green trees.
"The miracle of the power of nature to regenerate is probably what people should come out here to see," he said as he caught his breath.
Decades ago this was a central part of Minnesota's iron ore country. Deep mines in the region's rich red earth yielded the iron ore that fed the nation's steel mills that fueled the country's 20th century industrial growth.
But one by one in the 1960s and 1970s, the mines in this region east of Brainerd closed. Workers and their families left the tiny towns of Crosby, Ironton and Cuyuna, as the ore was depleted and the state's iron ore mining industry shifted north to the Mesabi Range.
Grow the Future of Public Media
MPR News is supported by Members. Gifts from individuals power everything you find here. Make a gift of any amount today to become a Member!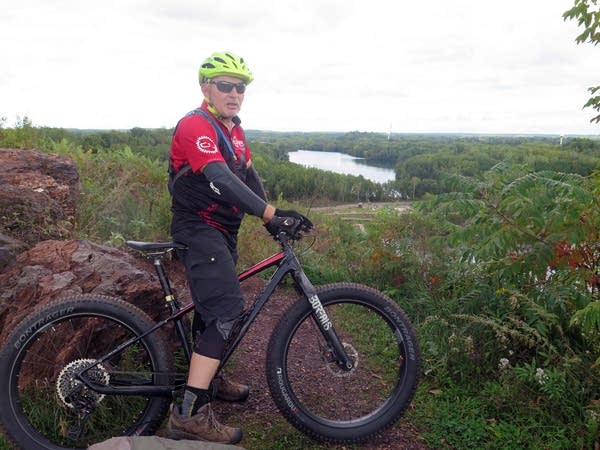 "A lot of people moved away for the jobs that weren't here, and then this land just lay abandoned. The mining companies just walked away. There was just bare dirt, and discarded equipment and empty holes," he said.
The barren landscape and deep mine pits became a place to illegally dump trash, an out-of-the way place for teenagers to party and a playground for ATV and motorbike riders.
But over the course of 30 years, the scarred landscape slowly healed, the pits filled with clear water, and a group of far-sighted leaders managed to protect the land and set the stage for what would become a new outdoor recreation-based economy, built directly on the abandoned pits and waste piles of the old mining-based economy.
"This land is too important to be disrespected," said Schaubach. "This represents the work of generations of people."
And those mineworkers, without even knowing it, Schaubach said with a grin, left behind terrain perfect for mountain biking.
But first, the land needed to be protected.
"Our thing was, save it, this is special," recalled Barb Grove, who was hired to head up Cuyuna Range Economic Development Inc., in 1983, at a time when the region was desperate for new jobs.
"Because many of them were waiting for the mining to come back. And it wasn't going to come back," she said. "But it's hard to look out into the future, past what you've already been experiencing."
The Iron Range Resources and Rehabilitation Board assembled a committee to decide what to do with the land. Grove was the only woman on it.
"And I was a newbie, so it was kind of interfering with the Old Boys Club," she recalled.
But that didn't stop her from pitching a bold idea. Let's create a park, she said. A big one.
"And I can still see them, every one of them, leaning back in their chairs, folding their arms, and saying, no. Won't happen. Can't happen."
But slowly Grove and other advocates got local leaders on board, and then state politicians, including Willard Munger, the powerful chair of the Legislature's House Environment and Natural Resources Committee.
They brought Munger to the top of Miner's Mountain, Grove remembered, "And Willard spread his arms out and he said in a god-like way, we have to make this a park, it has to be done now."
And it was. In 1993, 10 years after the idea was first hatched, the state created the Cuyuna Country State Recreation Area.
From park to mountain bike destination
The park remained largely undeveloped for years, until the Minnesota Off-Road Cyclists, a Twin Cities-based group, pitched a plan to create the first destination trail center built specifically for mountain bikers.
"And then they started talking about mountain bikes," recalled Johnna Johnson, former director of the Cuyuna Lakes Chamber of Commerce. "And we're like, we're not mountains! This isn't a mountainous area. It didn't even make sense. There was such resistance at the beginning."
But mountain bike advocates saw the Cuyuna area as an ideal canvas on which to build a new kind of trail system, a destination, built purposely for mountain biking that featured "progressive" trails, suitable for beginner to expert riders.
The vision was to showcase a new "evolution" of mountain biking, said Aaron Hautula, president of the Cuyuna Lakes Mountain Bike Crew, "trails purposely crafted into the contour of every hill — momentum based cycling — that the International Mountain Bike Association believed was the future of mountain biking."
There was also resistance from those who had adopted the park as an unofficial playground for ATVs and dirt bikes.
"There were certainly times where the car was pulled up in some remote location in the rec area, and someone came and put a huge scratch the length of the car," said Hansi Johnson, who worked to develop the area with the International Mountain Biking Association. "They obviously were not happy with what was going on."
Yet, people remained skeptical that the $700,000 price tag to build the trails would have much of an economic impact.
"There was a lot of coffee talk about all those bikers," said local realtor Joel Hartman. "You know, they don't have pockets in their pants, how can they bring money into the town."
Chris Albrecht was one of those skeptics. He owns a bar and Dairy Queen in the area with his wife. "I was like, wow, I could ride dirt bikes or four wheelers or whatever out there, because I'm a big dirt bike guy," he said. "So I was like, I'm not doing this, I'm mad."
But in 2011, after federal funding was secured by the late northeast Minnesota congressman and avid cyclist Jim Oberstar, the trails opened.
"We broke out the 1985 mountain bike, and I went and rode it one time, and I'm like, you know what, it's almost like riding my dirt bike," he said. "The only difference was, instead of giving it the gas, I've got to give it the gas by pedaling faster."
And just like that, he was a convert. The next week he bought a $3,200 bike. He's been riding the trails ever since.
Most other skeptics have also come around, said Johnson, who bought a coffee shop two years ago. "They're seeing the growth and now you can't deny it. You just can't. I had 40 bikers in here twice this summer all getting ice cream cones, and their bikes were stretched half a block. We almost had traffic accidents out front."
Visitation to the park has jumped 60 percent since the trails opened to 190,000 people a year.
Even the most ardent of cycling advocates are quick to point out that mountain biking can't solve all a region's economic ills. The median household income in the area, for example, is only about $30,000 a year — that's half the statewide average.
Still, locals talk of an energy and excitement in the Cuyuna area that hasn't existed in decades.
"There's a hopefulness here now that there never was before," said bike shop owner Jenny Smith.
Smith has a map on the wall of her store with pushpins showing the far-away places her customers have come from — Canada, Australia, Europe and all over the U.S.
"I think once people saw the vision," she said, "and started seeing the cars coming in with the bikes on the racks, and on top, people in the stores and in the restaurants, spending money in town, people have really opened up their arms."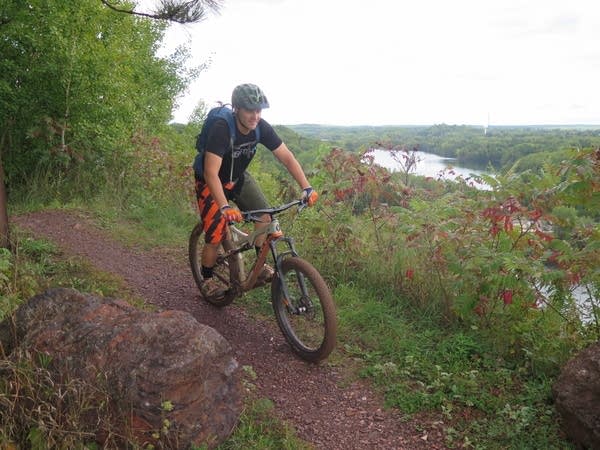 Building a new bike-based economy
The mountain bike trails have sparked a flurry of new development in downtown Crosby, including several new businesses that look straight out of uptown Minneapolis — a yoga studio, a farm to table restaurant, and a cafe/art gallery/bike shop opening this fall.
"It's unbelievable, 18 months ago, probably 50 percent of the buildings in town were vacant," said realtor Joel Hartman. "But now, today, there are very few opportunities for investors to buy buildings because they have been purchased."
One of those buildings will soon house the Cuyuna Brewing Company.
Nick Huisinga, who makes vaccines for the Willmar Turkey Company, cashed out his retirement and bought the building last year. He's wanted to open a brewery for years, and after riding the Cuyuna mountain bike trails last year, he decided downtown Crosby was the right place to do it.
The Cuyuna Lakes Mountain Bike Crew has raised about $600,000 from events, donations and a matching grant from a local foundation, the Hallett Charitable Trusts, to expand the trail system to 75 miles.
They're hopeful for another $3.6 million in state funding to complete the build-out. That money was included in the state bonding bill in the last legislative session that ultimately failed to pass.
The existing trails have already improved the area's quality of life, said the club's volunteer president Aaron Hautula, and have helped draw doctors, teachers and young entrepreneurs to the area.
"And we're not done yet," he said. "The big ah-ha will be when we recruit the next big business here, because why will they come? Because you have a world class trail system, and you have unbelievable clean water, and you just have an amazing experience."
Back when iron mining was still the lifeblood of the region's economy, mineworkers would get their paychecks, go to the bank, and then go to the bar, said Johnna Johnson.
"You could tell it was a Friday in this town because the streets had red streaks on them from the bank to the bar."
Now, 40 years later, she's seeing a different kind of red tire tracks outside her coffee shop window — tracks left by mountain bike tires.
Once again, she said, "our future is paved with red."
Correction (Oct. 7, 2016): An earlier version of this article misidentified the direction of Crosby and Ironton from Brainerd.