Daudt: Dayton should quit if health insurance woes aren't fixed
Efforts to help some Minnesotans weather a looming spike in their health insurance costs were stymied again Wednesday by another round of election-year finger-pointing.
DFL Gov. Mark Dayton said it's up to legislative leaders to set politics aside and find a short-term fix. But Republican House Speaker Kurt Daudt accused the governor of a "dereliction of leadership" on the issue.
Daudt, R-Zimmerman, said he was offended by a letter that Dayton sent this week asking House and Senate leaders to come up with a plan soon for helping Minnesotans who will be hit with big premium increases next year for individual market plans.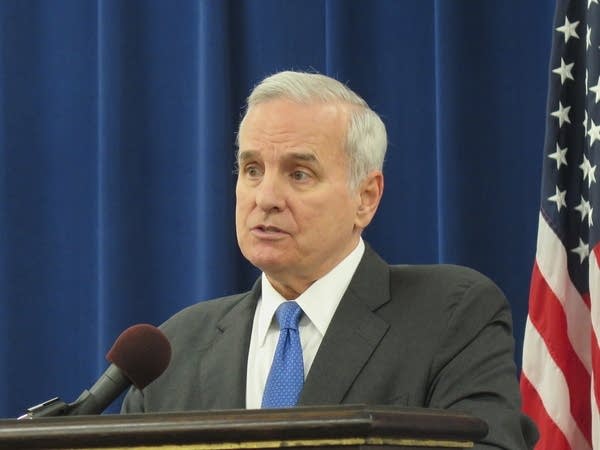 Dayton is proposing financial assistance for those not eligible for federal tax credits. But Daudt says Dayton isn't even acknowledging the more pressing problem caused by enrollment caps. Neither has yet picked up the phone to try to work out a deal.
Grow the Future of Public Media
MPR's budget year comes to a close on June 30. Help us close the gap by becoming a Sustainer today. When you make a recurring monthly gift, your gift will be matched by the MPR Member Fund for a whole year!
"You can throw all the money you want to at this problem," Daudt told reporters. "There will be people in the state of Minnesota on January 1 that will not be able to buy health insurance at any cost. That is unacceptable, and that was brought on 100 percent by Governor Dayton and the Democrats in the Legislature."
Daudt, who became increasingly irate during a 40-minute news conference, said a special session must address multiple issues, including affordability, access, enrollment caps and the technical operations of the state health insurance exchange MNsure.
Daudt also said Dayton needs to marshal the resources of his administration to deal with the crisis.
"And if I find out that those people aren't working 24/7 to find a solution to help these people get health insurance, I'm going to call for Dayton's resignation myself personally," he said. "This is absolutely a dereliction of leadership that he is trying to pass the buck onto others right now."
A spokesperson for the governor said he would not dignify Daudt's "temper tantrum" with a response.
Earlier in the day, Dayton said the next president and Congress must fix what he sees as "severe defects" in the federal Affordable Care Act. Dayton supports the law. But his recent critique about the law's affordability has been used by Republicans in campaign ads against Democrats.
In the meantime, Dayton said he's been meeting with his commissioners and staff to look at potential short-term solutions for Minnesota.
"We're doing the very best we can under difficult circumstances," he said. "I've heard from many people, and it's just very painful to me to hear their stories of the unaffordability and the disruption to their medical care resulting from this. I take it very, very seriously, and I deplore it."
Dayton was taking aim at Republicans on another key campaign issue: transportation funding. He said GOP lawmakers were blocking the state transportation department from using $105 million in federal funds for a long list of road and bridge projects that will now be delayed.
Dayton blamed the latest impasse on House Republicans' inaction last session on a transportation funding bill. Daudt accused the governor of using the transportation complaint to try to shift attention away from health care.