Why do we vote where we vote in Minnesota?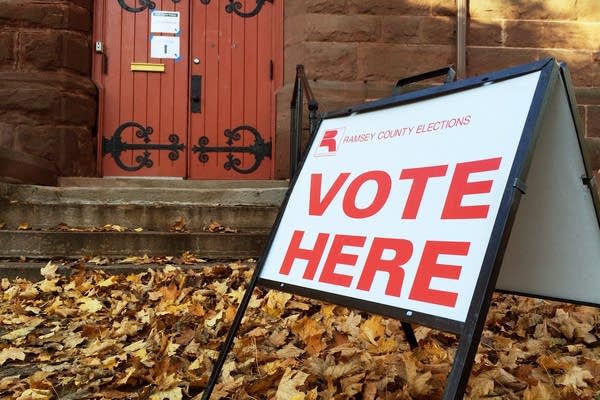 Updated: Nov. 7, 12:20 p.m. | Posted: Nov. 5, 12:30 p.m.
When Minnesotans head to the polls Tuesday, they'll be voting at more than 2,000 locations across the state. They'll cast their ballots in town halls, churches, schools and rec centers, fire stations, public housing high rises, senior centers — and in some cases, ice rinks.
It's up to each jurisdiction — city, county, town — to coordinate polling places for each election, and they go about it differently. But Anissa Hollingshead, spokesperson for the Minneapolis City Clerk's Office, said jurisdictions have three major concerns when determining where their citizens will vote: accessibility, available parking and a central location in a precinct.
While public buildings are required to make themselves available for voting, many privately owned locations become polling places, too, if they're willing. Traditionally, many of the privately run polling places have been churches, in the Twin Cities and around the state. More than 500 of Minnesota's polling places this year are churches or church buildings, such as parish halls.
Churches aren't the only religious institutions serving as polling places this time around, but the numbers are much different for other religious spots. Just two synagogues — one in St. Louis Park and one in St. Paul — will host voters on Tuesday. And, for the first time ever in Minneapolis, voters will cast their ballots at a mosque in the city's north side.
The city of Minneapolis moved the precinct's polling place to the mosque from a nearby public housing building due to space reasons, Hollingshead said. Imam Makram El-Amin said he'd been thinking about the mosque, Masjid An-Nur, becoming a polling place for some time.
"Many churches and synagogues and community centers have served as polling for many, many years," he said. "It's become commonplace to visit a church or some other place to cast your vote. So why not the mosque."
Then there are the locations that are a little more obscure: The farther you get from city centers, the more difficult it is to find a suitable polling place. For that reason, some voters in Wabasha, Montevideo and Shorewood, Minn., will find themselves filling out their ballots in someone's house this year.
Carla LaBore has been turning the front hallway of her Shorewood home into a polling place for more than 20 years. Shorewood mostly covers the south coast of Lake Minnetonka, but the tiny piece where LaBore lives — known as "the island" to residents — is not attached by land to the rest of the precinct. It would take 30 or 45 minutes to drive from LaBore's house to the mainland voting location, so instead, her neighbors vote at her house.
About 100 people show up each year, she said. LaBore serves as an election judge, and puts out a coffee pot at 7 a.m. sharp when polls open. Neighbors bring baked goods. Her golden retriever, who died a few years ago, used to greet every voter at the door.
"It just seems normal now," she said. "And it's very convenient for me."
In 2014, the U.S. government issued nationwide recommendations for polling place locations. It was an attempt to formalize voting practices across the country and eliminate the long lines and other problems that had plagued previous elections.
One of the recommendations: Use schools as polling places. To address security concerns, the report suggested that Election Day be a school holiday.
It's a nice idea, Hollingshead said, but it's not necessarily practical.
"In Minneapolis, we have 132 precincts and we don't have 132 schools," she said. "So we definitely have to look at other locations." The city of Minneapolis pays private polling place hosts a nominal $80 — basically enough to pay the electric bill for the day or hire a janitor to sweep up after voters, Hollingshead said.
Every year, a few voters raise concerns about the separation of church and state, as people cast ballots in religious institutions, but Hollingshead said Minneapolis typically only receives a handful of complaints.
Even if an institution has taken a stance on a candidate or a ballot measure, there can be no evidence of that support or challenge in the areas where people vote. State law bans political materials in a polling place. "If you agree to be a polling place during the time of the election, you can't have signs up," Hollingshead said.
MPR News reporter Riham Feshir contributed to this report.

Correction (Nov. 8, 2016): An earlier version of this story misspelled Carla LaBore's last name. The story has been updated.
Your support matters.
You make MPR News possible. Individual donations are behind the clarity in coverage from our reporters across the state, stories that connect us, and conversations that provide perspectives. Help ensure MPR remains a resource that brings Minnesotans together.