Dayton: 'Harmony' unrealistic in divided Minnesota government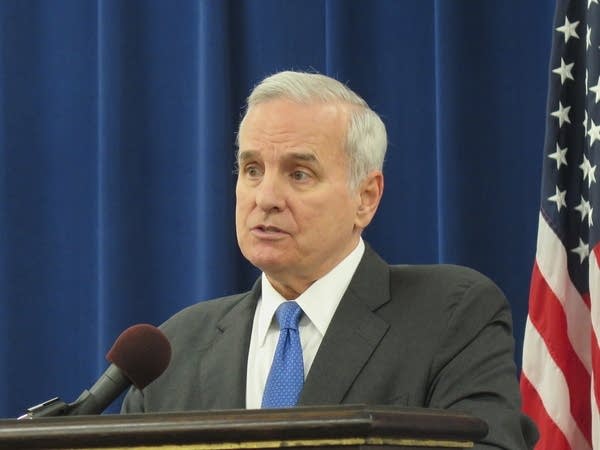 Facing a GOP-controlled Minnesota House and Senate in his final years in office, DFL Gov. Mark Dayton said Wednesday he wants to push ahead on fixing the state's health insurance market but conceded it was unrealistic to think "peace and harmony" will reign in divided state government.    
In his first public remarks following GOP candidate Donald Trump's presidential win Tuesday, Dayton said he's working on the belief that the GOP flipped the Minnesota Senate. Republicans won key state Senate contests that will give them a controlling majority in the next Legislature, although two of those are close enough for recounts.    
  Problems with the individual health insurance market became an important issue in the battle for control of the Minnesota Legislature. Weeks earlier, the state acknowledged that people who buy individual market health insurance outside an employer were headed for big premium hikes at the start of the new year.    
  Republicans used that to attack Democrats for their support of the federal Affordable Care Act and MNsure, the state-run online insurance marketplace spawned by the federal law. They were emboldened by Dayton's public statement that the Affordable Care Act was "no longer affordable," a biting critique from a state leader who embraced the law just a few years ago and helped create MNsure    
"I spoke the truth" on the matter Dayton said Wednesday.
  The governor said he now wants legislative leaders to agree to a special session that would focus completely on fixing the insurance market and aiding those facing skyrocketing costs. He's proposed tax relief for those affected.    
But while the authority for calling a special session rests with the governor, Dayton said he called Republican House Speaker Kurt Daudt and current DFL Senate Majority Leader Tom Bakk and told them it was up to them about a special session on health coverage costs.  
  Overall, Dayton said Trump's election made him "very alarmed for the future of this country."