Charges in Castile shooting may be first against officer in Minnesota
The decision to charge St. Anthony police officer Jeronimo Yanez in the shooting death of Philando Castile is an anomaly.
Despite the hundreds of times police officers shoot and kill people while on duty, it's rare they face murder or manslaughter charges.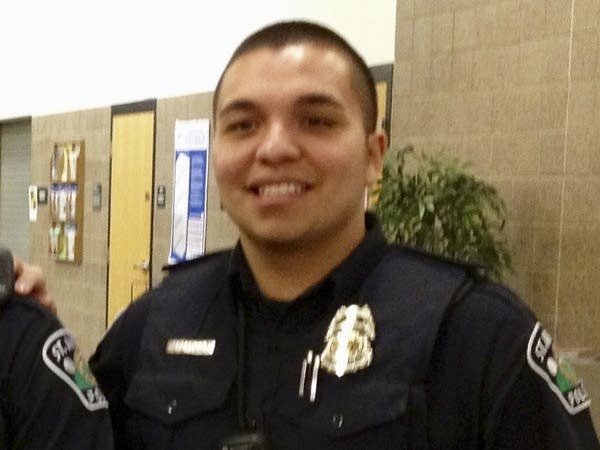 Ramsey County Attorney John Choi's charges in the Castile case mark the first time an officer has been charged for a fatal shooting in Minnesota in more than 200 cases that spanned over three decades, said ex-FBI agent Larry Brubaker, who has researched and written two books on fatal officer-involved shootings that have occurred in Minnesota.
A look at the case shows why Choi did what activists have wanted for years: File charges against an officer in a fatal shooting.
MPR News is Member Supported
What does that mean? The news, analysis and community conversation found here is funded by donations from individuals. Make a gift of any amount today to support this resource for everyone.
Yanez faces charges of second-degree manslaughter and two felony counts of dangerous discharge of a firearm.
Police officers across the country shoot and kill people 900 to 1,000 times a year, according to a database created by Phil Stinson, an associate professor of criminology at Bowling Green State University in Ohio.
In many cases, state laws and court decisions have justified officers' use of deadly force.
Stinson found that over the past 12 years, 77 officers have been charged with murder or manslaughter. Of those 77 officers, 27 were convicted.
When force is justified
In Minnesota, state law can explain part of the reason it's so rare: Officers are given much more legal latitude to use fatal force.
For civilians, the law is much stricter. The entire state statute that governs instances in which a civilian is legally justified in killing another is a sentence long:
"The intentional taking of the life of another is not authorized by section 609.06, except when necessary in resisting or preventing an offense which the actor reasonably believes exposes the actor or another to great bodily harm or death, or preventing the commission of a felony in the actor's place of abode."
For officers, the law is much longer. To summarize, state code says that using deadly force while on duty is justified in these situations:
• When it is needed "to protect the peace officer or another from apparent death or great bodily harm"

• To arrest, capture or prevent from escaping a person the officer "knows or has reasonable grounds to believe has committed or attempted to commit a felony involving the use or threatened use of deadly force"

• To arrest, capture or stop escape of someone the officer "knows or has reasonable grounds to believe has committed or attempted to commit a felony if the officer reasonably believes that the person will cause death or great bodily harm if the person's apprehension is delayed"
'An unreasonable risk of death or great bodily harm'
It was likely Yanez's "culpable negligence" along Larpenteur Avenue that July night when Philando Castile was killed that brought Choi's rare charges, said former U.S. Attorney Tom Heffelfinger.
Manslaughter implies "culpable negligence, creating an unreasonable risk of death or great bodily harm," Heffelfinger said.
In the Castile case, he said, the shooting's context is crucial to understanding the charges.
"Clearly, County Attorney Choi found it very serious and worthy of charges that the officer fired seven rounds into a car with not only Mr. Castile but also his girlfriend and a young child," Heffelfinger said.
A smartphone and social media also likely played a major part in the county attorney's decision to press charges. Diamond Reynolds, Castile's girlfriend, streamed a live Facebook video of the shooting's brutal aftermath.
"We see in some of these cases, even with video evidence, it does not ultimately result in an officer being convicted, especially in jury trial situations," said Stinson, the criminology professor. "Juries are very reluctant to find a police officer guilty of murder or manslaughter. They want to believe that police officers are the good guys."
In the Castile case, such evidence quickly spread around the world immediately after the shooting, gaining steam on social media even before most news outlets caught up with the story.
"The video evidence is paramount. It's absolutely crucial in this case," Stinson said. "I don't think in this case and in many others that an officer would be charged without the video evidence."
Choosing charges over grand jury
Another detail that sets the Castile case apart: Choi didn't choose to send the case to a grand jury. He kept the decision whether to charge within his office. He said in his announcement Wednesday that he didn't think it would be right to ask a grand jury to decide the issue, when "I know in my heart what needs to be done."
Grand juries — panels of peers, whose work is secretive by design — consider if there's enough evidence to charge a person. They have been controversial for years, especially in police shooting cases. While grand juries almost always indict civilians, the opposite is true when a police officer is involved.
Only cases that carry Minnesota's harshest sentence — life imprisonment — must go before a grand jury. Otherwise, it's up to a prosecutor's discretion.
By making the decision to charge without a grand jury, Choi retained independence and followed the lead of Hennepin County Attorney Mike Freeman, who opted not to empanel a grand jury in deciding on charges in the Jamar Clark police shooting.
"I concluded that the accountability and transparency limitations of a grand jury are too high a hurdle to overcome," Freeman said when announcing his decision in the Clark case in March. "So at this point in time in a democracy, where we continually strive to make our system fair, more just and more accountable, we in Hennepin County will not use the grand jury in the Jamar Clark case."
Choi, who brought the charges against Yanez, emphasized on Wednesday that the officer will still need to go to trial, and that he's still considered innocent until proven guilty.
MPR News reporters Cody Nelson, Jon Collins and Riham Feshir contributed to this report.