Cirrus is betting its future on a 'personal jet'
The first so-called personal jet hit the market on Monday when Duluth-based Cirrus Aircraft handed over the keys of its long-awaited Vision Jet.
Now, after Cirrus put over a decade of work into the jet, the question is how big the market for such an aircraft will be.
The Vision carries a $2 million sticker price. It's a small seven-seat plane with the speed and range of a larger jet, but designed to be flown by the owner.
Joe Whisenhunt, a real estate developer from Little Rock, Ark., became the first owner of a Vision.
Grow the Future of Public Media
MPR News is supported by Members. Gifts from individuals power everything you find here. Make a gift of any amount today to become a Member!
When he picked up the plane on Monday, hundreds of Cirrus employees gathered to watch. It was Whisenhunt's 11th Cirrus aircraft.
"That's what we affectionately call a 'really good customer,' " Cirrus co-founder and CEO Dale Klapmeier said to the crowd.
Cirrus has won over a lot of loyal customers like Whisenhunt with its sleek four-seat piston engine aircraft that features an innovative full-plane parachute.
Now it's banking on its new plane to attract even more pilots.
Klapmeier says a "personal jet" was part of the vision for Cirrus from day one.
"The thinking of this started when we started the company over 30 years ago," he said. "Literally working on this airplane for the better part of 15. And the entire company had a part in this in the last 10."
For a while, it didn't look like the Vision jet would ever come into focus.
Cirrus was hit hard by the 2008 recession and it laid off hundreds of employees. But five years ago, a Chinese aviation company bought Cirrus and injected $100 million into developing what would become the Vision.
Now, Klapmeier says about 600 customers have plopped down $100,000 each to reserve one. It'll take several years to fill those orders.
"We tried to design the system so we could build just over 100 a year, every year," he said, "but it takes a lot of work to get there."
Cirrus is also celebrating the opening of a new $12.7 million facility in Duluth where the jet will be finished and painted.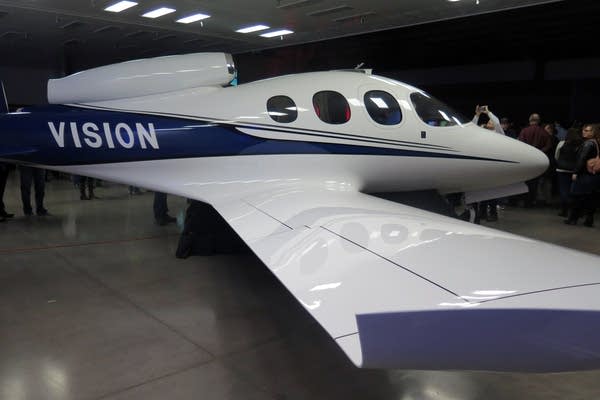 The state contributed $4 million to it, and the city of Duluth added another $8 million.
Mayor Emily Larson says the new building is expected to add 150 jobs, boosting Cirrus' total workforce in Duluth to around 850.
"Just those 150 jobs annually is $4 million to our economy," Larson said. "That's family sustaining wages, those are good jobs."
Cirrus is the largest company in Duluth's aviation maintenance and manufacturing sector, which Larson says injects $1 billion into the region's economy.
The company's future is now staked in the Vision Jet's success, Cirrus' Klapmeier said.
"Our survival moving forward is based on growing a company, that continual growth, we're going to double the size of the company now with the Vision jet," he said.
Several other manufacturers were also developing small jets, but all were waylaid by the recession and they haven't recovered to enter the market as fast as Cirrus.
Richard Aboulafia, an aviation analyst at the Teal Group, said he doesn't doubt Cirrus' ability, but questioned whether there's a market for personal jets.
"At the end of the day, jets are usually used for people who want some kind of capability for business use," he said. "And then there's general aviation, which is more for people who like to fly. It's not really clear that there's much of a market in the middle."
About 20 years ago, several companies developed planes known as "very light jets" in the $4 million range, Aboulafia said, thinking there would be a huge market for them.
"Everyone had these dreams of literally thousands of very light jets, and it turned into almost exactly nothing," he said.
Klapmeier says he wishes he had more competition, saying Cirrus would be more successful with a bigger industry.
But he's not worried about demand for the Vision Jet.
"In most products, there's some risk being first," Klapmeier said. "But not in this. It's clear the market wants this product. It's clear our customers want this product."