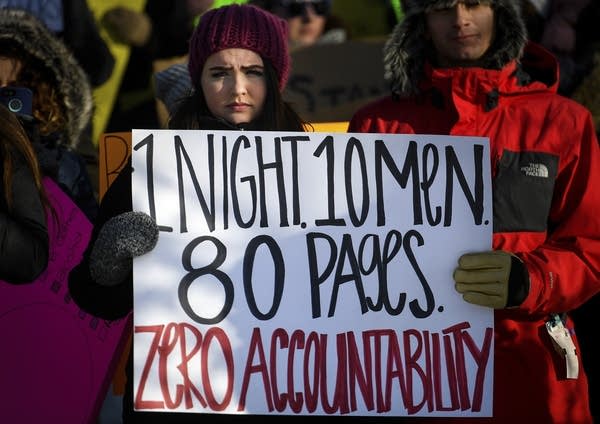 An alleged sexual assault at the University of Minnesota, the suspension of 10 football players and a threatened team boycott has again thrust the school into an unwanted spotlight.
Four professors, all serving on various faculty committees that provide oversight and leadership on student conduct and intercollegiate athletics, joined a panel discussion to address the issues surrounding the investigation and boycott.
Faculty, students and the community have voiced complaints that the school did not do a sufficient job communicating the full situation, with some of the athletes within the investigation stating they did not understand the process by which they were suspended, said Larry Jacobs, a political science professor who moderated the event.
"I don't think we've had an institutional voice to do what we're trying to do right here, in terms of walk people through the process, the principles and the obligations of the university," said Douglas Hartmann, professor of sociology.
As investigations of this nature appear at the school with more frequency Emily Hoover, a professor of horticultural science, says that it's more than just a public relations issue, and that faculty should play a role in communicating to their students what is happening within the university.
With the large amount of information and resources incoming students receive in their first weeks at the school, a reminder from faculty on the code of conduct and how to stay safe would also help to prevent these kinds of cases from the start, said Julie Schumacher, an English professor.
A conversation on conduct and consent may have also helped the boycotting players understand why their fellow athletes had been punished, said Christopher Uggen, a professor of sociology and law.
"We often have higher rates of sexual assault, sexual harassment in groups like fraternities, in groups like athletic teams and that's one of the reasons that this call for unity and standing with one's brothers struck many of us as especially problematic in this sports context," Uggen said.
While more communication with the athletes on this point would have helped, it is also up to the team to understand and police the message they sent with the boycott, Uggen added.
The forum was held at the University of Minnesota Humphrey School of Public Affairs, Tuesday, Dec. 21, 2016.
To listen to the entire forum, click the audio player above.
Further reading
• Expert: College campus culture, sex assaults linked
• Report: Almost 300 sex assaults reported on MN campuses in 2015
MPR News presents offers speeches, documentaries and debates — airing weekdays from noon to 1 p.m