Before 'Fences,' August Wilson was a poet -- and a St. Paulite
"Fences" is making its silver screen debut this month. But before it was adapted by Hollywood, "Fences" began on the stage, penned by two-time Pulitzer prizewinning playwright August Wilson.
Wilson, the poet of the African-American experience in the middle of the century, died in 2005. His complex characters came alive through stories new to the stage but Shakespearean in their universality, their narratives rooted in the African-American community of the Hill District neighborhood that raised him up.
He was born and raised and told the stories of Pittsburgh, but found his voice as a playwright in St. Paul, where he lived from 1978 until 1990.
He made a short return to Minnesota in 1991 — "I am, however briefly, home," he said — for an address at the University of Minnesota that explored the historical context of the racial tensions of the time, "so as to understand better the origins of our suspicions and their continued presence in our society," he told the crowd.
Grow the Future of Public Media
MPR News is supported by Members. Gifts from individuals power everything you find here. Make a gift of any amount today to become a Member!
"I have come to make a testimony, of sorts," said the man who had founded his first theater in the 1960s as a way "to raise the consciousness of the people."
He went on:
"I do not speak for Black America. There are some 30 million people of African descent in this country, and they have a loud and articulate voice. It would be the greatest of presumptions to say that I speak for them.

I speak only for myself and those who may think as I do."
Click the audio player above for the full speech.
Lou Bellamy, the founder of St. Paul's Penumbra Theatre, worked with Wilson over the years and was in the audience when Wilson gave that speech.
"His insight does have real relevance, and especially when one places it into a historical perspective," Bellamy said, "these stories that he tells sort of rupture the American experience. We know that experience, we know that narrative, but we're not used to hearing it from this perspective."
While nine of the 10 plays in Wilson's Pulitzer prizewinning Pittsburgh Cycle were set in his hometown — only "Ma Rainey's Black Bottom" was set outside the city, in Chicago — Bellamy said he could always detect the presence of St. Paul in Wilson's work.
"I heard him say that he heard the voices from Pittsburgh much more clearly in St. Paul than in Pittsburgh," he said.
Living and working within the orbit of August Wilson, as he and the Penumbra did, Bellamy said, might mean finding familiar material tucked inside one of his plays.
"You'd have to be rather careful around August Wilson," he said, "because whatever you said might turn up in a play. ...I've had it happen, where I look at the play and came to see it, and said, 'Well, that's a conversation we had three months ago.'"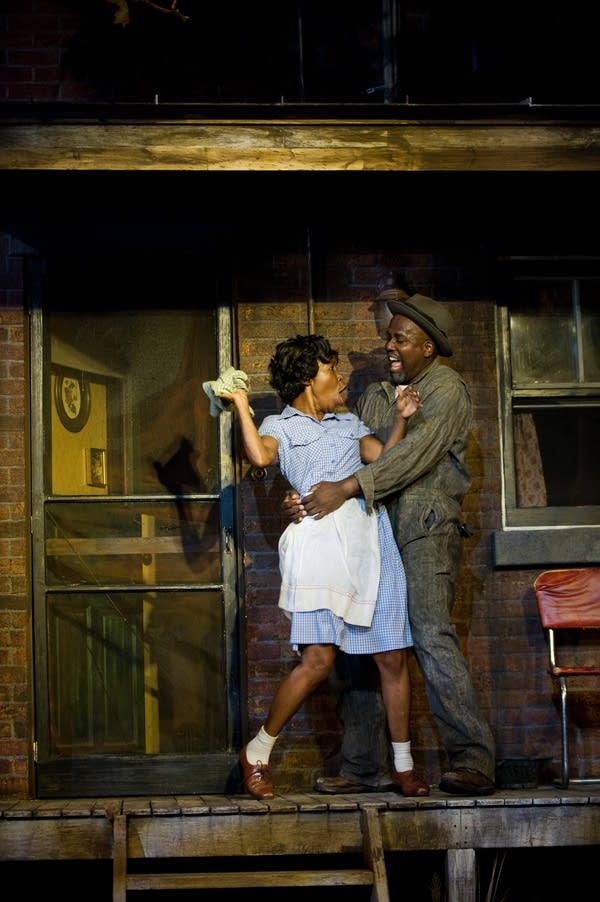 But August Wilson hadn't intended to be a playwright — his entry into the theater began as a political act — he was a poet first.
"I had worked so hard to earn the title 'poet' that it was hard for me to give it up. All I ever wanted was 'August Wilson, poet.' So the idea of being a playwright took some adjusting to.

I still write poetry and think it is the highest form of literature. But I don't call myself a poetplaywright. I think one of them is enough weight to carry around."
The movie version of Wilson's most famous play has its Minnesota debut on Dec. 25. Denzel Washington directed the film — and he joins Viola Davis in reprising the roles they played in the play's 2010 Broadway revival.
Bellamy called the play's transition from stage to screen "a remarkable achievement," acknowledging the trade-offs the transition necessitates. "August Wilson writes these really complex characters that get under your skin," he said, and the complexity of Troy and Rose, the couple at the heart of the story, is not lost in the translation.
"It is a quintessentially African-American cultural story," Bellamy said, "but it rings true to all Americans. Indeed, for people across the globe."