Are the books always better? Here are 25 new film adaptations to help you test that theory.
From Stephen King and Agatha Christie to young adult heartwrenchers and French comic books, it's a mix of familiar remakes and new tales of love, loss and special effects.
1) "Live by Night" by Dennis Lehane — Jan. 13, 2017
Ben Affleck takes the director chair again to bring Dennis Lehane's novel to the screen. The book follows Joe Coughlin, a young Boston gangster who works his way up to powerful Florida rum runner, living the high life in Prohibition-era Tampa. But these things never last. Affleck also stars as Coughlin, alongside Elle Fanning and Zoe Saldana.
2) "A Dog's Purpose" by W. Bruce Cameron — Jan. 27, 2017
Cats supposedly have nine lives — what if dogs did? Bruce Cameron's best-selling novel imagines a dog who is reincarnated again and again, and who narrates the stories of the many families who take him in, whether he's a search-and-rescue dog or a mutt. It's a dog movie, so bring your tissues — you know how these can go.
3) "Fifty Shades Darker" by E.L. James — Feb. 10, 2017
Brace yourself, because this is only Part 2 — there's a whole 'nother one coming. The "Fifty Shades of Grey" sequel finds young Anastasia Steele reunited with Christian Grey for reasons that don't really hold together, but there are some guns and a sabotaged helicopter in this one.
4) "Tulip Fever" by Deborah Moggach — Feb. 24, 2017
Tulip mania struck the Netherlands in the 1600s. Everyone became obsessed with the flower — the bulbs essentially became currency. That's the backdrop for Deborah Moggach's novel, in which a rich merchant commissions a portrait of himself and his young wife, but a secret attraction develops between her and the painter. Alicia Vikander stars, along with Zach Galifianakis, Christoph Waltz, Cara Delevingne and Judi Dench.
5) "The Shack" by William P. Young — March 3, 2017
After Mack Phillips' young daughter is abducted and killed in a shack in the woods, he falls into a deep depression. Then a letter arrives — from God — inviting him to meet at that very shack. The book tackles questions of faith and belief. The adaptation will feature Sam Worthington and Octavia Spencer.
6) "The Zookeeper's Wife" by Diane Ackerman — March 31, 2017
Diane Ackerman's novel is based on the true story of the Warsaw Zoo caretakers in World War II. Jan and Antonina Zabinski reportedly help hide hundreds of people from the Nazis by sheltering them in empty cages after the zoo is bombed. Jessica Chastain is set to star as Antonina.
7) "Wonder" by R.J. Palacio — April 7, 2017
This heartbreaker of a book is getting a film adaptation with Julia Roberts and Owen Wilson. The middle grade novel tells the story of Auggie, a young boy with a facial deformity that makes it hard to fit in with his classmates.
8) "The Lost City of Z" by David Grann — April 14, 2017
In the 1920s, a charismatic, potentially overconfident British explorer disappeared into the depths of the Amazon with his small team, searching for the remnants of an ancient civilization. David Grann's nonfiction account of the journey pulls together what little is known about the adventurer's fate (the bugs, oh, the bugs). The ill-fated trip will be on the big screen this spring, with Charlie Hunnam, Robert Pattison, Sienna Miller and more filling out the cast.
9) "The Circle" by Dave Eggers — April 28, 2017
"The Circle" is Dave Eggers' take on the power plays and deep secrets of Silicon Valley. It raises questions of privacy, memory and the dark side of technology. The novel adaptation will feature Tom Hanks as Eamon Bailey, the public face of a tech company called The Circle, and Emma Watson as Mae Holland, a young, eager employee climbing the corporate ranks.
10) "The Dinner" by Herman Koch — May 5, 2017
Two couples meet for dinner — but this not the story of a dinner party. There's something much more sinister in its depths. Both couples are parents to teenagers, who are tied to a horrific act. As the couple's polite conversation falls away and the true reason for their meeting comes to light, tensions rise. In the adaptation of Herman Koch's novel, Richard Gere and Laura Linney will star opposite Steve Coogan and Rebecca Hall.
11) "Everything, Everything" by Nicola Yoon — May 19, 2017
Nicola Yoon's YA hit follows Maddy Whittier, a teenage girl who has grown up in a bubble, protected by an airlock, because she's allergic to everything ("Everything, Everything"). But when a new boy moves in next door, she falls hard — even if all she can do is look out the window. Amandla Stenberg, of "The Hunger Games," stars as Maddy.
12) "The Adventures of Captain Underpants" by Dav Pilkey — June 2, 2017
Children everywhere are likely delighted — parents, potentially, not as much. The irreverent children's series, which continually lands on both the best-seller and the "frequently challenged" lists, will be transformed into a movie with Kevin Hart, Nick Kroll, Jordan Peele, Kristen Schaal and others lending their voices.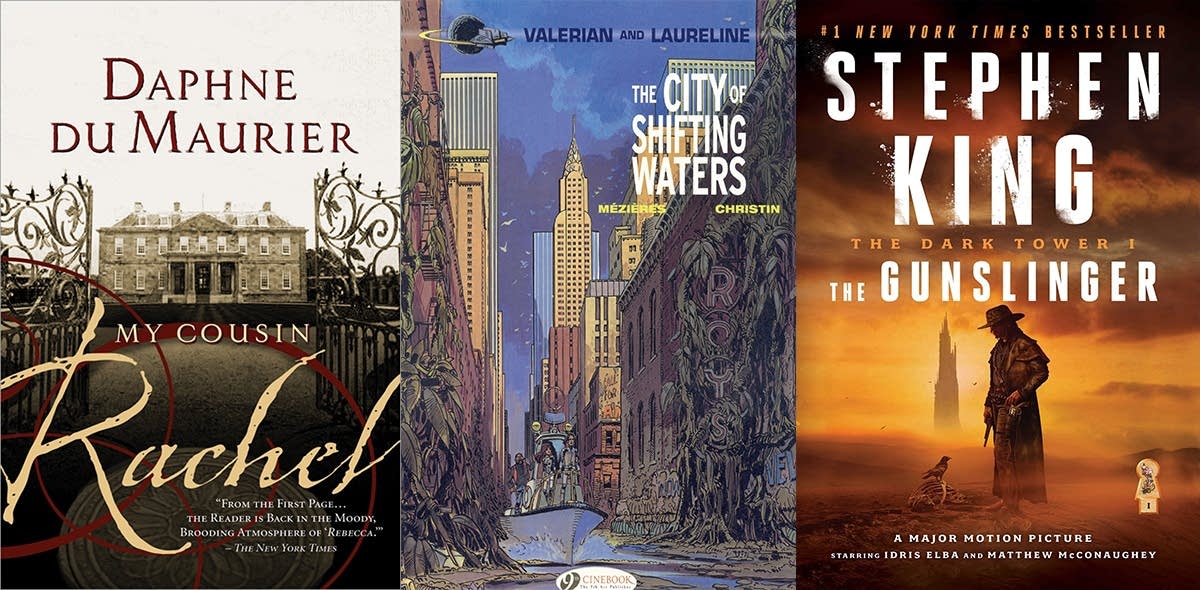 13) "My Cousin Rachel" by Daphne du Maurier
"Rebecca" is Daphne du Maurier's better-known moody classic, but "My Cousin Rachel" walks the same gothic path. A young man in England become suspicious when his guardian and older cousin dies in Italy, shortly after falling in love with a woman, Rachel. The young man must confront the mystery when Rachel arrives back at the family estate in England. Rachel Weisz will, appropriately, play Rachel.
14) "Valerian & Laureline" by Jean-Claude Mezieres and Pierre Christin — July 21, 2017
This French comic series kicked off in the 1960s: It follows Valerian, a time-and-space-hopping hero and his hyper-intelligent companion, Laureline. The sci-fi cult classic is getting a major film treatment in 2017 with Cara Delevingne, Rihanna, Clive Owen, Ethan Hawke, John Goodman and more filling out the space opera cast.
15) "The Dark Tower I: The Gunslinger" by Stephen King — July 28, 2017
In the first of Stephen King's "Dark Tower" series, Roland the Gunslinger roams the desert — an alternate future in the vein of the Old West, where "the world has moved on." He's on the hunt for the Man in Black. The classic series is a story of good and evil, with King's trademark dark twists. Idris Elba is set to play Roland; Matthew McConaughey will play the Man in Black.
16) "It" by Stephen King — Sept. 8, 2017
You thought the nightmares were over. There's a new spin coming on Stephen King's horror favorite, about a ragtag group of children terrorized by Pennywise the clown in a small Maine town. One of the child stars, Finn Wolfhard, comes straight from "Stranger Things," so he knows a thing or two about monsters in the woods.
17) "The Mountain Between Us" by Charles Martin — Oct. 20, 2017
Two strangers meet in the Salt Lake City airport as the snow comes down: Ashley is supposed to be flying out to her own wedding, and Dr. Ben Payne has a full schedule of surgeries he can't miss. When their commercial flight is cancelled, Payne finds a charter plane to fly them. Fate strikes when their plane crashes deep in a remote part of Utah, stranding them in brutal conditions in the Uintas Mountains. Their story of survival is set to become a film starring Kate Winslet and Idris Elba.
18) "Red Sparrow" by Jason Matthews — Nov. 10, 2016
"Red Sparrow" is a timely tale of the dangerous intelligence games at play between the United States and Russia: A Russian spy is assigned to seduce a CIA officer, and the implications of their entanglement shake both countries. Jennifer Lawrence is set to star as the Russian spy, Dominika.
19) "Murder on the Orient Express" by Agatha Christie — Nov. 22, 2017
Agatha Christie's classic Hercule Poirot mystery was adapted in 1974 by Sidney Lumet, but in modern times, a movie just isn't a movie until Johnny Depp has gotten his hands on it. The story is simple: Detective Poirot is searching for a murderer on a train stuck in a snowdrift. Kenneth Branagh will direct and star as Poirot in the new adaptation, which will also feature Depp, Penelope Cruz and Daisy Ridley, most recently of "Star Wars" fame.
20) "Jumanji" by Chris Van Allsburg — Dec. 22, 2017
Dust off your Jumanji board, we're going back in the game. Chris Van Allsburg's 1981 children's book about a board game with extremely high stakes was last adapted as a Robin Williams vehicle in 1995. The new spin, coming just in time for next Christmas, stars Dwayne "The Rock" Johnson, Jack Black, Kevin Hart and Karen Gillan.
21) "Annihilation" by Jeff Vandermeer — TBA
The first eerie and unsettling book in Jeff Vandermeer's Southern Reach trilogy is bringing its unique horrors to the screen. A research team is dispatched to Area X, a large swath of land evacuated years before. Their assignment is to observe, but unexplained phenomena pull them deeper into the land's secrets.
22) "The House of Tomorrow" by Peter Bognanni — TBA
Peter Bognanni's coming-of-age novel that mixes punk music with Buckminster Fuller filmed last summer around Minnesota, home to many geodesic domes — the so-called "homes of tomorrow" that inspired the title. Nick Offerman and Ellen Burstyn star, along with Maude Apatow, Asa Butterfield and Alex Wolff.
23) "Thank You for Your Service" by David Finkel — TBA
David Finkel's nonfiction account of the heavy toll of war on American soldiers was published to widespread acclaim in 2013. Finkel embedded with a group of soldiers not as they went overseas, but as they came home. The film adaptation, directed by Jason Hall, is set to star Miles Teller and Amy Schumer.
24) "The Glass Castle" by Jeannette Walls — TBA
Jeannette Wall's widely read 2005 memoir about her chaotic and fractured childhood is set to premiere this year. Wall and her siblings grew up drifting across small, Southwestern towns before settling in a remote part of West Virginia, constantly chasing her parents' whims. A grown Jeannette will be played by Brie Larson, of "Room," while Naomi Watts and Woody Harrelson play her parents.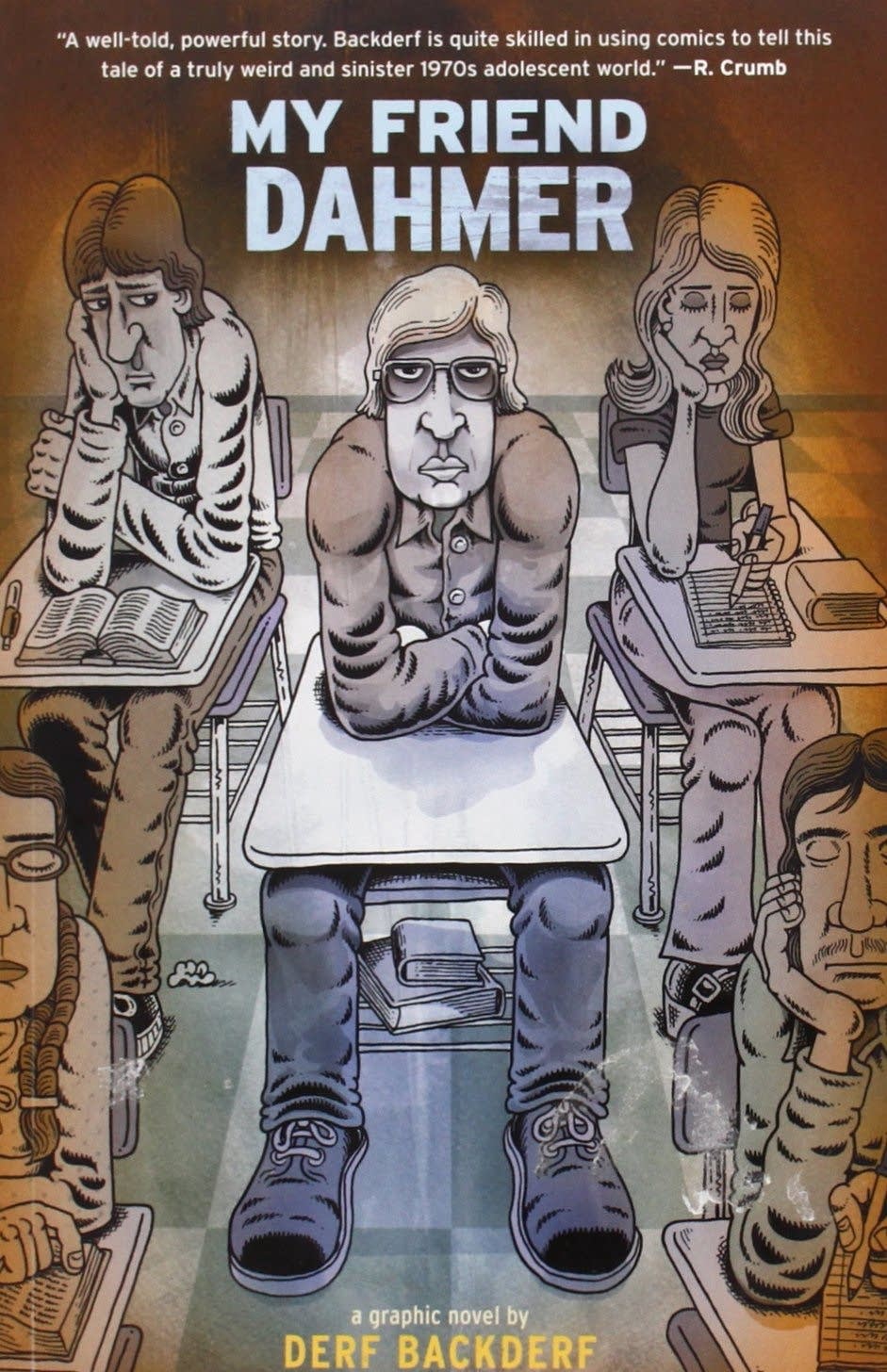 25) "My Friend Dahmer" by Derf Backderf — TBA
Cartoonist John Backderf — "Derf" is a pseudonym — grew up in Ohio, where he went to high school with Jeffrey Dahmer. While Dahmer went on to become one of America's most notorious serial killers, Backderf's 2012 graphic novel captures him as a teenager: a shy, hard-drinking outcast.
From "Rolling Stone":
By ending the story on the eve of Dahmer's first kill, "My Friend Dahmer" seeks to explore an even scarier truth: How a troubled teenager who would later become the infamous serial murderer suppressed his desires and hid in plain sight.