The books behind the Oscar nominees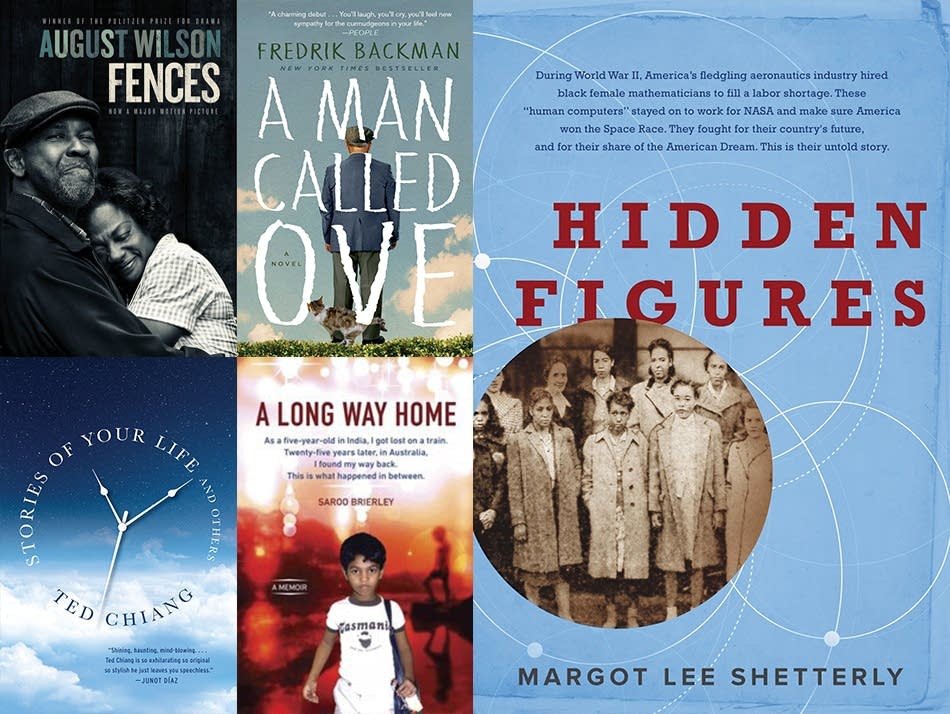 It's Academy Awards season again, and with this year's nominations — announced last week — comes another set of books for your 2017 reading list: Four of this year's nine nominees for Best Picture take their inspiration from the bookshelf.
The books behind Best Picture nominees
"Stories of Your Life and Others" by Ted Chiang, the inspiration for "Arrival"
Ted Chiang's collection of short stories includes "Story of Your Life," which became the basis for the film "Arrival." The story picks up after the arrival of aliens on Earth, and follows the linguist tasked with finding a way to communicate with them. Several of Chiang's other wild sci-fi stories in the book have taken home Nebula and Asimov awards. 
"A Long Way Home" by Saroo Brierley, the inspiration for "Lion"
Saroo Brierley's memoir about his unbelievable childhood was a best-seller before the film adaptation came along. Brierley was separated from his family in India as a child, and after surviving on his own for weeks, was adopted by an Australian couple. As an adult, using Google Earth, he found his way back to his old home and family. Under the name "Lion," his story became a film starring Dev Patel and Nicole Kidman.
"Hidden Figures" by Margot Lee Shetterly
Margot Lee Shetterly's book tells the story of the black women left out of space history: Dorothy Vaughan, Mary Jackson, Katherine Johnson and Christine Darden worked as "human computers" at NASA, completing the calculations necessary to make space flight possible. Octavia Spencer, who plays Vaughan in the film, is up for an Oscar for best actress in a supporting role. 
"Fences" by August Wilson
This one is a play, rather than a novel, but you can still pick it up at the bookstore or library. August Wilson's classic, set in 1950's Pittsburgh, explores the life and dramas of Troy, a former Negro League baseball player who now, at 53, works as a garbage man. Denzel Washington is up for an Academy Award for his role as Troy in the film adaptation.
Other book-inspired Oscar nominees
"A Man Called Ove" by Fredrik Backman
The hit Swedish novel, which has charmed readers everywhere since it was released in 2015, is now a movie. "Ove" is the story of an old man whose curmudgeonly exterior begins to crack when new neighbors move in. The movie adaptation is nominated in the foreign language film category.
"Silence" by Shusaku Endo
Martin Scorcese's passion project, which is up for an Oscar for cinematography, is based on Shusaku Endo's historical novel. It tells the story of two 17th-century Jesuit priests from Portugal who arrive in Japan, where Christians are being tortured for their beliefs. 
"Sully: The Untold Story Behind the Miracle on the Hudson" by Chesley B. "Sully" Sullenberger III, with Jeffrey Zaslow
Captain "Sully" Sullenberger became an American hero after he successfully landed a passenger plane on the Hudson River. His account of his life, and his experience as a pilot, was adapted into a film starring Tom Hanks. The film is up for a sound editing Oscar.
"Life, Animated: A Story of Sidekicks, Heroes and Autism" by Ron Suskind
Ron Suskind's memoir about life with his autistic son and the lengths his family goes through to reach him serves as the basis for the Oscar-nominated documentary of the same name. When Suskind and his wife discover that Disney movies may be key to reaching their son Owen, the whole family begins trying to communicate through Disney dialogue — songs and all.