Replace Sherco coal plant with natural gas? Xcel brings debate to the Capitol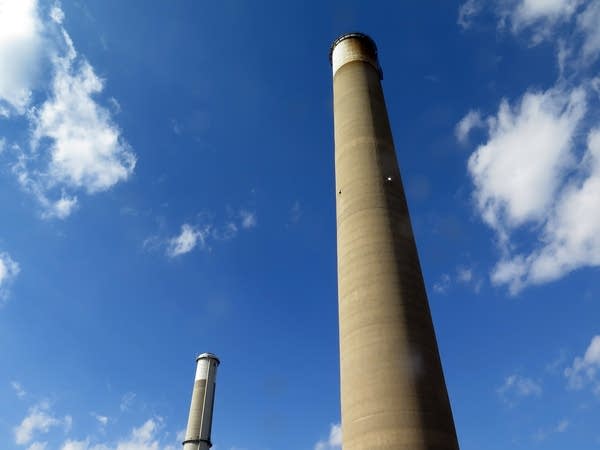 Updated: Jan. 3, 9:29 a.m. | Posted: Jan. 1, 7:13 p.m.
Xcel Energy is asking state lawmakers to clear a path for a new natural gas plant in central Minnesota.
It's part of the utility's plans to retire part of Sherco, its giant coal-fired power plant in Becker. Two Sherco plant units will retire by 2026, and building a natural gas plant could make up for some of the lost electric generation.
Grow the Future of Public Media
MPR News is supported by Members. Gifts from individuals power everything you find here. Make a gift of any amount today to become a Member!
Both clean energy advocates and utility customers are showing skepticism of the plan.
Regulators signed off on the shutdown last fall, but they stopped short of endorsing Xcel's plan to build a natural gas power plant nearby to compensate for some of the lost capacity.
Xcel will ask the Senate energy committee Thursday to support a bill that would allow the natural gas plant without going through the normal regulatory process.
Here's where things stand.
The issue: The Sherburne County Generating Station is the largest power plant in the state and was first built in the 1970s. The older two units will be retired in 2023 and 2026 as part of Xcel Energy's plan to reduce carbon emissions and keep costs to its customers as low as possible.
The utility is arguing that to stabilize the grid, it will need a new power source at that location in Becker. So, Xcel proposed building a natural gas power plant that would be smaller than the two coal units they're retiring. The utility says it needs to start planning now for the plant, which would cost roughly $800 million.
Who wants it: Besides Xcel, lawmakers from central Minnesota have been pushing for a replacement to Sherco that provides good-paying jobs and continues supporting city and county government through property taxes.
Rep. Jim Newberger, R-Becker, has sought out and received bipartisan support for the bill. He said the Sherco plant represents more than three-quarters of the city's property taxes and supports hundreds of jobs.
The gas plant would result in only about 30 permanent jobs but would also bring construction jobs to the area. Newberger and labor unions see the gas plant as a better scenario for their community than not building anything in the coal plant's place.
Who's skeptical: Clean energy advocates want to know if the natural gas plant in that location is really the cleanest, cheapest option for Xcel. Electricity ratepayers have also been skeptical, more because of the costs and whether they will cause utility bills to go up.
On the environmental side, natural gas power plants emit far less carbon than coal, but the process of extracting natural gas can lead to methane leaks, and methane is a powerful greenhouse gas linked to climate change. There's a national debate over to what extent we need to use natural gas as a bridge fuel between coal and all renewable energy.
In Minnesota, the debate over how to generate power usually plays out at the Public Utilities Commission, which regulates Xcel and other utilities. Clean energy advocates and rate payers have said Xcel is circumventing that process by going straight to the Legislature for the gas plant's approval.
But Xcel says there are other cases where the Legislature approved the conversion of plants from coal to natural gas. Xcel officials also point out that the Legislature has placed mandates on how much renewable energy Minnesota utilities must generate.
The bill's status: The House and Senate bills have been approved by their respective energy committees and await floor votes.
Supporters and opponents of the bill have been negotiating over language to satisfy some of the concerns about the cost of the plant being passed on to utility customers, so it's possible amendments could come up during Thursday's committee meeting.