With immigration window cracked open, families rush to reunite
After a court ruling suspended enforcement of President Trump's travel restrictions, family members rushed to rejoin their loved ones in the United States. There were emotional reunions Monday at Minneapolis-St. Paul International Airport.
Farshid Zadeh wore a simple tan jacket, dark pants, and carried a large bouquet of orange lilies. For about two hours, the Iranian-American stared patiently at the doors in front of the international arrival section, waiting for his wife, Samaneh Raghimi, a university professor.
Finally, when the petite woman with dark hair walked out, pushing a cart of luggage bigger than herself, Zadeh embraced her for a long time. Then he kissed her.
Zadeh and Raghimi are involved with a lawsuit seeking to block the travel ban. Both declined to be interviewed, and instead deferred to their attorneys.
"The rug was pulled out from underneath them, almost literally," said attorney Kevin Riach, who represents the couple. He explained that President Trump's executive order took effect while they were in flight. They were told in Amsterdam that they would have to separate, with Raghimi returning to Iran.
She had little to return to. She had quit her job as a professor of industrial design at Azad University, and had gone through multiple layers of background checks.
"The passion and the commitment ... that these folks have shown is really inspiring," said Riach. "It's a reminder of how fortunate we are to live here."
Loan Huynh, another of the couple's attorneys, described the challenging circumstances her clients and others have faced, and said it is "very difficult to see" them put through additional trauma. Huynh is an immigrant herself, having come to the United States 41 years ago, from Vietnam.
"We have been a country that has always had an immigration policy to promote family unity, protect those seeking refuge from persecution and provide opportunities to seek the American dream," she said. "There's no reason we should treat people differently based on the country they are from, their religion or their beliefs."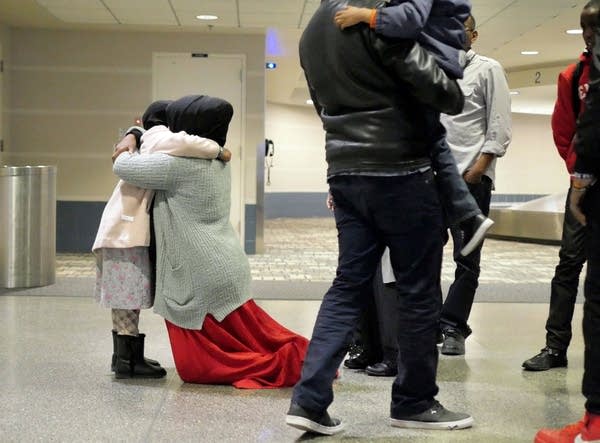 Meanwhile, a Somali-American family from Nebraska waited for two small children arriving from Kenya. Muna Yasin jumped and cried upon seeing her two kids, Basmal, 6, and Abdirahman, 5.
For this family it was a happy landing, but the attorneys said there are many more families in limbo. With a court hearing scheduled for Tuesday on the president's travel order, it's impossible to know when the window might close again.