Drone out: 'The revolution will be asleep'
"It feels like I've been in a cave for 12 hours," said Jon George, finally stepping into the sunlight of late Saturday morning.
It had actually been closer to 15 or 16 hours since George, 46, first set up his squat at the back of the Cedar Cultural Center: a camping chair, a fleece Vikings blanket and puffy coat to keep comfy.
But cold, dark spots have a way of obscuring time — especially when they're filled with the constant meander of live, droning music.
It was all in the service of last weekend's Drone Not Drones concert, perhaps the strangest Doctors Without Borders fundraiser in existence. The purpose was to support a cause, but the action was mostly just dropping out of the world.
MPR News is Member Supported
What does that mean? The news, analysis and community conversation found here is funded by donations from individuals. Make a gift of any amount today to support this resource for everyone.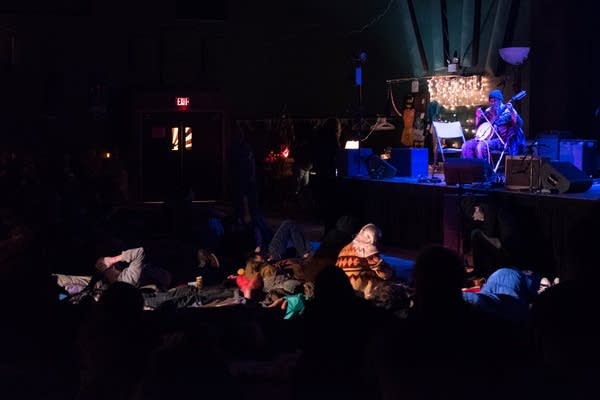 At this show, there's no clapping. It's just 28 hours of perpetual drone, with two performance areas set up on the Cedar's stage, allowing performances to feed into each other with no empty space.
Luke Heiken, Drone Not Drones' organizer, said the event's name came first when he was riffing on bumper stickers.
That was 2013, when President Barack Obama's controversial drone program was in full swing. The phrase resonated with people.
It became the theme for Duluth rock band Low's notorious Rock the Garden set that year. Rather than playing tracks from their record, the trio did a 27-minute version of their track "Do You Know How To Waltz?" Their only address to the crowd came at the end from frontman Alan Sparhawk, who pointed at the crowd and said, "Drone, not drones."
Heiken wanted to make the catchy phrase into something bigger. The first Drone Not Drones concert was born the next year. It's continued as a haven for certain causes and left-field music.
Most of the musicians are local, and they came from many genres.
But at Drone Not Drones, everyone eschewed their regular sets for often abstract, minimalistic ambient and drone performances. Think sustained notes, repetition and ample reverb — not rhythm or other constraints of traditional popular music.
"Artistically, having this one long drone is rewarding," Heiken said. The opportunity to perform a set like that was alluring enough to draw in Lee Ranaldo, a New York-based musician who co-founded the alt-rock band Sonic Youth, and Chicago experimental folk act Circuit des Yeux, both of whom performed Saturday.
While the event is inherently focused on activism, the political messaging wasn't all that vocal at last weekend's incarnation. When Duluth musician Gaelynn Lea played at 9 p.m. Friday, the room was full. A piece of the crowd, some 20 people, plus their sleeping bags and blankets, had sprawled on the Cedar's hardwood floor.
Later in the night, it was still busy. But much of the audience didn't seem awake. That surprised Wendy Darst, 51, a grant writer who lives in Minneapolis.
"The revolution will be asleep!" Darst joked.
The crowd wasn't overtly activistic. There were older people, kids, families and plenty of music nerds — there were nearly 70 acts listed on the schedule.
Jon George wasn't so sure of the event's political ambitions.
"I think it mostly came out of a cool tagline," George, a librarian from River Falls, Wis., said. "I don't know how super serious all of it is as far as the activism goes."
But Drone Not Drones is the only concert where you won't get booted at bar close and where people won't push their way to the front of the stage.
"This concert, for some reason, is just really good at creating a community feeling," organizer Heiken said.
It's the kind of concert where people make room for a kid running across the front of the stage, a middle-aged bearded guy needing to lie down for a mid-drone snooze or anyone hoping to practice yoga during sets.
Something about the entrancing nature of ambient drone music just makes people want to be nice to each other.
And it raised about $4,000 for Doctors Without Borders, bringing Drone Not Drones' four-year contributions to the organization to over $11,000.
---
The artists featured in the audio players were Thunderboldt Pagoda, Anonymous Choir, Tim Kaiser and Gaelynn Lea.