3 Minnesota footballers cleared by school in assault case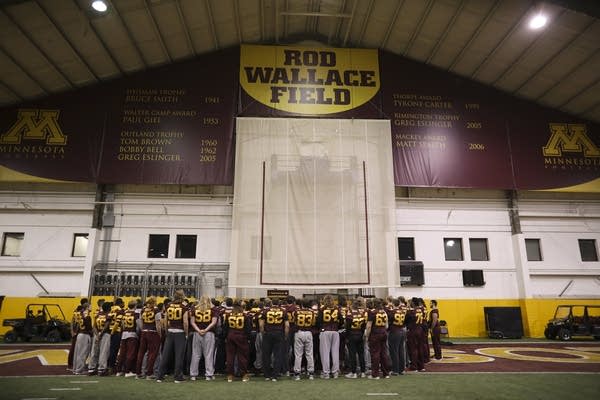 Three Minnesota football players were cleared of sexual harassment allegations in the final round of appeals at the school and will be allowed to return to spring practice, while two more had their suspensions in connection with allegations of a sexual assault upheld.
Provost Karen Hanson heard the appeals and upheld the decision to remove one-year suspensions for defensive back Antoine Winfield Jr., running back Kobe McCrary and quarterback Mark Williams, attorney Ryan Pacyga said Monday night.
Hanson also ruled that defensive back KiAnte Hardin's expulsion was the correct decision and upheld a one-year suspension for Carlton Djam over allegations dating to September.
"These couple of months have been nothing short of a nightmare for me and I want to thank everyone who has reached out to me and shown nothing but love," Winfield posted on Twitter. "Today I have officially been cleared and I am excited to tear up the field for my brothers and my gopher fans."
Grow the Future of Public Media
MPR News is supported by Members. Gifts from individuals power everything you find here. Make a gift of any amount today to become a Member!
The ruling stems from allegations made in September by a woman who said she was pressured into having sex with multiple football players. Authorities declined to press charges in the case and the players who did have sex with the woman said it was consensual.
The school launched its own investigation, and a report by the Equal Opportunity and Affirmative Action department determined the 10 players violated the student conduct code.
The university's appeals panel in February upheld the recommended punishments for five players (expulsions for Dior Johnson, Tamarion Johnson, Hardin and Ray Buford and a one-year suspension for Williams), wiped out the punishments for four others (one-year suspensions for Winfield, Seth Green and McCrary, and probation for Antonio Shenault) and reduced the recommended punishment for one more (dropping an expulsion to a one-year suspension for Djam).
The woman appealed the panel's rulings on Winfield and McCrary to the provost, while Williams, Hardin and Djam filed appeals themselves in hopes of getting their punishments reduced or wiped out.
Winfield, McCrary and Williams were held out of spring practice while the appeals process played out. They are expected to return to workouts Tuesday.
The provost agreed with the panel that McCrary did not sexually harass the woman, but did say that he violated the student code of conduct by giving false information to investigators and placed him on probation until he graduates.
Hanson did not meet with either the players or the woman, but did review written submissions from all parties involved before issuing her decisions.
Tamarion Johnson, Dior Johnson and Buford transferred to Arizona Western Community College.
Pacyga said attorneys for players in the case are considering their legal options, including a federal lawsuit surrounding the Title IX investigation and taking action against the woman who made the allegations.