The race for governor: Who's in, who's out
Updated: June 5, 2018 | Posted: March 27, 2017
Minnesota DFL Gov. Mark Dayton has announced he is not running for re-election in 2018. Here's a look at who is in and who is out in the race for the open seat.
Grow the Future of Public Media
MPR News is supported by Members. Gifts from individuals power everything you find here. Make a gift of any amount today to become a Member!
• Hennepin County Commissioner Jeff Johnson, GOP
• State Rep. Erin Murphy, DFL
• Ex- Gov. Tim Pawlenty, GOP
• Ole Savior, DFL
• Minnesota Attorney General Lori Swanson, DFL
• U.S. Rep. Tim Walz, DFL

Who's out
• Woodbury Mayor Mary Giuliani Stephens, GOP
• Phillip Parrish, GOP
• State Auditor Rebecca Otto, DFL
• Nikolay Bey, GOP
• St. Paul Mayor Chris Coleman, DFL
• State Rep. Matt Dean, GOP
• Former Minnesota Republican Party Chair Keith Downey, GOP
• Ramsey County Commissioner Blake Huffman, GOP
• State Rep. Tina Liebling, DFL
• U.S. Rep. Rick Nolan, DFL
• State Sen. David Osmek, GOP
• Lt. Gov. Tina Smith, DFL
• Attorney General Lori Swanson
• State Rep. Rep. Paul Thissen, DFL
• Jeffrey Wharton, GOP
• Bob Carney, GOP

Who's in
Jeff Johnson: The Hennepin County commissioner was the 2014 Republican nominee for governor. He jumped into the race on May 10.
In a three-minute video announcing his campaign, he promised to take on a state government culture he argues is filled with cronyism and overbearing laws.
"I'm ready. I'm tested," he says. "Join me in the fight to reclaim our state and the fight to return power, opportunity and freedom to you and every citizen of this great state of Minnesota."
Erin Murphy: The state representative became the first to jump in when she announced her candidacy on Nov. 17.
Murphy has served five terms in the Minnesota House, including stints as majority leader and deputy minority leader. She was re-elected to a sixth term to her District 64A seat in 2016.
As an urban lawmaker seeking statewide office, Murphy stressed the need to "confront the things that are dividing us," including geography, gender, race, and class.
"We need to do this because we are in this together and our future depends on the success of each of us," Murphy said in a news release.
Tim Pawlenty: Tim Pawlenty is running for a third term as Minnesota governor, returning to the fray after an eight-year hiatus.
Using a video announcement on April 5 to declare his candidacy, Pawlenty vowed to "restore common sense to Minnesota government with an open mind and big ideas."
Tim Walz: The six-term congressman, who represents the 1st Congressional District in southern Minnesota, jumped into the race on March 27.
Walz says he's a problem-solver who has proven he can win in a swing district.
"This rural, urban divide has to end. Being a Democrat and progressive in a more conservative area, and still having support from folks. I think that bodes well. So I'm going to take a look at it," Walz said following a town hall meeting in February.
Lori Swanson: The attorney general on Jan. 28 announced her plans to run for a fourth term rather than governor.
But that was then. After the DFL convention, Swanson joined the governor's race Monday.
Asked why she jumped in now to the governor's race, Swanson pointed to the calls by DFL activists during the weekend convention that she make specific promises to earn the endorsement.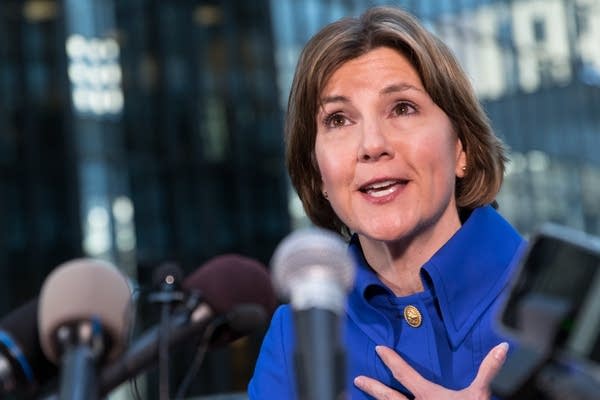 Who's out
Rebecca Otto: The state auditor added her name to the candidate list on Jan. 9.
Otto said she would begin a listening tour that will take her around the state to find out what Minnesota residents want their next governor to do.
Otto withdrew from the governor's race Monday, according to a post on her Facebook page.
Mary Giuliani Stephens: She's been Woodbury's mayor since 2011 and served on the suburb's council before that.
Per the AP, she was the first woman seeking the GOP nomination for governor.
Chris Coleman: The three-term St. Paul mayor ended his bid for Minnesota governor Feb. 12, not long after a disappointing finish in a precinct caucus preference ballot.
Coleman had been seen as a top contender when he entered in December 2016. He served three terms at the helm of the state's capital city. And he had earned support from labor unions and a decent number of greater Minnesota mayors, the type of blend a candidate needs to be successful in the long run.
U.S. Rep. Tim Walz, though, ran away with the win in the non-binding straw poll, taking 30 percent of the votes.
Matt Dean: The Dellwood lawmaker announced his candidacy April 27. He's an architect and former House majority leader first elected to the House in 2004.
But on Jan. 25, 2018, Dean said he was dropping out and endorsing Jeff Johnson. Dean said he felt party unity had to be a top priority as the gubernatorial races pick up.
Keith Downey: The business consultant and former state legislator from Edina entered the race on July 24, vowing to be a results-driven governor if elected.
He dropped out on April 18, a day after campaign finance reports showed ex-Gov. Tim Pawlenty with a massive fundraising lead.
Blake Huffman: The Ramsey County commissioner announced his candidacy April 19, and suspended his campaign Sept. 4 in a Twitter post. Huffman said he'd focus on other work, including running his nonprofit that focuses on providing housing to veterans and victims of domestic violence.
Tina Liebling: The state representative from Rochester jumped into the race April 2, 2017. But nearly a year later on March 12, she suspended her campaign, saying it was clear she couldn't win the DFL endorsement.
Instead, she will run for re-election. She has served in the Minnesota House since 2005.
Rick Nolan: The Democratic congressman was giving serious consideration for a run for the open seat in 2018, but said he was also getting pressure to retain his seat in Congress.
Nolan, though, decided later to retire from politics and not seek re-election to Congress.
David Osmek: The state senator dropped out of the running Jan. 8, 2018, citing a poor showing in a straw poll at an early December Republican State Central Committee meeting, where state Rep. Matt Dean scored the win and Osmek finished a distant fifth.
Osmek said Republicans needed to unite around one strong candidate.
Tina Smith: Dayton's lieutenant governor said she considered running for governor for months. But after consulting with friends and family, as well as considering today's political environment, she opted not to run.
After Al Franken resigned his Senate seat following allegations of misconduct, Dayton appointed Smith as his replacement. She plans run for the seat later this year.
Paul Thissen: The lawmaker in his eighth two-year term representing southwest Minneapolis. He formally launched his campaign June 15.
Thissen became speaker in 2013 when the DFL had a lock on state government with the Legislature and Dayton in control.
He dropped out of the race Feb. 7 after a poor showing in the party's caucuses the night before. On April 17, Gov. Mark Dayton tapped him for the Minnesota Supreme Court.