Race, policing and preventing officer-involved shootings still stir strong feelings in St. Paul, and those emotions were on display on the city's East Side Thursday, not far from where a black man was shot and killed by police earlier this year.
The African American Leadership Council, St. Paul NAACP and St. Paul Black Interdenominational Ministerial Alliance sponsored the public forum at Progressive Baptist Church, organized to address concerns following the March 15 police shooting death of 29-year-old Cordale Quinn Handy.
The shooting is still under investigation by the Minnesota Bureau of Criminal Apprehension. St. Paul Police Chief Todd Axtell and Mayor Chris Coleman told the audience of more than 50 people — most of them African-American — that they couldn't comment directly on the incident.
Kim Handy Jones recently sued the officers who shot her son. She alleges that officers Mikko Norman and Nathaniel Younce falsified their accounts of what happened when they encountered Handy outside an East Side apartment building. Police were responding to a domestic violence call.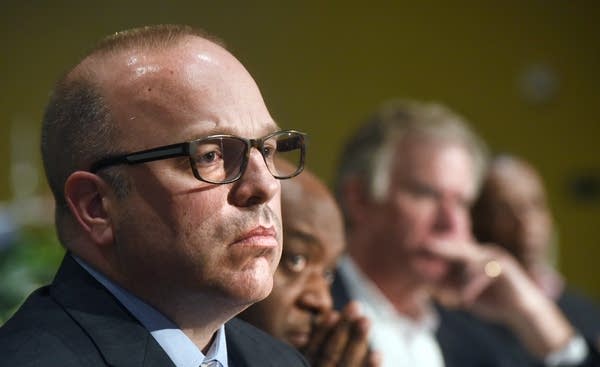 Jones' lawsuit also alleges the Police Department policies made it possible for the officers to commit misconduct without fear of being disciplined. She vowed to keep pushing investigators to release information to her about what happened.
"Because if it was anyone of you all's kids in here, you would want answers too," Jones said. "You would want the truth and you want answers. And I want justice. And I will not stop 'til I get it."
Before Jones arrived, Axtell expressed a similar sentiment. He said someone had asked, what would he want if he were the grieving parent?
"What I would want is the truth," Axtell said. "And I'm telling you as your chief of police in St. Paul, that I have full confidence that we will be handed the truth."
Many people in the audience were not so confident. They blamed what they called a code of silence that discourages officers from coming forward with information that might get one of their fellow cops in trouble. Members of the audience also blamed the police unions for defending troubled officers and helping them get their jobs back after they get fired.
And for some in the audience, the problem with police is that they don't do enough of the right kind of enforcement.
Chauntyll Allen, a youth organizer in St. Paul, described what happened earlier this week after shots were fired at a Green Line stop near Dale Street and University Avenue. Allen was across the street from the site of the shooting trying to get some young, excited kids out of the area when a squad car pulled up.
"Then a group of kids rolled by saying they were going to spray the whole block. The police officers stopped. They got out. They looked down the block. They got back in their car and they vacated. I no longer saw them," Allen said.
She also said while it's good for police to participate in community engagement activities, police can't be the ones organizing the events.
"Because, see that's not a community event if you're just throwing it. That's not what we need. You're still in control," Allen said. "And the people who really need that don't want to come be a part of it."
The police chief and the mayor sat quietly through most of the meeting. But at the end, Coleman explained that the Police Department and the city were already working on many of the concerns raised during the meeting — from training officers to respond properly to people having mental health crises or getting them out of their cars to engage with members of the community.
"But, we have sat here for two hours and you've asked us to do stuff without context of everything that we're doing, including all of the work," said the mayor. "You can't tell us that you want us to meet you in the community and then complain that we're having cookouts in parks for kids. That was not started by officers, that was started by community members."
Coleman, who is not running for re-election this fall, said he and the city will keep trying to do a better job to improve community relations.
The meeting ended as it began, with a prayer from the Rev. Dr. Earl Miller. He prayed for the Handy family and for unity.