Scarsella, the Clark protester shooter, faces 19 years in jail at sentencing today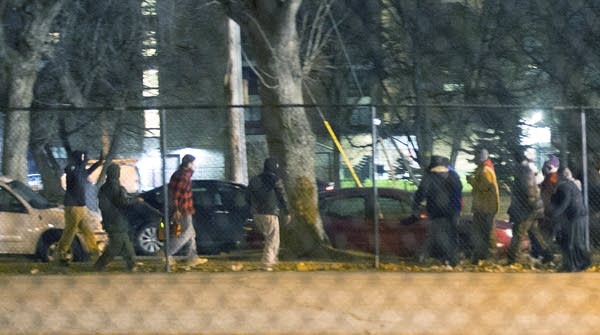 Allen Scarsella, the Bloomington man convicted of shooting and wounding five men at a protest over the 2015 police killing of Jamar Clark, will be sentenced Wednesday. Scarsella, 25, faces more than a decade in prison.
The shooting happened Nov. 23, 2015, a little over a week after Clark was shot and killed by a Minneapolis police officer.
Clark's shooting set off weeks of protests, including an extended encampment outside the 4th Precinct police station in north Minneapolis.
Scarsella testified during his trial that he was not sympathetic to the protesters, so he went to the encampment site to make fun of them and record some video.
Grow the Future of Public Media
MPR News is supported by Members. Gifts from individuals power everything you find here. Make a gift of any amount today to become a Member!
When protesters chased him away down a dark street that night, Scarsella claimed he felt threatened, so he pulled out his gun and fired in self defense.
During his trial, prosecutors presented evidence that Scarsella, who is white, was motivated by racial bias to shoot the protesters — who are all black.
The prosecution showed jurors a trail of racist text messages that Scarsella sent to his friends.
In some cases, he referred to black people as chimps; another text message mentioned shooting "black guys;" he texted his girlfriend from a Wal-Mart complaining of "smelly brown people" at the store.
Scarsella said he was joking and that the text messages were only meant to be shared with friends who knew he wasn't serious.
Prosecutors also showed jurors a video made by Scarsella and a man named Julio Suarez a few days before the encampment shooting. In that video, both men were masked. Suarez held up a gun and said "we're locked and loaded." Suarez also said "stay white."
After the video emerged online, Jamar Clark protest organizers were on heightened alert and began telling white people wearing masks at the encampment to show their faces.
Hennepin County Attorney Mike Freeman said he wants the harshest sentence possible in the case — as much as 19 years. However, he said Scarsella will likely get somewhere between 12 and 17 years in prison.
The shooting of the five protesters was the most violent incident to emerge from weeks of Black Lives Matter demonstrations against police.
The shooting: by the numbers
5 — Shooting victims
Scarsella shot Teven King, 18; Draper Larkins, 38; Cameron Clark, 30; Walter Hoskins, 29; and Wesley Martin, 19. All ages are at the time of the shooting.
8 — Shots fired by Scarsella
Two bullets hit Hoskins — one in his back, the other broke his left femur.
Clark took one bullet in his foot. Another narrowly missed a major artery in his left leg, according to the emergency room doctor who treated him.
One bullet broke a bone in Larkins' right arm.
Another bullet hit Martin below his left knee and passed through his lower leg.
King was shot in his abdomen. The emergency room doctor who treated him said King lost half of his circulatory blood supply.
An eighth bullet penetrated the trunk of a red 1999 Mercury Cougar parked near the scene.
12 — Charges on which Scarsella has been found guilty
• Five charges were for second-degree assault with a dangerous weapon — one for each of the five victims.
• Five more charges for second-degree assault causing substantial bodily harm, a charge for each victim.
• One charge of first-degree assault causing "great bodily harm" for the shooting of Teven King.
• One charge for second-degree riot.
0 — Weapons found at the scene of the shooting
Scarsella claimed he saw one of the men holding a shiny, metallic object before he drew his weapon and fired. Scarsella's friend Julio Suarez testified that on the night of the shooting, Scarsella told him he saw one of the men produce a gun, but told Suarez he "beat him on the draw."
519 — Days Scarsella has spent in jail
That's between the day he was arrested, Nov. 24, 2015, and the day of his sentencing.