28 ways to celebrate Indie Bookstore Day in Minnesota
Get thee to a bookstore! Saturday is the fourth annual Independent Bookstore Day, which is celebrated at shops around the country.
Despite many stories of bookstores' demise over the last decade, Minnesota is actually ringing in this Indie Bookstore Day with more bookstores than last year.
Many shops across the state are celebrating with readings, signings, children's activities and sales.
In the Twin Cities, the Midwest Independent Booksellers Association is bringing back the Indie Bookstore passport. The passport features 18 stores around the metro area — there are prizes for enterprising readers who manage to visit five, 10 or even all 18 stores on Saturday. Full details are available from MIBA.
Because the thing we love best about bookstores is getting book recommendations, we asked stores around the state to share three favorite books with us. Their recommendations are below, along with details of their Indie Bookstore Day celebrations.
Addendum Books | St. Paul
Addendum is participating in the Indie Bookstore Day passport.
• "The Almost Impossible Thing" by Basak Agaoglu
• "The Inquisitor's Tale" by Adam Gidwitz
• "The Best We Could Do" by Thi Bui
Birchbark Books & Native Arts | Minneapolis
Birchbark is participating in the Indie Bookstore Day passport.
The store has a full schedule of events, including a signing by 2017 Minnesota Book Award winner Kao Kalia Yang, and a demonstration of the rare art of birchbark biting.
• "Killers of the Flower Moon: The Osage Murders and the Birth of the FBI" by David Grann | More
"'Killers of the Flower Moon' brings shattering resolve to a story that resonates now. As Native Americans fighting to protect resources on the remnants of our lands, we confront the same paternalism, hypocrisy and greed that destroyed Osage lives and culture in the early 1920's.
David Grann has a razor-keen instinct for suspense. He shapes outrage into a principled steady insistence that voice be given to the victims and their descendants. He creates deeply human portraits of every character in this drama the evil, the just, the innocent, the doomed.
Through meticulous detective work, Grann rescues unbearable truth. As with all of his books, this is a mesmerizing read." — Louise Erdrich, owner
• "A Horse Walks Into a Bar" by David Grossman | More
"The complexity of this book is impressive, yet it reads with utter clarity.
A stand-up comic in Israel weaves his life sorrows into his comic routine, trying to keep his audience laughing but dissembling and telling his life of tragedy to a childhood friend in the audience. Magnificent! Sweetness and redemption, too!" — Martha, bookseller
• "Every Man Dies Alone" by Hans Fallada
"What a great read! I was so taken and intrigued by every single character in this book.
Fallada somehow seemed to know the psychology of all sorts of people and personality types. He made me question how our actions (large or small) impact others. He also made me realize how difficult it can be to remain a good person when an insane political regime takes over your world." — Carolyn, bookseller
Boneshaker Books | Minneapolis
Boneshaker is participating in the Indie Bookstore Day passport. On Saturday, the store will also be hosting the release party for a trans health zine.
• "A Good Time for the Truth: Race in Minnesota," edited by Sun Yung Shin | More
The collection includes 16 writers on what it's like to be a person of color in Minnesota. While the state likes to hold up its "best of" nominations, Minnesota is also home to some of the worst racial disparity in America. Learn more from some of our state's organizers, poets and performers.
• "Fierce Femmes and Notorious Liars: A Dangerous Trans Girl's Confabulous Memoir" by Kai Cheng Tom
Runaway kung fu expert joins a magical girl gang in a city called Gloom. Totally not a memoir. (But a totally true memoir.)
• "Green Card Youth Voices: Immigration Stories from a Minneapolis High School" | More
With 30 stories from students who immigrated to America from 13 countries, "Green Card Youth Voices" is vital and contemporary.
From Kao Kalia Yang's introduction: "In these pages, you get an opportunity to push away the walls of your life and let the world enter, through the eyes of its youth, through the stories of how it is that we are born in different parts of the world but are connected by the fabric of humanity and hope."
The Book House in Dinkytown | Minneapolis
The Book House will have a sale on all poetry titles on Saturday, to celebrate National Poetry Month.
• "The Shakespeare Wars" by Ron Rosenbaum
• "The Autobiography of an Ex-Colored Man" by James Weldon Johnson
• "Season of Migration to the North" by Tayeb Salih
Chapter 2 Books | Hudson, Wis.
Chapter 2 is participating in the Indie Bookstore Day passport.
• "Celine" by Peter Heller | More
This currently holds the "Latest Awesome Book I've Read" spot in our store. An intriguing mystery with a variety of very compelling characters mixed in.
• "Beartown" by Fredrik Backman
The very latest by one of our favorite authors. Backman is able to write from wide-ranging perspectives — be it a 7-year-old girl, a 70-plus-year-old curmudgeon or a middle-aged lady — and make all of them believable and compelling.
• "The Men Who United the States" by Simon Winchester
This book has all these great stories about a bunch of obscure people who helped make the U.S. what it is today — people you've probably never heard of but should know.
Common Good Books | St. Paul
Common Good is participating in the Indie Bookstore Day passport. Saturday evening, the store is hosting Filip Springer, author of "History of a Disappearance: The Story of a Forgotten Polish Town."
• "Janesville: An American Story" by Amy Goldstein
When the GM plant closes down in 2008 in Janesville, Wisconsin lost its biggest employer. Amy Goldstein tracked the lives of dozens of people for six years after the plant closing; her book shines a light on the way good-paying jobs are probably not coming back. A good book for readers of Barbara Ehrenreich's "Nickel and Dimed" and Matthew Desmond's "Evicted."
• "Why I am Not a Feminist: A Feminist Manifesto" by Jessa Crispin
Jessa Crispin argues it's not enough to call yourself a feminist the way you call yourself gluten-free. Rather than be a lifestyle choice or status symbol, feminism must get back to collective action to smash the status-quo. This is a call to arms perfect for these reactionary times.
• "The Annie Year" by Stephanie Wilbur Ash | More
"The Annie Year"'s Tandy Caide leaps from the page into your sodding heart. Set in northern Iowa, this fine novel is reminiscent of the great Miriam Toews.
Content | Northfield
Content is celebrating its recent move to a bigger spot: The shop will open in its new location, across the hall from its old one, on Saturday.
• "Norse Mythology" by Neil Gaiman | More
This has been a huge hit in nerdy-and-Nordic Northfield, and there's a new, special edition coming out just for Independent Bookstore Day that we can't wait to share.
• "Once In a Blue Moon Lodge" by Lorna Landvik
A long-awaited follow-up novel by a beloved (and hilarious!) Minnesota author. She'll be reading at Content on May 1.
• "Domestication: Collected Poems" by Rob Hardy
Rob Hardy is Northfield's first-ever poet laureate, and this new collection is our current best-seller. It's a great title for National Poetry Month: accessible yet profound, relatable and so skillful, with lots of beautiful reflections on family life, work and love.
Daybreak Global Bookshop | Minneapolis
Daybreak is participating in the Indie Bookstore Day passport.
• "The Vegetarian" by Han Kang
• "Muslim Cool: Race, Religion and Hip Hop in the United States" by Su'ad Abdul Khabeer
• "A is for Activist" by by Innosanto Nagara
Drury Lane | Grand Marais
On Saturday, Drury Lane will have a children's story hour and a reading by Duluth poet laureate Ellie Schoenfeld at 5 p.m.
• "Moranifesto" by Caitlin Moran
• "Murder on the Red River" by Marcie Rendon
• "Love Is" by Diane Adams and Claire Keane
Eat My Words | Minneapolis
Eat My Words is hosting Bookstore Bingo on Saturday.
• "Fifth Business" by Robertson Davies
• "Three Day Road" by Joseph Boyden
• "Poor People's Movements: Why They Succeed, How They Fail" by Frances Fox Piven and Richard Cloward
Excelsior Bay Books | Excelsior
Excelsior Bay Books is participating in the Indie Bookstore Day passport, and will be holding drawings for free books on Saturday.
• "Celine" by Peter Heller | More
• "A Gentleman in Moscow" by Amor Towles | More
• "Killers of the Flower Moon" by David Grann | More
The Bookstore at Fitger's | Duluth
On Saturday, Fitger's is hosting the book launch for "Going Coastal," an anthology featuring nine writers from northeastern Minnesota and northern Wisconsin.
• "Locally Laid: How We Built a Plucky, Industry-Changing Egg Farm — from Scratch" by Lucie Amundsen | More
• "Green Card Youth Voices: Immigration Stories from a Minneapolis High School" | More
• "The Mothers" by Brit Bennett | More
Lake Country Booksellers | White Bear Lake
Lake Country is participating in the Indie Bookstore Day passport, and has a lineup of author readings on Saturday.
• "A Gentleman in Moscow" by Amor Towles | More
• "The Forest Feast: Simple Vegetarian Recipes from My Cabin in the Woods" by Ellen Gleeson
• "The Illustrated Compendium of Amazing Animal Facts" by Maja Safstrom
Longitude Books | Plymouth
You must arrange a visit to Longitude Books in advance.
• "Havana, A Subtropical Delirium" by Mark Kurlansky
• "The Not-Quite States of America" by Doug Mack
• "The Travel Book" from Lonely Planet
Magers & Quinn | Minneapolis
Magers & Quinn is participating in the Indie Bookstore Day passport. On Saturday, they will also be hosting a "Wrinkle in Time" read-a-thon, reading all the way through the sci-fi classic.
• "White Tears" by Hari Kunzru | More
"Two young men produce a hoax track, made to sound like an authentic pre-1930s wax blues record. But the joke is on them, because it turns out the song — and the singer — are actually real, and the dark forces they've unleashed spell disaster for Seth, Carter, and the people in their orbit. A hallucinatory descent into a bizarre American underworld of music and obsession, and a surreal fable of the evils of appropriation." — Annie, assistant manager
• "The Twelve Lives of Samuel Hawley" by Hannah Tinti
"'The Twelve Lives of Samuel Hawley' is a sweeping, moving book about love, family and growing up. [It was originally — and in my opinion, more appropriately — titled 'The Twelve Bullets of Samuel Hawley.'
Tinti successfully uses the events around each of the 12 bullets taken by Samuel Hawley to tell the sad and beautiful story of Samuel's and his daughter's lives together. The novel is equal parts literary thriller, coming of age novel and family drama." — Jessi, retail manager
• "Blood at the Root: A Racial Cleansing in America" by Patrick Phillips
"In 1912, a young girl's murder rocked the rural community of Forsyth County, Ga., and led a mob of whites to lynch a black man on the town square.
Bands of night-riders declared Forsyth 'whites-only' and sent 1,100 black citizens running for their lives. Whites took over their livestock, harvested their crops, and laid claim to 'abandoned' black land, slowly erasing all evidence of their communal crime.
Patrick Phillips breaks the century-long silence of his hometown and uncovers a history of racial terrorism that continues to shape America in the twenty-first century." — Kate, events coordinator
Mayday Books | Minneapolis
On Saturday, May 6, Mayday will celebrate its 42nd year in business, making it the longest running all-volunteer, non-profit bookstore in the state.
• "Freedom is a Constant Struggle" by Angela Davis
• "A People's History of the United States" by Howard Zinn
• "Imperialism, the Highest Stage of Capitalism" by V.I. Lenin
Midway Books | St. Paul
Midway Books is offering a 20 percent discount on Saturday.
• "Stranger in a Strange Land" by Robert Heinlein
• "The Hiding Place" by Trezza Azzopardi
• "Surely You're Joking, Mr. Feynman!" by Richard Feynman
Milkweed Books | Minneapolis
Milkweed is participating in the Indie Bookstore Day passport.
Minnesota Book Award winner Peter Geye will be a guest bookseller, offering book recommendations, from 11 a.m. to 2:30 p.m. on Saturday.
• "Sorry to Disrupt the Peace" by Patty Yumi Cottrell
"A novel that I want all my friends to read so we can talk about it. A great new voice — I can't wait to see what comes next." — Berit Freed, bookseller
• "The Stranger in the Woods" by Michael Finkel | More
"To give a synopsis of this book is to do it an injustice of sorts. Christopher Knight became a Maine legend by disappearing into the Maine woods to live alone. Not a hero but a flawed and fascinating human." — Hans Weyandt, bookseller
• "Like a Mule Bringing Ice Cream to the Sun" by Sarah Ladipo Manyika
"Morayo's love of books and her colorful little neighborhood is genuine and fun. She is an irresistibly charismatic narrator." — Celia Mattison, bookseller
Moon Palace | Minneapolis
Moon Palace is participating in the Indie Bookstore Day passport.
• "O Human Star" by Blue Delliquanti
• "Men Explain Things to Me" by Rebecca Solnit
• "4 3 2 1" by Paul Auster | More
Once Upon a Crime | Minneapolis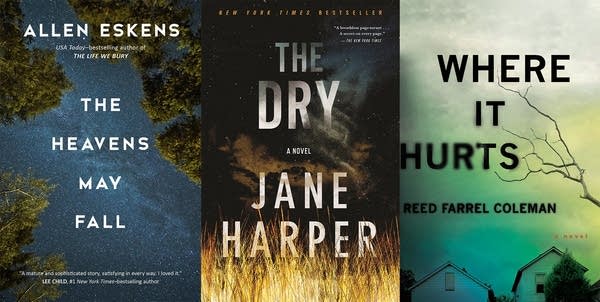 Once Upon a Crime is participating in the Indie Bookstore Day passport.
• "Heavens May Fall" by Allen Eskens
• "Where It Hurts" by Reed Farrell Coleman
• "The Dry" by Jane Harper
Paperbacks and Pieces | Winona
On Saturday, the store will host a reading by Nicholle Ramsey, Winona's associate poet laureate, followed by an open mic poetry reading open to all.
• "Lab Girl" by Hope Jahren | More
• "The Orphan's Tale" by Pam Jenoff
• "Six of Crows" by Leigh Bardugo | More
Red Balloon Bookshop | St. Paul
The Red Balloon is participating in the Indie Bookstore Day passport. There will be dancers, scavenger hunts, face painting, storytime flash mobs — check the full Red Balloon schedule for Saturday's details.
• "Rulers of the Playground" by Joseph Kuefler
• "Frogkisser!" by Garth Nix
• "Strange the Dreamer" by Laini Taylor
Scout & Morgan Books | Cambridge
Scout & Morgan will have a store-wide sale on Saturday, as well as prize drawings.
• "The Hearts of Men" by Nickolas Butler
• "The War on Science" by Shawn Otto
• "Sadie Braves the Wilderness" by Yvonne Pearson
Sixth Chamber | St. Paul
Sixth Chamber is celebrating its 22nd anniversary on Saturday.
• "The Great Gatsby" by F. Scott Fitzgerald
This is the first book we sold when we opened our doors on May 5, 1995.
• "A God in Ruins: by Kate Atkinson
It is almost alarming what a great writer she is.
• "The Bhagavad Gita"
The most harmonious and beautiful spiritual book — can be read by everybody, regardless of religious affiliation.
Subtext Books | St. Paul
Subtext is participating in the Indie Bookstore Day passport. The store will also feature a "Poetry on Demand" station and local authors offering reading recommendations on Saturday.
• "American War" by Omar El Akkad
• "Tell Me How It Ends" by Valeria Luiselli | More
• "The Drop Edge of Yonder" by Rudolph Wurlitzer
Uncle Hugo's Science Fiction Bookstore & Uncle Edgar's Mystery Bookstore | Minneapolis
• "Leviathan Wakes" by James S. A. Corey
• "Fantasy: The Lies of Locke Lamora" by Scott Lynch
• "Afrofuturism: The World of Black Sci-Fi and Fantasy Culture" by Ytasha L. Womack
Valley Bookseller | Stillwater
Valley Bookseller is participating in the Indie Bookstore Day passport, and will be hosting author Jenifer LeClair at 2 p.m. on Saturday.
• "The Book of Joan" by Lidia Yuknavitch | More
• "Strong is the New Pretty" by Kate T. Parker
• "It Won't Be Easy" by Tom Rademacher
Village Bookstore | Grand Rapids
Authors William and Barbara Durbin will be at the store on Saturday, accompanied by retired Forest History Center bull cook Will Hollnagel, who will perform songs from the logging camp.
• "History of Wolves" by Emily Fridlund | More
• "Shelter: Off the Grid in the Mostly Magnetic North" by Sarah Stonich
• "Dead Man's Rapids" by William and Barbara Durbin
Wild Rumpus | Minneapolis
Wild Rumpus is participating in the Indie Bookstore Day passport. There will also be in-store egg hunts and other prizes throughout the day.
• "Pandora" by Victoria Turnbull
• "The Goat" by Anne Fleming
• "Strong is the New Pretty" by Kate Parker
Map: Plot your Independent Bookstore Day adventures
Your support matters.
You make MPR News possible. Individual donations are behind the clarity in coverage from our reporters across the state, stories that connect us, and conversations that provide perspectives. Help ensure MPR remains a resource that brings Minnesotans together.