Dayton 'genuinely undecided' on GOP budget bills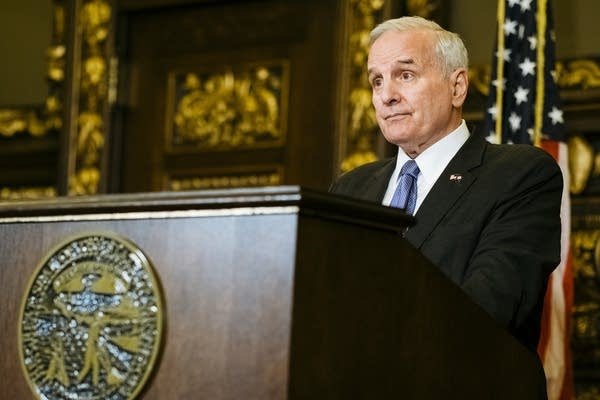 Hours after state legislators wrapped up a grueling special session, Gov. Mark Dayton said he was "genuinely undecided" on whether to sign or veto the budget bills they passed.
Dayton told reporters Friday afternoon that he needs time to read the bills passed on the final day of the regular session and during the three-day special session that ended early Friday morning.
Asked to name the best accomplishment of the session, Dayton quipped "the fact that it ended."
The DFL governor said negotiations with the Republican-led House and Senate on a new $46 billion, two-year budget were difficult.
"Probably everybody who was involved in this session is going home unhappy about something," Dayton said. "I'm unhappy about features in just about every one of the bills that we negotiated, and that again is the province of divided government."
Dayton has three days to act on some of the bills and up to two weeks on others. But he plans to make up his mind quickly.
"People deserve a decision promptly. So, by the end of Tuesday, I will have made those decisions," he said.
If Dayton rejects any of the budget bills, he would have to call another special session in June to head off a partial government shutdown on July 1.
It's not clear that a veto of the tax bill would trigger a special session. Dayton says he has big concerns about the fiscal impact of that $650 million package of tax cuts. He's particularly concerned about freezing the statewide business property tax, which under current law includes an automatic adjustment for inflation.
"The tax bill prioritizes the needs of the wealthiest Minnesotans and large corporations over working and other middle-income Minnesotans," Dayton said.
Senate Minority Leader Tom Bakk, DFL-Cook, wants Dayton to veto the tax bill. Bakk said the governor could try to negotiate a smaller version with Republicans, to pass in a special session, or not do anything.
"There's no need for a tax bill. There's no urgency with it," Bakk said. "We didn't get one last year. We didn't get one the year before. This one's just too big, too out of joint."
But one clause of the bill includes funding for the state Revenue Department, and vetoing it could leave the department without money to operate.
Despite an agreement with Republican leaders on the special session framework, Dayton never committed to signing their bills.
Still, House Speaker Kurt Daudt, R-Zimmerman, said he's confident the governor will sign them.
"He was at the table, and his commissioners and staff helped us put the bills together. That's really why we're in special session, because we felt like we were making progress enough," Daudt said. "While that took a little more time than we originally hoped, we got it done, and with his help and support."
Senate Majority Leader Paul Gazelka, R-Nisswa, is also optimistic about the bills. Gazelka noted that the administration kept negotiating with GOP leaders throughout the special session to get the bills right.
"Health and human services was the beast. I mean that was so big, so difficult. In the end, there were a few other things that we just needed to button up, so we'd recess and fix them," Gazelka said. "That was the hardest one, but we did that on every bill to get through."
After tough negotiations to close out the session, Dayton is weighing whether it's worth trying again on any of the budget bills.
House Minority Leader Melissa Hortman, DFL-Brooklyn Park, said Dayton probably did the best he could. "I think it's ultimately his decision whether to sign or veto. Certainly, they could have been much better. But with Republicans in control of the House and the Senate, these may be the best budgets we're able to get through."
Your support matters.
You make MPR News possible. Individual donations are behind the clarity in coverage from our reporters across the state, stories that connect us, and conversations that provide perspectives. Help ensure MPR remains a resource that brings Minnesotans together.