Education bill that would increase school funding passed by House, Senate
Local control is the story of education at the Legislature this year.
An education bill that would increase school funding and district-level control over some decisions has passed the Minnesota House and Senate, it's now headed to DFL Gov. Mark Dayton.
Sen. Carla Nelson, R-Rochester, praised the bill at a hearing before it passed the House.
"A comprehensive bill that adequately and fairly funds our schools but does empower parents, empowers teachers, empowers local school boards," Nelson said.
MPR News is Member Supported
What does that mean? The news, analysis and community conversation found here is funded by donations from individuals. Make a gift of any amount today to support this resource for everyone.
The majority of the money in the nearly $19 billion bill would go to schools' base funding formula — the bread and butter of school budgets that school boards get to decide how to spend. Districts would get a 2 percent increase each of the next two years. That's the highest of the proposals lawmakers and Governor Mark Dayton had put forward.
Association of Metropolitan school districts director Scott Croonquist says the formula increase was a big priority.
"Although I do have to note that that is really just barely covering inflation, and that many of our school districts will be still having to make budget reductions under that funding level," he said.
Croonquist says more than half his member districts would still have to make budget reductions.
Districts would also get more local control over hiring and firing teachers under the bill.
An overhaul of the state's licensure system would open new routes into teaching. For example, teachers could get licensed without taking a state test that some critics say is discriminatory.
Violeta Hernandez Espinosa with the Minnesota Council on Latino Affairs says that could help diversify Minnesota's overwhelmingly white teaching force.
Hernandez Espinosa also supports funding for targeted teacher training programs in the bill.
"Because we have such a critical shortage we have to try a lot of things at once, and I think all of this will lead to impact," Hernandez Espinosa said.
But the licensing changes have the state teachers' union calling for Governor Dayton to veto the entire bill.
The new system would let teachers get a 1-year license with no training beyond a bachelor's degree if a school district vouches for their skills and can't find a more qualified candidate.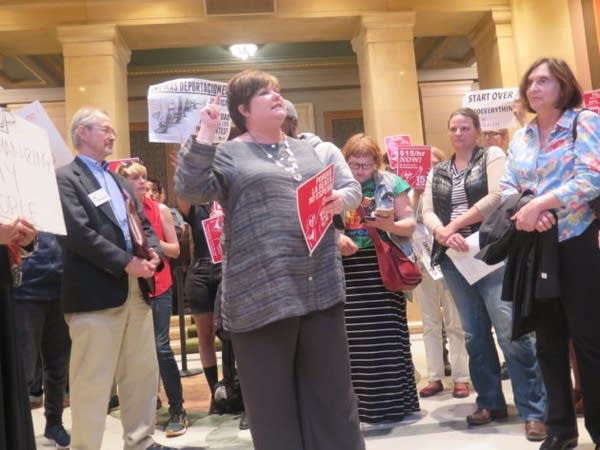 "It weakens the value of a license," said Education Minnesota president Denise Specht, who also objects to a provision that allows teachers to get licensed without completing a teacher training program.
"We're hearing the most voices from teachers about it, and I think that just says something about the value educators place on their training," Specht said.
Specht says licensing isn't the way to find and keep teachers in shortage areas.
"If we actually supported teachers and made sure that our schools had everything that the students needed, we would not see people leaving," she said.
Governor Dayton's push for more preschool funding had initially been a stumbling block to finishing the education bill. Republicans had wanted to focus on scholarships for low-income children.
That ended in compromise, with more money for scholarships and some new funding for 4-year-olds in school-based programs. The school programs would target students who are low-income or otherwise at risk.