Photos: Grief, anger, arrests after Yanez found not guilty
There were scenes of heartbreak, grief and anger once again when Philando Castile's family and friends gathered Friday, almost a year after his killing.
It started immediately after jurors read the verdict of not guilty on all counts in the trial of Jeronimo Yanez, the St. Anthony police officer who faced manslaughter and felony weapons charges in Castile's death last summer.
Castile's mother and sister, along with family attorney Glenda Hatchett, spoke outside the courthouse moments after the verdict was read.
For their part, Yanez's lawyers praised the results and said there shouldn't have been charges in the first place. Jurors were shuffled away from the courthouse, avoiding the swarm of reporters and onlookers.
A few miles away, at the scene of the shooting, a small group gathered near a memorial for Philando Castile.
Gallery
39 of 39
1 of 39
2 of 39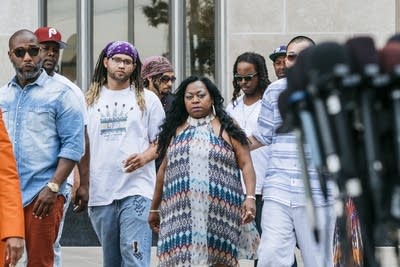 Gain a Better Understanding of Today
MPR News is not just a listener supported source of information, it's a resource where listeners are supported. We take you beyond the headlines to the world we share in Minnesota. Become a sustainer today to fuel MPR News all year long.