He was never known for displays of emotion, either on the football field or on the bench. But former Minnesota Viking and state Supreme Court Justice Alan Page held back tears as he took the mic in front of an auditorium of Minneapolis middle school students and staff Friday.
"Welcome to Justice Page Middle School," Page told the crowd.
The school on 50th and Nicollet long known as Ramsey was renamed Justice Page Middle School following a student-led campaign last year.
Seventh-grader Lillian Richman said learning about the school's former namesake pushed her to get involved in renaming it. Alexander Ramsey was the first territorial governor of Minnesota. He negotiated cession of Dakota land for white settlement and infamously called for Native people to be driven from the state during the U.S.-Dakota War.
"We started learning about him and I'm like, 'This guy's not a very great guy. Why do we have our school named after him?'" Richman said.
On Friday, Richman beamed as students and staff milled around wearing neon-colored paper bowties they'd made in honor of Page's signature accessory.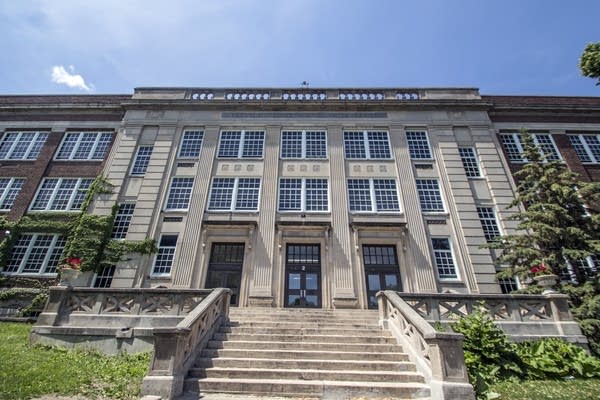 "I feel like a state-changer. Not a world-changer quite yet, but a state-changer," Richman said.
"The values that brought you to change the name of this school are the values that I believe in. They are values that I think are critical to our ongoing democracy," Page told the students.
Page said his middle school years shaped his career as a pro football player and Minnesota's first African-American supreme court justice.
He told the students they "bent the arc of the moral compass towards justice" with the renaming.
Page retired from the bench two years ago at the mandatory retirement age of 70. He still runs a scholarship organization with his wife Diane that gives grants to college students of color.
Seventh grader Sophia Dipaola called Page a leader with integrity. "That's why I follow him as a leader. Because I want to be as smart, and I want to become a leader when I grow up."
Dipaola said she hopes to go to MIT and become a NASA engineer. For now, she's proud to welcome other students to her newly-renamed school.
"At Justice Page Middle School we welcome everybody into our school. Whether you lived in a different city, or you just came here for the first time, or you're new, you're always welcome here, Dipaola said.