Board the 'Hoopla Train' for dancehall polka fun
For many communities in Minnesota, the grandest building in town was — and still is — the dance hall. It's where people gathered for big occasions, and to welcome entertainers.
In a show opening in Minneapolis this week, Sod House Theater aims to celebrate that history and maybe get people on their feet.
"Guess what's coming round the bend? That's right! It's the Hoopla Train, with Yardmaster Yip and his Polkestra!" calls one of the actors as the cast begins to sing.
Playwright and actor Jim Lichtscheidl describes "Hoopla Train" like this:
"Lawrence Welk meets 'Hee-Haw,'" he said. "So we have a polka band and a variety show. There's a little 'Muppet Show' thrown in. Maybe a little Mitch Miller. But it's all dedicated to having a good time."
For the last seven years, Sod House Theater has performed classic plays such as "The Cherry Orchard" and "Peer Gynt" in historic homes outside the Twin Cities. Co-artistic director Luverne Seifert said as the performers visited towns around the state, they were often struck by the dancehalls.
MPR News is Reader Funded
Before you keep reading, take a moment to donate to MPR News. Your financial support ensures that factual and trusted news and context remain accessible to all.
"We found that in some of the communities, the ballrooms were their most prized place, that had the greatest history," he said. "That everybody congregated to."
But something bothered Sod House's other co-artistic director, Darcey Engen.
"I work with young people all the time, and the thing that I notice is they don't dance," she said. "They might move around, but they don't dance together in sort of an arranged place."
Engen grew up in a small town. She experienced the fun and community around dances at the local hall, and she thinks youngsters are missing out. Thus "Hoopla Train" was born.
It toured Minnesota in 2015, drawing thousands of people. In coming weeks it will visit three metro dancehalls: The Fraternal Order of Eagles and Rushford Hall, both in Minneapolis, and then the Czech and Slovak Sokol in St Paul.
It truly is a variety show: There's singing, jokes, a whip act, and — as a result of an unfortunate accident — the backwards talking man.
"I've got a little voice recorder here," says Yardmaster Yip. "Say it again."
"Gnimoe leff no ym deah!" the man says. Yip puts the recorder into reverse. "Something fell on my head!"
"I think it scrambled up your noggin," Yip gasps. "Oh boy!"
"Yo boo!" the man repeats.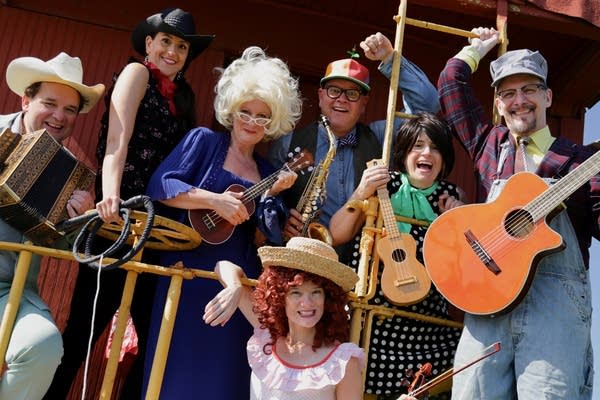 There will also be surprise guest appearances at every show, and an audience member talent show.
But ultimately it is about the dancing. And Sod House has a secret weapon: an elfin man, with a big accordion and an even bigger grin, sitting near a drumkit emblazoned with the words "Chmielewski Fun Time."
"I've been playing now for over 70 years, and I tell you when I met the Hoopla gang, I'm proud to be here," said Florian Chmielewski. "They are great actors and actresses. It's just a lot of fun. Yeah, and they like polkas!"
Chmielewski — musician, broadcaster, former state senator and polka legend — is now 90. He'll be playing the show. Jim Lichtsheidl just met Florian, but his parents owned a dancehall, so he grew up steeped in the Chmielewski lore.
"I feel like I know him already. I feel like we've been through a lot together already," he said. "But it's just an honor to work with this band."
When Sod House took the Hoopla Train out to small towns in 2015, its performers heard many dancehall stories. Lichtscheidl danced with a woman who set aside her walker and said it had been 30 years since she had last taken the floor. Darcey Engen is hoping to persuade a new generation to give it a try.
"I want young people to understand that it is so fun to just make a commitment to go into a room and be together and move around," she said. "But no, I won't make them. We won't make 'em."
"Well, when we start playing 'Roll Out the Barrel' or 'The Lichtensteiner Polka,' I guarantee you, we'll have them dancing," said Chmeilewski.
And Florian knows what he's talking about.