Photos: Lynx lose squeaker in game one of finals
Chelsea Gray let a 14-foot jumper fly in Game 1 of the WNBA Finals that delivered an 85-84 victory on Sunday over the Minnesota Lynx in the kind of edge-of-your-seat finish that no one saw coming when the Sparks led 28-2 in the first quarter.
The Sparks beat the Lynx in a five-game thriller last season, and Game 1 had plenty of fireworks even before the opening tip.
With the Lynx locking arms in solidarity, the Sparks quickly left the Williams Arena court just before "The Star Spangled Banner" began to play, joining hundreds of NFL players in opposition to President Trump's call for NFL owners to fire players who do not stand for the national anthem. As soon as the song was over, they returned to a chorus of boos and then made another emphatic statement once the game started.
The Sparks led 28-2 in the first quarter and 78-66 with five minutes to play, but gave it all back after a charge from the Lynx.
Maya Moore scored 27 points and Sylvia Fowles had 22 points and 13 rebounds for the Lynx, who roared back from that 26-point hole to take an 84-83 lead with 6.5 seconds to play. A victory would have been the largest playoff comeback in WNBA history, but Minnesota could not get one last stop.
"I know everyone is going to talk about what a great comeback it was, but that's not the world we live in," Lynx coach Cheryl Reeve said. "That means absolutely nothing to us."
"We gave ourselves a chance to win the game, but there's no question that the championship isn't going to be won with that kind of stretch that we allowed in that first quarter," Moore said.
Gallery
13 of 13
1 of 13
2 of 13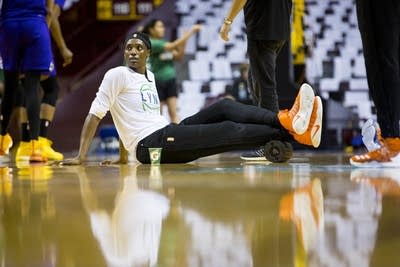 Gain a Better Understanding of Today
MPR News is not just a listener supported source of information, it's a resource where listeners are supported. We take you beyond the headlines to the world we share in Minnesota. Become a sustainer today to fuel MPR News all year long.