Dayton on Amazon headquarters bid: 'No gimmicks'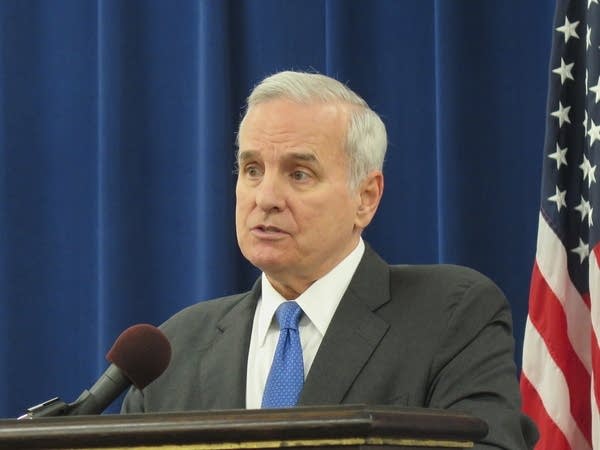 Minnesota is putting fact over flash in its bid to lure the new Amazon corporate headquarters to the state, Gov. Mark Dayton said Tuesday.
The Democratic governor said economic development officials who compiled the state's proposal intentionally steered clear of the stunts cropping up elsewhere in the competition for Amazon's attention.
Those officials, he said, put together a "very professional" plan for the company's second North American headquarters, which could eventually house 50,000 workers.
"It's one I'm told that conforms to the kind of proposal that they like to receive, a businesslike proposal without the gimmicks and gadgetry and sensational PR stuff that we're told is not going to be persuasive," Dayton said, adding that state agency leaders and partners asked around to learn what Amazon found attractive in other site-location decisions.
Dayton also said the bid, which will be formally submitted as soon as Wednesday, won't contain much by way of promised financial incentives. Thursday is Amazon's deadline for submissions.
"There are no state subsidies directly involved," Dayton said, although the state will list grant and loan programs available to all companies considering relocation or expansion.
In its request for proposals, the e-retailer Amazon stressed its interest in finding a spot close to a well-educated workforce and solid higher education institutions.
The company also lists among its priorities a site's proximity to airports and mass transit and a host city's amenities that contribute to a high quality of life. Only regions with populations of one million or more will be considered.
There could be several stages before Amazon picks the location. Dayton said he hopes Minnesota will at least make it to the semi-final round.
The Minnesota plan contains "a number of sites" but Dayton refused to list how many or where they are, citing an Amazon demand for confidentiality in the bid process.
"One of the sure ways to knock us out of the running is to violate the terms that they've set for how this will be conducted," Dayton said. "And that's true with any relationship with any business."
Your support matters.
You make MPR News possible. Individual donations are behind the clarity in coverage from our reporters across the state, stories that connect us, and conversations that provide perspectives. Help ensure MPR remains a resource that brings Minnesotans together.