Lawmaker, lobbyist say Rep. Cornish sexually harassed them
Updated 10:29 p.m. | Posted 8:09 p.m.
A lobbyist meeting with Rep. Tony Cornish in his Minnesota Capitol office in 2013 paused as Cornish told her not to leave just yet.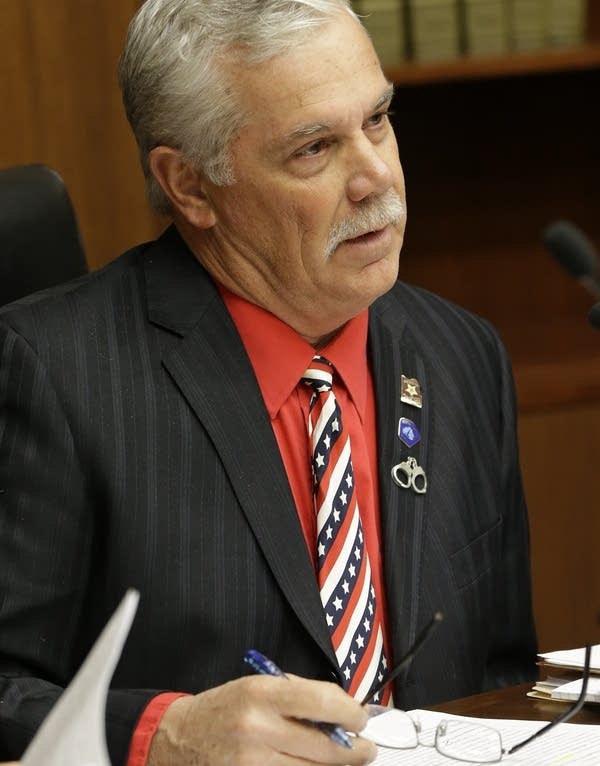 "He says 'look down,'" the lobbyist recalled. "He says, 'I have a giant erection,' which was very clear he did."
MPR News is Member Supported
What does that mean? The news, analysis and community conversation found here is funded by donations from individuals. Make a gift of any amount today to support this resource for everyone.
She said she was nervous and scared. "I just wanted to get out of there." Shaken, she said she immediately called friends to tell them what happened.
The lobbyist said she made it a point to never be alone again when meeting with Cornish on issues. However, she said Cornish made other sexual propositions by text.
MPR News agreed not to name the lobbyist, who said she fears going public could jeopardize her career.
The lobbyist, though, showed MPR News some of the texts she received from Cornish. One from 2015 reads: "Would it scare you if I said that I was just interested in good times good wine good food and good sex?"
The lobbyist made it clear she was not interested.
Cornish, R-Vernon Center, is a powerful member of the Minnesota House Republican majority who chairs the public safety policy and finance committee. A former police officer, he is serving his eighth term in the House and has often led the coalition that supports Second Amendment rights.
Cornish initially declined an interview request to discuss the lobbyist's claims. Later, though, he agreed to be interviewed and called the allegations specific to his office "damned lies." The texts, he added, were between two consenting adults who had talked about a possible relationship.
"I'm not a saint but that activity in my room never happened," he said, adding that he intended to fight the accusations and had no intention of resigning.
Late Thursday, House Speaker Kurt Daudt said Cornish would be suspended as the House Public Safety Committee chairman and a formal investigation would commence. He called reports of Cornish's conduct of "extremely troubling."
The lobbyist's allegations were not the only ones Cornish faced Thursday.
Rep. Erin Maye Quade, DFL-Apple Valley said she complained to DFL leaders during the legislative session earlier this year about a text sent by Cornish.
Her claims came the same day harassment claims against Sen. Dan Schoen, DFL-St. Paul Park led leaders of his party to demand his resignation.
On Wednesday, Maye Quade told the online publication MinnPost that prior to winning election to the House she received unsolicited text messages from Schoen that came off as a solicitation for an encounter at his home.
Schoen has denied sexually harassing Maye Quade.
There's little dispute about what Cornish texted to Maye Quade, who shared them with MPR News. The texts from Cornish read:
• "I just got an anonymous text saying I got busted for staring at you on the house floor,,,.Haha"
• "I told him it was your fault, of course. Look too damn good. Ha."
• "I must be more gentlemanly when I run for Governor."
Maye Quade responded, "You can always start now!"
In response to questions Thursday about those texts, Cornish said he was surprised by Maye Quade's complaint.
"Over the last year, I have maintained a friendly and professional relationship with Rep. Maye Quade," he said in a written statement. "As with many members, we have exchanged texts, emails and phone calls. It came to my attention today that I offended Rep. Maye Quade in one of the text messages. This was a poor attempt at humor with a colleague and I sincerely apologize."
Daudt said Minority Leader Melissa Hortman, DFL-Brooklyn Park, did approach him during the session, but only with general concerns about working conditions in the House. He said he was not made aware of specific complaints and names of those responsible despite repeated requests for information.
On Wednesday Daudt, R-Zimmerman, told MPR News that he had not received a specific complaint of sexual harassment since he has been speaker, and he stood by that statement Thursday.
Maye Quade says the fact that Daudt has not acted is one reason why she is coming forward now.
"I want it to stop," she said.
Citing high-profile allegations against Harvey Weinstein and others, Maye Quade said lower-level harassers may feel what they do is allowed. "I don't want folks to think that what they did is fine because they didn't do it as badly as those other guys."