Dayton apologizes for ongoing licensing problems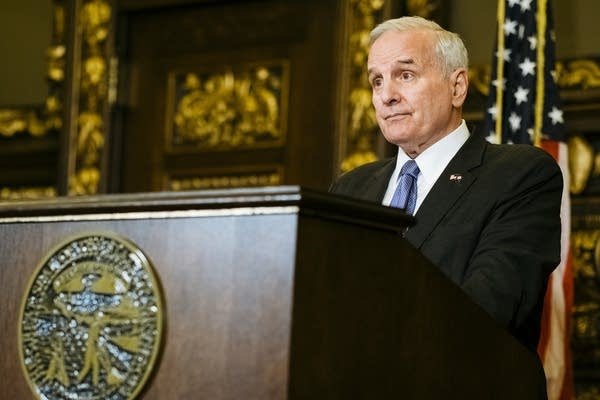 Four months after the launch of a new computer system for vehicle licensing and registration, DFL Gov. Mark Dayton said it remains far from where it should be.
Dayton offered an apology, acknowledging glitches and failings in the system. But he also stressed that it often works correctly.
"You look at the volume, 1.7 million registrations and 600,000 titles that are all 99.9 percent of them, which have been handled efficiently and properly."
The Minnesota Licensing and Registration System, or MNLARS, went on line in late July to replace 30-year-old technology. The first-phase covered license plates, tabs, titles and registrations. Complaints about glitches in the new system began immediately, most notably from deputy registrars throughout the state.
Grow the Future of Public Media
MPR News is supported by Members. Gifts from individuals power everything you find here. Make a gift of any amount today to become a Member!
Kim Griffith, who works for the deputy registrar in Bloomington, told members of the Senate transportation committee Wednesday that this has been the most trying time in her 34-year career.
"We have always taken great pride in providing quick, accurate service to our customers," Griffith said. "Our wait times are now three to four times what they used to be."
Julie Hanson of Scott County said deputy registrars are still unable to complete some basic transactions, including specialty license plate transfers.
"I feel that I've apologized to my customers more in the last five months for our slowdowns, outages, the inability to assist them, more than I have in my adult life," she said.
Car dealers are also complaining about the system and the title processing backlog they've been struggling with since its launch.
Scott Lambert, president of the Minnesota Auto Dealers Association, said transactions that used to be easy are now hard, and customers are unhappy. Lambert said the system is flawed and needs reworking.
"It's a tapestry of workarounds, temporary fixes and patches," Lambert said. "Our problems frankly seem to be getting worse, not better."
State officials have worked eight years and spent more than $90 million on MNLARS.
The system went through extensive testing before its July launch, said Tom Baden, commissioner of Minnesota IT Services. But in hindsight, Baden said he should have spent more time reviewing those test results.
Baden said he thinks they've turned the corner on performance issues with MNLARS, adding that work continues. Baden remained vague when pressed by lawmakers on when the fix would be complete.
"The original plan for the project was to put out a minimally viable product. We have to get that product viable," he said.
Sen. Scott Newman, R-Hutchinson, the committee chair, kept pressing. But he never got the specifics he was looking for. Newman stressed that the system must be fixed.
"I am not here throwing political bombs. I am reacting to my constituents and I'm reacting to what the public has had to say about the rollout of this system," Newman said.
The next phase of the MNLARS rollout will include the processing of drivers' licenses. New security standards are needed next year to make those licenses compliant with the federal Real ID law.
Baden said he believes the state will meet the deadline. He said negotiations are underway with an outside vendor to take on the Real ID functions of MNLARS, allowing current staff to focus on improving the other areas of the system.
But given the current problems, many lawmakers are concerned about making the state's October 2018 deadline for Real ID.
"That is a big, big, big, big issue that if we're not ready for, we're not going to have time to fix it," said Sen. Melisa Fanzen, DFL-Edina. "It's a federal compliance issue."