Updated: Dec. 13, 1:42 p.m. | Posted: Dec. 7, 3:10 p.m.
Minnesota Sen. Al Franken has announced that he will resign from the Senate following a string of allegations of sexual misconduct against him.
Gov. Mark Dayton confirmed that he has chosen Lt. Gov. Tina Smith to replace Franken in the U.S. Senate. And Smith said she will run for the seat as well in next year's election.
Politicians on both sides are also making moves to position their candidates for the special election next year.
Here's a look at who has announced their bid, who has said they aren't interested and names that are being floated around Minnesota's political sphere. (Keep checking back on this story for updates.)
Who's in:
Who's out:
Potential candidates
• State House Speaker Kurt Daudt
• Attorney General Lori Swanson
Who's in
Lt. Gov. Tina Smith: Smith, a Democrat, has served as Minnesota's 48th lieutenant governor since January 2015. After Dayton announced Smith as Franken's temporary replacement she announced she would be running for the permanent position next year. "Though I never anticipated this moment, I'm resolved to do everything I can to move Minnesota forward," Smith told reporters. Smith has been at the forefront on several administration priorities, including rural broadband expansion, early childhood education and economic development. She leads the Destination Medical Center initiative, a public-private economic development partnership in Rochester, Minn.
Who's out
Former Sen. Norm Coleman: Coleman posted on his personal Facebook page that he won't run in 2018. He lost to Franken in a close 2008 election in which the vote count dragged on for months.
Potential candidates
Former Gov. Tim Pawlenty: Pawlenty has been weighing a return to elected office since he chose not to seek a third term as governor in 2010, and after mounting an unsuccessful campaign for the presidential nomination. "I want to be clear: I remain politically retired. But like everybody else I'm thinking about all the challenges and troubles our country is facing and asking what can I do to make it better. And I don't know if that means returning to public service," Pawlenty said before a speech to the TwinWest Chamber of Commerce in St. Louis Park, one of many such events he's appeared at in recent months.
State House Speaker Kurt Daudt: Daudt has been openly considering a bid for governor for months and could be in a good position to switch to a Senate bid.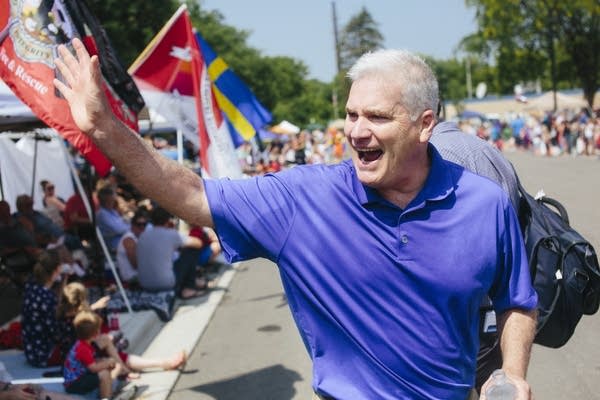 Rep. Tom Emmer: After losing to Dayton in the 2010 race for governor, Emmer could look at another statewide run. He currently represents Minnesota's most concervative congressional district.
Duluth Mayor Emily Larson: Larson's name was floated by former Duluth Mayor Don Ness in a tweet. "An accomplished leader from Greater Minnesota and one of the most naturally talented elected officials I know. A lot of great options out there — Emily is among the best," Ness wrote.
U.S. Rep. Tim Walz: Walz, a six-term congressman, is currently running for governor of Minnesota and with a campaign already in place could switch to a run for the U.S. Senate.
State Rep. Erin Murphy: Like Walz, Murphy is currently campaigning in the governor's race — she was the first to announce candidacy. Murphy has served five terms in the Minnesota House, including stints as majority leader and deputy minority leader.
Attorney General Lori Swanson: Swanson has kept her 2018 political ambitions quiet, but it was long speculated that she would run for governor — a bid for the Senate seat is also possible.
The Associated Press contributed to this report.