5 Minnesotans Dayton might pick to replace Franken in Senate
Gov. Mark Dayton will announce Wednesday morning who will be Minnesota's next U.S. senator upon the pending resignation of Democrat Al Franken.
Dayton, a former senator himself, has kept close counsel on his choice for the person who will represent Minnesota in Washington for at least a year.
Dayton told a closed-door DFL party fundraising dinner last weekend that he wasn't being steered by party honchos in Washington, who have urged him to consider someone who would also be a candidate in the November 2018 special election for the seat.
The governor could choose just about anyone who shares his political values, but here are some possible selections.
MPR News is Member Supported
What does that mean? The news, analysis and community conversation found here is funded by donations from individuals. Make a gift of any amount today to support this resource for everyone.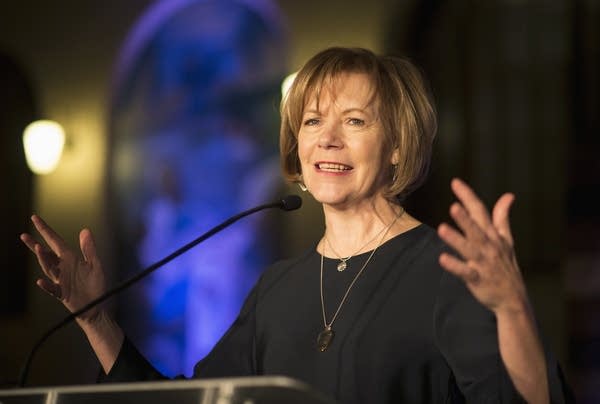 1) Lt. Gov. Tina Smith
Snapshot: A behind-the-scenes operator for much of her career, Smith has been a trusted adviser to Dayton, former Vice President Walter Mondale and former Minneapolis Mayor R.T. Rybak. She was Dayton's chief of staff before joining the ticket during his 2014 re-election campaign, the first time she's held elective office.
Plus: She's well-connected and generally well-respected, even by political adversaries. Smith is steeped in policy, isn't prone to showboating and could calm the roiled waters some. For Dayton, it provides a direct line into Washington at a time when the state is juggling implications on a host of federal issue fronts.
Minus: She's unlikely to have much political wattage, especially following the liberal bulldozer Al Franken. Smith hasn't committed to running in 2018. But if she does, voters can expect to see her tied to Dayton's agenda and stir opposition from social conservatives given her past as a past Planned Parenthood executive. Her choice could also result in a Republican becoming lieutenant governor for the last year of Dayton's term.
2) Attorney General Lori Swanson
Snapshot: A three-term attorney general, Swanson has been more frequently mentioned in relation to next year's wide-open race for governor. She has shown some interest in federal issues, taking on prescription drug makers and President Donald Trump over his foreign visitor travel restrictions.
Plus: She has built a reputation as a strong voice for consumers, taking on countless industries over a decade-plus in the state's top legal role. Voters have rewarded Swanson with more than 1 million votes every time she has been on a fall ballot.
Minus: Swanson hasn't always gotten along with some in the DFL coalition. She has clashed with the state employee labor union and been embraced by the gun-rights crowd. But her selection would bring a sigh of relief to Democrats who expected to face her in the party's nomination contest for governor.
3) U.S. Rep. Keith Ellison
Snapshot: A sixth-term congressman from Minneapolis and deputy chairman of the Democratic National Committee, Ellison has been a man on the move. He's the first Muslim ever elected to Congress and a passionate liberal voice in Washington.
Plus: If he's picked, there would be little doubt Ellison would run for the seat outright in 2018. And few candidates today would outhustle Ellison. He's energetic and a powerful speaker on the campaign trail with a ready-made fundraising network. He also has a strong following with his party's base, which would be an asset in an lower turnout midterm election.
Minus: Ellison would be a potential gamble as a statewide candidate. His solidly left voting record and personal background would be a question mark in many parts of greater Minnesota. Also, Dayton is under intense pressure to pick a woman to succeed Franken.
4) State Sen. Melisa Franzen
Snapshot: An attorney and businesswoman from Edina, Franzen has been a state senator for five years. She grew up in Puerto Rico and is the mother of two young children. Franzen is widely viewed as an up-and-comer for her party
Plus: Franzen would be a trailblazing pick for Dayton and someone without too many political battle scars. She'd be viewed as collaborative in an era of hyper-partisanship. She has been mulling a run for the seat next year, so this would provide her a 2018 head start.
Minus: At the Capitol, her seat is not to be taken lightly for Democrats in a 34-33 Senate. Picking her would spur a special election in the Edina area, which is swing turf. Franzen has a moderate streak — she has split with Democrats on tax bills before — which could upset people who want one ardent liberal to follow another.
5) Ex-Minnesota Supreme Court Justice Alan Page
Snapshot: The retired Supreme Court justice, civil rights-minded lawyer and former Minnesota Vikings star player is seen as a wild card option. Page, an NFL Hall of Famer, left the high court after reaching mandatory retirement age in 2015.
Plus: He's not a traditional partisan, although he's viewed as left-of-center. Page joined the court after winning an election, rather than through appointment, and he secured new terms with huge electoral support. Page is a respected, towering figure who would have broad recognition nationally from the the first day he walked into the Senate.
Minus: He's not really a political operator, and he would be a legislative freshman just as he is settling into retirement. If Dayton is looking for a reliable vote in Washington, there's no guarantee he'll get it from Page, who spent a career on the bench aiming for objectively reasoned outcomes.