Source: Smith is Dayton's choice for senator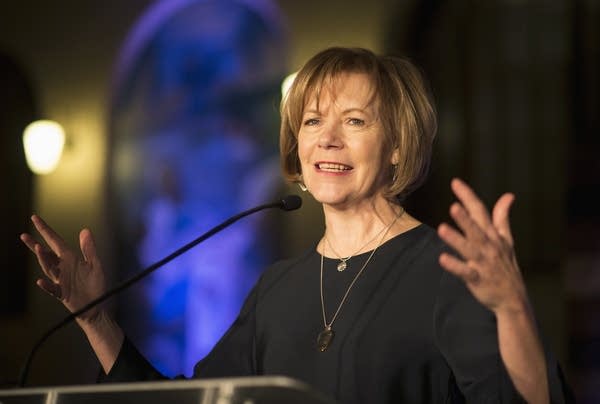 Updated: Dec. 13, 7:54 a.m. | Posted: Dec. 12, 10:10 p.m.
Lt. Gov. Tina Smith is Gov. Mark Dayton's choice to fill the Senate seat to be vacated by Al Franken, according to a Democratic official with firsthand knowledge. Dayton is set to announce the choice Wednesday at 10 a.m.
Smith also said she will run in the special election for the seat in November, according to the person who spoke on the condition of anonymity to freely discuss a private conversation.
An adviser to Dayton declined to comment Tuesday night, and Smith did not immediately return a message from MPR News. Smith was seen as a front-runner for an appointment since the moment Franken announced last week he would leave the Senate under pressure.
Smith is a close ally of Dayton. She has spent decades as a major operative in Democratic politics, having advised former Vice President Walter Mondale and former Minneapolis Mayor R.T. Rybak.
Gain a Better Understanding of Today
MPR News is not just a listener supported source of information, it's a resource where listeners are supported. We take you beyond the headlines to the world we share in Minnesota. Become a sustainer today to fuel MPR News all year long.
The latter hired Smith as his chief of staff and said she'll be a good pick for the Senate.
"Tina Smith's not one of those political animals who crawls over everyone for their own ambition. She is one of those old-fashioned people who actually believes in making government work for people and that means she's not somebody who throws herself into the center of it," Rybak told MPR News' Morning Edition. "She's been incredibly successful making other people look good, like me, like Mark Dayton. But this is a time when when she was in the best position to do it so she stepped up."
By naming Smith, Dayton creates uncertainty for the state Senate. Minnesota's succession plan calls for the state Senate president to become lieutenant governor, so if Smith moves to the U.S. Senate, Michelle Fischbach, a Republican, will move into Smith's position.
Republicans currently control the Senate by a single vote, and in theory, Fischbach's seat would need to be filled in a special election. But Republicans could try to go to court to delay her resignation or get a court ruling that she can do both jobs.
Or — stay with us here, it gets complicated — there could be a special session where legislators could pick a DFL Senate president (assuming everyone agrees) to give Dayton a DFL lieutenant governor, and then re-elect the GOP president.
Smith has served as Minnesota's 48th lieutenant governor since January 2015. Dayton picked Smith, who was his chief of staff, to be his running mate as he began the campaign for a second term.
Yvonne Prettner Solon served as lieutenant governor in Dayton's first term but declined to seek re-election.
Dayton offered high praise for Smith when he announced her selection in February of 2014.
"Tina Smith is quite simply the very best, the very best public administrator I've ever seen," Dayton said. "She has the remarkable ability to draw people together, people from all different backgrounds from all over the state to work together and achieve common goals."
Smith has been a more visible lieutenant governor than her predecessors. She goes to ribbon cuttings that Dayton can't attend, but she's also often by his side for major announcements and remains a trusted adviser.
Smith has been at the forefront on several administration priorities, including rural broadband expansion, early childhood education and economic development. She leads the Destination Medical Center initiative, a public-private economic development partnership in Rochester.
Her approach to the job was by design. In an interview shortly before taking office, Smith said Dayton was giving her ample leeway.
"I feel like I have a lot of freedom and a lot of flexibility to do what I want to do," Smith said.
Smith is a New Mexico native who originally moved to Minnesota for a job with General Mills.
Before working for Dayton, Smith served as chief of staff to Rybak and ran his unsuccessful bid for governor in 2010. She was also vice president of Planned Parenthood of Minnesota, a job not listed in her official governor's office bio.
Speculation about Smith running for governor in 2018 began before she took office as lieutenant governor. But she announced in March of 2017 that she would not be a candidate. Smith told MPR News at the time that she spent several months giving careful consideration to a bid for governor but ultimately decided against it.
"For me it was a personal decision as I thought about how I want to spend my time and where I can make a big difference," she said. "There are so many different ways of contributing to the future of this state."
Smith, 59, lives in Minneapolis with her husband. They have two grown sons.
MPR News reporter Tim Pugmire contributed to this report.