'Testify' exhibit showcases personal art collection and a mission for Alan Page
It was nearly 30 years ago when Diane Sims Page said a good friend of hers pointed out that something was missing in her home.
"She said 'Where is all your African-American art and history for your four children?' We had a very contemporary home, shag carpeting, two Andy Warhols on the wall and I said, 'I don't know where that exists or where to find that.'"
Diane and Alan Page married decades ago when a black man and white women had to fight hard to be together. Alan Page is a Hall of Fame football player who later became a Minnesota Supreme Court judge. Diane Sims Page runs the Page Education Foundation. They raised four children in their multiracial Minnesota home, and together they took on the work of collecting African-American art and artifacts of slavery and segregation.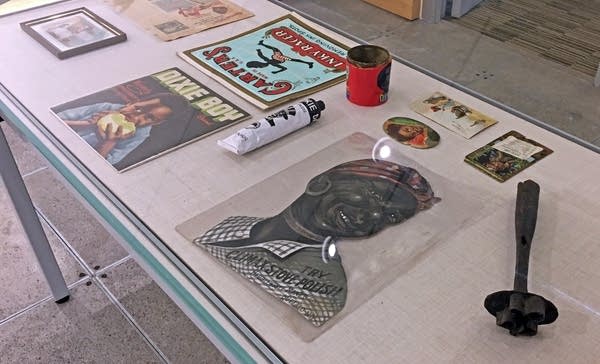 Now, they want to share their collection with the community. The pieces are on display in a brightly lit gallery inside the Minneapolis Central Library. The collection could be considered both beautiful and ugly, but the Pages point out that so is American history.
"We want the exhibit to challenge people, to challenge their thinking," said Alan Page. "And if we are going to be a better people, if we're going to have equality, then I think we have to come to grips with the present effects of that past &msdash; of that history."
The gallery's walls and tables are filled with dozens of artifacts from the 1700s through the Civil Rights movement.
The exhibit title, "Testify: Americana from Slavery to Today," is a play on words from the retired Minnesota Supreme Court justice's past and a nod to the resilient communities of black churches.
"There are a lot of jarring items things from oppression — the branding iron, the slave collars — but some of the colorful art is so uplifting," Diane Sims Page said. "This was culture that rose above all this oppression and found a way to express themselves."
At the center of the collection is a banner from President Abraham Lincoln's funeral. On one side it says "Our country shall be one country," and on the other side it says "Uncle Abe, we will not forget you." It was selected by the couple's second daughter, Georgi Page Smith.
"I'm starting to tear up now, because in researching and preparing for this show the thing that hit me was — how could we let ourselves get so divided. ... Growing up in a multiracial family, that is obscene to me," said Page Smith.
Alan Page said it's important to address how racism still divides our culture today and hopes the exhibit stirs deeper reflection.
"There are those who would say 'get over it, we are here now, let's go forward' but you can't go forward without looking back," he said.
The exhibit opens Monday and runs through Feb. 6.
Your support matters.
You make MPR News possible. Individual donations are behind the clarity in coverage from our reporters across the state, stories that connect us, and conversations that provide perspectives. Help ensure MPR remains a resource that brings Minnesotans together.