Nassar's sentences don't satisfy MN athlete's family
The Minnesota family of the first gymnast to report now-disgraced Dr. Larry Nassar to USA Gymnastics told MPR News they feel duped by the organization.
And they said they think the USAG, the national governing body for gymnastics in the United States, failed to immediately report the abuse to law enforcement and they wonder if that delay harmed other young women.
Nassar has since been convicted on multiple counts of abusing athletes in his care and has been sentenced to decades in prison. In addition, the entire board of USA Gymnastics has been forced to resign and a group of U.S. senators have called for a special investigation into how USAG as well as the U.S. Olympic Committee handled allegations against Nassar.
Even with these developments, Maggie Nichols' family thinks justice has not been fully served. 
Nassar's victim count is up to 265 from his time with USAG as well as at Michigan State University. He faces a 60-year sentence on child pornography charges and two sentences of at least 40 years each for abusing athletes under the guise of treating them.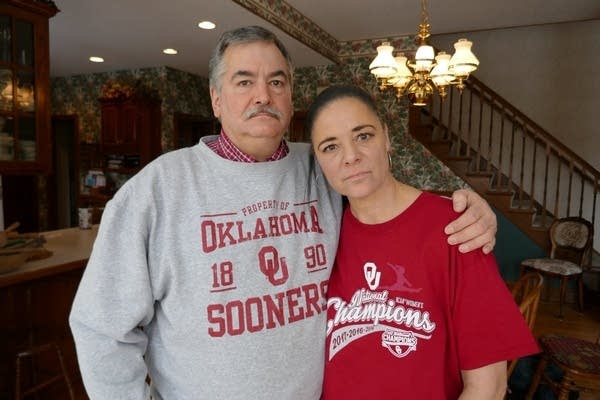 Maggie Nichols' mother, Gina, is a nurse. Her father, John, is a family physician. After raising three boys in their Little Canada home, Gina Nichols said, she and John were thrilled to have a daughter.  
"And so I had a little girl and put her in preschool gymnastics when she was 3," Gina Nichols said. "She took to it immediately."  
She said it was clear that Maggie would take her love for the sport further than most. Eventually the girl entered the ranks of elite gymnasts, the best in the country, who all visited the Karolyi Ranch in Texas. They trained there for one week each month. Nassar worked at the ranch. 
  "You never would've thought twice, because these are the Olympic athletes, they must have the best of the best there," said Gina Nichols. The ranch is now under investigation by authorities in Texas.  
John Nichols said the ranch imposed secrecy restrictions. "We weren't allowed on the ranch," he said. "You can't be with them." 
In May 2015, Maggie, then 17, became the first of the athletes abused by Nassar to report her story to USAG, her mother said. 
"I was quieted and shushed and we couldn't tell people," Gina Nichols said.    
The Nichols family alleges that former USAG president Steve Penny, who has since resigned, told them not to tell anyone about the abuse, because the FBI was handling the investigation. Attempts to contact Penny for comment were unsuccessful. Penny said in a statement last March that he was stepping aside to support the best interests of USA Gymnastics, but he denied any wrongdoing.  
   Gina Nichols insists that Penny told them not to talk about Nassar's abuse. She said she didn't understand why, but she trusted the organization. "Who am I to argue with the president of USA gymnastics," she asked, "who has all the power over me and my daughter, who is second to go to the Olympics at that point?"    
The month after Maggie Nichols came forward, her mother said, USAG arranged for her to meet with an investigator based in St. Louis Park named Fran Sepler. Maggie's parents said they believed Sepler was an investigator with the FBI.
Gina Nichols described the meeting place as looking like a secured apartment-type building. Once Sepler buzzed them in to interview Maggie, Gina Nichols said, Maggie had to go alone because she was still a minor.    
Maggie and Gina Nichols have always maintained they believed Sepler was investigating a criminal case against Larry Nassar. In fact, Sepler is a human resources consultant hired by USAG.  
She said she has conducted more than 1,000 workplace investigations on behalf of employers, and often speaks on sexual harassment in the workplace.  
Sepler told MPR News she has experience interviewing victims of sexual abuse for the state. Her LinkedIn profile lists her as the executive director of Crime Prevention Programs for the state of Minnesota in 1985.
  She said she made clear to the Nichols family that she wasn't with law enforcement. And she said she told Gina Nichols she would interview her daughter with or without Gina in the room.   
Sepler said she interviewed two other gymnasts after she talked to Maggie Nichols, and recommended that USAG contact law enforcement.
  Gina Nichols said no one from the FBI contacted her until a year later, in June 2016. That was when she and her daughter realized Sepler wasn't assisting the FBI, she said.
  "They tricked us into talking to her to get more information out of Maggie for their own purposes, not for helping Maggie and children," Gina Nichols said.  
USAG and Sepler deny that allegation. 
Even by USAG's own timeline, it did not notify the FBI for five weeks.
A USAG representative first talked to Nichols' mother between June 18 and June 20 of 2015. USAG said it notified the FBI five weeks later.
Two days after that, USAG relieved Nassar.
USAG says the organization kept in close contact with authorities about the investigation.  
The Nichols family is part of a group of victims, mostly from Michigan State University, who have filed a civil lawsuit against the university and Nassar. The family hopes the suit, which seeks unspecified damages, could unearth information leading to possible criminal charges against anyone who may have helped cover up the abuse.  
Maggie Nichols has chosen not to do interviews about her story. Now 20 years old, she's competing at the college level on a full-ride scholarship from University of Oklahoma.
  Gina Nichols said her daughter is reclaiming the joy she felt as a child, when gymnastics was new to her. "This is the first time she's ever even really had fun," she said.