Photos: Minnesota gun-control bills bring out passionate crowd
The halls of the Minnesota State Capitol echoed with debates about gun control two hours before a meeting of the House Public Safety Committee even began.
Members of Bikers for Trump, the Minnesota Gun Owners Caucus, Moms Demand Action and others quickly filled the room's 121 person capacity, spilling into the hallway as Rep. Dave Pinto presented his two bills supporting increased gun control, one to expand background checks to private gun sales and transfers and another that would have let family members temporarily restrict a loved one's access to firearms.
There was supporting testimony from victims of gun violence, ICU doctors and a high school student. Most of the opposition testimony came from Minnesota Gun Owners Caucus political director Rob Doar, along with Sarah Cade, wearing a "Pro Gun Liberal" button, and Cara Schulz, a representative of Minnesota's Libertarian party.
Both bills were tabled indefinitely by Republicans on the committee.
Gallery
13 of 13
1 of 13
2 of 13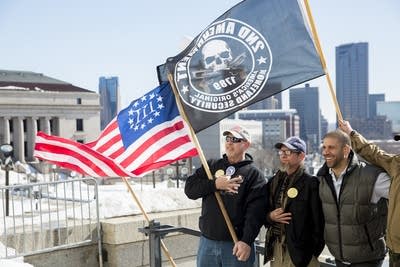 MPR News is Reader Funded
Before you keep reading, take a moment to donate to MPR News. Your financial support ensures that factual and trusted news and context remain accessible to all.