Dayton announces plan to improve elder care system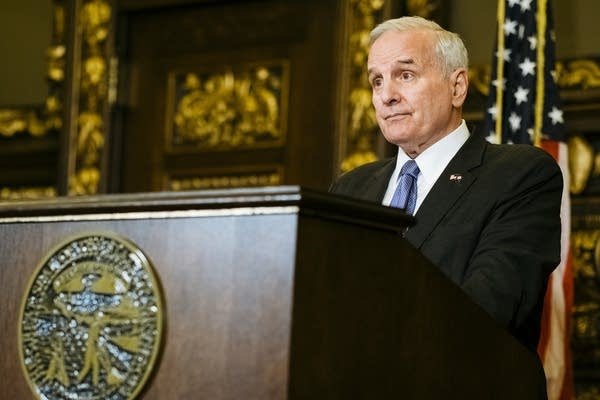 Minnesota's recent backlog of elder abuse complaints resulted in a critical report last week from the Office of the Legislative Auditor that said investigators had not met their "responsibilities to protect vulnerable adults."
Recommendations from that report, as well as those brought forward by a working group that Gov. Mark Dayton appointed last year, are included in a $15 million package of legislation the governor announced Tuesday with lawmakers from both parties.
In announcing the proposed changes, Dayton noted that the state saw a significant increase in privately-owned residential care facilities and an increase in abuse allegations.
"We have a magnitude that I think caught regulators unprepared, for which I take responsibility. I apologize to all the vulnerable adults and their families who have gone through this difficult time where we have not been fulfilling our responsibilities, and where the providers have not been fulfilling their responsibilities," Dayton said.
Under the bipartisan legislation that Dayton supports, the state would step up inspections and investigations. There would be new licensing requirements for assisted living and dementia care facilities. In addition, employees who threaten or abuse those in their care would face tougher criminal and civil penalties.
Will Phillips, state director for AARP Minnesota, and the head of Dayton's working group said abusers must be pursued aggressively.
"We're still seeing 400 cases of abuse being reported each week in our state. So, we can't stop here. We must get to the root of this problem, and we must do it as soon as possible," Phillips said.
The chief sponsor of the House bill, Rep. Liz Olson, DFL-Duluth, said the proposed changes will help ensure that all assisted-living facilities are safe and supportive.
"With the trust that we place in these facilities, it's critical that strong accountability measures are put into place to make clear we expect nothing less than the highest standards for health, safety and well-being that our loved ones deserve," Olson said.
Republicans have signed on as cosponsors of both the House and Senate versions of the bill.
Sen. Michelle Fischbach, R-Paynesville, who is also serving as Dayton's lieutenant governor, said she believes efforts to protect vulnerable adults are nonpartisan.
"This is an issue that I think brings people together," she said. "This is an issue that is so important that we need to deal with it this year. I think both the governor and I have this on our hearts, and we want to make sure this is taken care of."
Your support matters.
You make MPR News possible. Individual donations are behind the clarity in coverage from our reporters across the state, stories that connect us, and conversations that provide perspectives. Help ensure MPR remains a resource that brings Minnesotans together.