Can woodchips, wetlands clean polluted Vermillion River?
The Vermillion River winds through much of central Dakota County before dropping into the Mississippi River between Hastings and Red Wing. It's a beautiful journey — but a perilous one for the river.
Along the way, the Vermillion takes in polluted farm fertilizer runoff filled with nitrates, a health hazard that in high concentrations can cause headaches and cramps in adults and the life-threatening blue baby syndrome in infants.
Despite the work of local farmers to curb runoff, nitrate levels in the groundwater around Hastings, near the river's mouth, have risen the past two decades. Recent testing in the Vermillion's south branch found nitrate levels at more than twice the safe drinking-water standard.
Looking for answers, watershed experts this year are experimenting with a novel approach, combining two proven nitrate filters — wetlands and woodchips — into one project targeted at some of the Vermillion's most nitrate-laden water.
It's a natural solution, with a little help from science. It includes an artificial 3-acre wetland holding more than 1,000 cubic yards of woodchips mixed into the topsoil.
If it works, it could benefit the Vermillion and offer a way to help other polluted Minnesota waters.
Wetlands are well-known as natural, effective filters for water. A recent University of Minnesota study found that wetlands can be five times more effective than other methods at reducing nitrate contamination.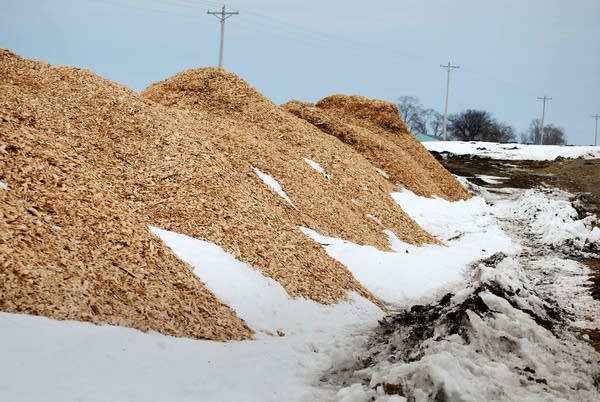 And in the past decade or so, woodchips — specifically, the bacteria that grow on them — have emerged as useful nitrate mitigators, said Travis Thiel, the Vermillion's senior watershed specialist.
"These specific bacteria ... they more or less feed on the nitrate," he said.
The idea is that the farm runoff will pass through both the woodchips and the wetland for cleaning before it enters the river. There's an additional 5-acre wetland for overflow when the first one fills up.
This new nitrate treatment hybrid could be used more widely, assuming it's successful on this Dakota County site, the watershed organization says.
This experiment sits on 12 acres south of Farmington, Minn., near Dakota County Road 78 in Castle Rock Township. It'll treat runoff from 2.1 square miles of farmland, the Vermillion River Watershed Joint Powers Organization, which manages the watershed for Scott and Dakota counties.
All told, the project is expected to cost between $200,000 and $300,000, according to Thiel.
The experiment isn't fully functional yet. Vegetation needs to grow before water can be rerouted to fill the wetland.
Once the wetland's ready, the watershed organization estimates it'll treat 13,600 pounds of nitrate every year. Thiel said he expects the project to last 20 to 30 years.
Your support matters.
You make MPR News possible. Individual donations are behind the clarity in coverage from our reporters across the state, stories that connect us, and conversations that provide perspectives. Help ensure MPR remains a resource that brings Minnesotans together.