This week, St. Paul novelist Peter Bognanni finally gets to see the film adaptation of his novel "The House of Tomorrow" screen in theaters.
The story of an unworldly teenager brought up in a geodesic dome by a follower of Buckminster Fuller attracted an all-star cast.
"The House of Tomorrow" begins with that teenager, Sebastian, washing windows. He's hanging in a safety harness atop the massive dome where he lives. As he works a tour group arrives, and he descends to greet the visitors. He lets them into the dome, where they meet his grandmother — a Fuller fanatic who runs it as a museum.
"Welcome to the future!" she says.
Sitting in his Macalester office, Peter Bognanni outlined the story.
"The basic premise of the book is that there is a home-schooled teenager, Sebastian Prendergast, who has been raised almost entirely according to the tenets of R. Buckminster Fuller, who is this sort of futurist philosopher," he explained. "And I think people mostly are divided on whether he is, like, absolutely the most amazing genius who ever lived, or kind of a crackpot."
In addition to inventing the geodesic dome, Fuller came up with new forms of transportation, houses made from materials designed for airplanes and a suggestion for enclosing Manhattan in a giant bubble.
The movie adaptation of "The House of Tomorrow" has been in the works ever since the book's publication in 2010.
"I think 10 years is the average, or something," he said. "So we beat that by like three years, I think."
What Sebastian doesn't know when the tour group arrives is that his life is about to change. His grandmother begins talking to the teens, who are part of a local church group.
"We are all so privileged to live on what Bucky called Spaceship Earth," she tells them. "But you know, we are destroying our beautiful planet."
Bognanni again: "So Sebastian has lived under the tutelage of his grandmother, who is a devotee of Fuller, and as such has never really experienced the world as we know it. You know: doesn't understand pop culture, has never really eaten junk food, and has never had much contact with traditional American teenagers."
And that is where Jared comes in. Not only is he with the group; he's the pastor's son, and has an attitude. When Sebastian's grandmother collapses and has to be rushed to the hospital, it is Jared who ends up sitting in the waiting room with him.
"So that old lady's like your overlord?" asks Jared.
"She's my guardian," Sebastian replies.
"What do you mean, your guardian?" Jared probes.
"Ever since my parents died, Nana made sure I stayed on the right path. She says there's the traditional way to live, and then there is the dynamic independent way to live. The way Buckminster Fuller did."
Jared's not that interested, really. Bognanni said he is recovering from a heart transplant and looking for someone to play bass in his punk band.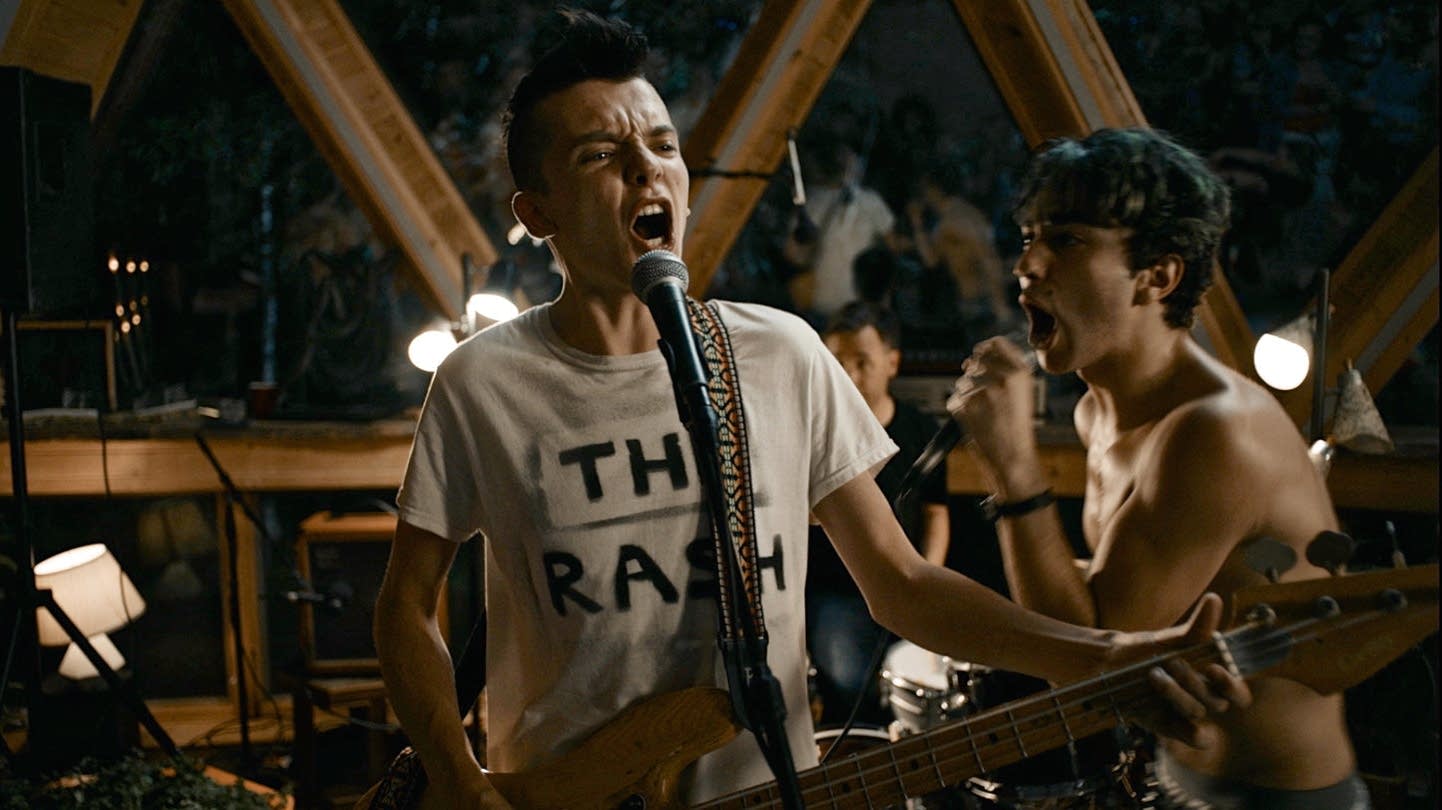 "And Sebastian has to decide whether he is going to go in this new way, or if he is going to sort of save the world the way his grandmother has intended him to." Early on, Bognanni said, he agreed when director Peter Livolsi suggested that he develop the script. The story line is different from the book, but Bognanni said Livolsi develops the story in interesting ways. Also, they had a huge stroke of luck.
"Peter Livolsi first sent the script to Ellen Burstyn, and it turned out she had been a personal friend of Buckminster Fuller's," Bognanni said. "And we had no idea about that."
The Oscar-winning actor even had video of an interview she did with Fuller on a yacht. They used part of it in "The House of Tomorrow." It was Burstyn who encouraged Nick Offerman to take the role of the pastor.
They shot the film in North Branch, just north of the Twin Cities, and Bognanni spent a lot of time on set. As a member of a few punk bands himself in the day, he particularly enjoyed watching the actors playing Sebastian and Jared rehearsing their music.
"It sort of not only felt like it was the book manifesting into a film, but it also sort of felt like it was my life being rehearsed in front of me," he said.
Bognanni will discuss this experience and others after Friday's 7:15 p.m. screening of "The House of Tomorrow" at the Lagoon Theater in Minneapolis. He's working on more films, he said, and on a novel based on his experiences tearing tickets at the now-demolished Oak Street movie theater in Minneapolis. It's due out next year.