Black bears sighted in suburban Minneapolis and St. Croix County, Wis.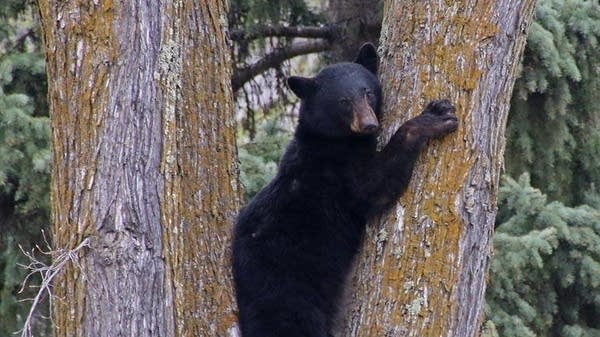 Recent sightings of black bears in a suburban Twin Cities neighborhood and in a wildlife area in St. Croix County, Wis., have experts providing tips if you happen to encounter a bear.
Burnsville police said a resident in that suburb south of Minneapolis called authorities after spotting a black bear Thursday, according to the department's Twitter account. Photos from the resident posted by Burnsville police show the bear sauntering near a home and standing near a tree on the front lawn.
The Wisconsin Department of Natural Resources said a hunter encountered two bears in the Betterly Waterfowl Production Area, three miles east of New Richmond, on May 13.
A yearling black bear and an adult sow approached a turkey hunter. The yearling arrived first and came within 10 feet of the hunter, who yelled to scare the bear and then noticed the sow. The yearling continued to follow the hunter who fired a shot in the air, which chased the bear away, the DNR said in a press release.
Both the yearling and the sow trailed him as he was leaving the area, prompting the hunter to fire another shot. That shot did not frighten the animals, who continued to trail him until he reached an open field and was able to run to his vehicle, the DNR said.
Such aggressive actions are rare, according to experts.
"In this case, these bears were behaving aggressively by continuing to follow the hunter even after several attempts to scare them away," said wildlife damage specialist Brad Koele. "Due to the safety risk these particular animals impose, they will be trapped and removed from the area."
Koele said the hunter did everything right: He made noise while backing away. Koele also said if possible people should seek shelter in a vehicle or building and wait for the bear to leave.
"Never approach a bear," he said.
The bear in the Burnsville sighting was not aggressive and no one was hurt.
Shooting a bear outside of the bear hunting season is illegal unless the bear poses a direct threat to human safety, the DNR added.
A local warden should be notified as soon as possible if a bear is shot in self-defense. And any resident who spots a bear in a city should 911.